United States-December 21, 2020, 02:00 PM
Infor recognized for point-of-sale and cloud capabilities
NEW YORK – Dec. 21, 2020 – Infor today announced that the company has been recognized as a Leader in the IDC MarketScape: Worldwide Point-of-Sale (POS) Applications in Quick Service (QSR)/Fast Casual Restaurants 2020-2021 (doc #US46261220, December 2020) report. IDC evaluated vendors based on a comprehensive and rigorous framework relative to the criteria and one another, and key strategy criteria included the strength of vendors as omnichannel partners as well as capabilities in integration and partnerships, reporting, customer engagement, delivery flexibility, and scalability.1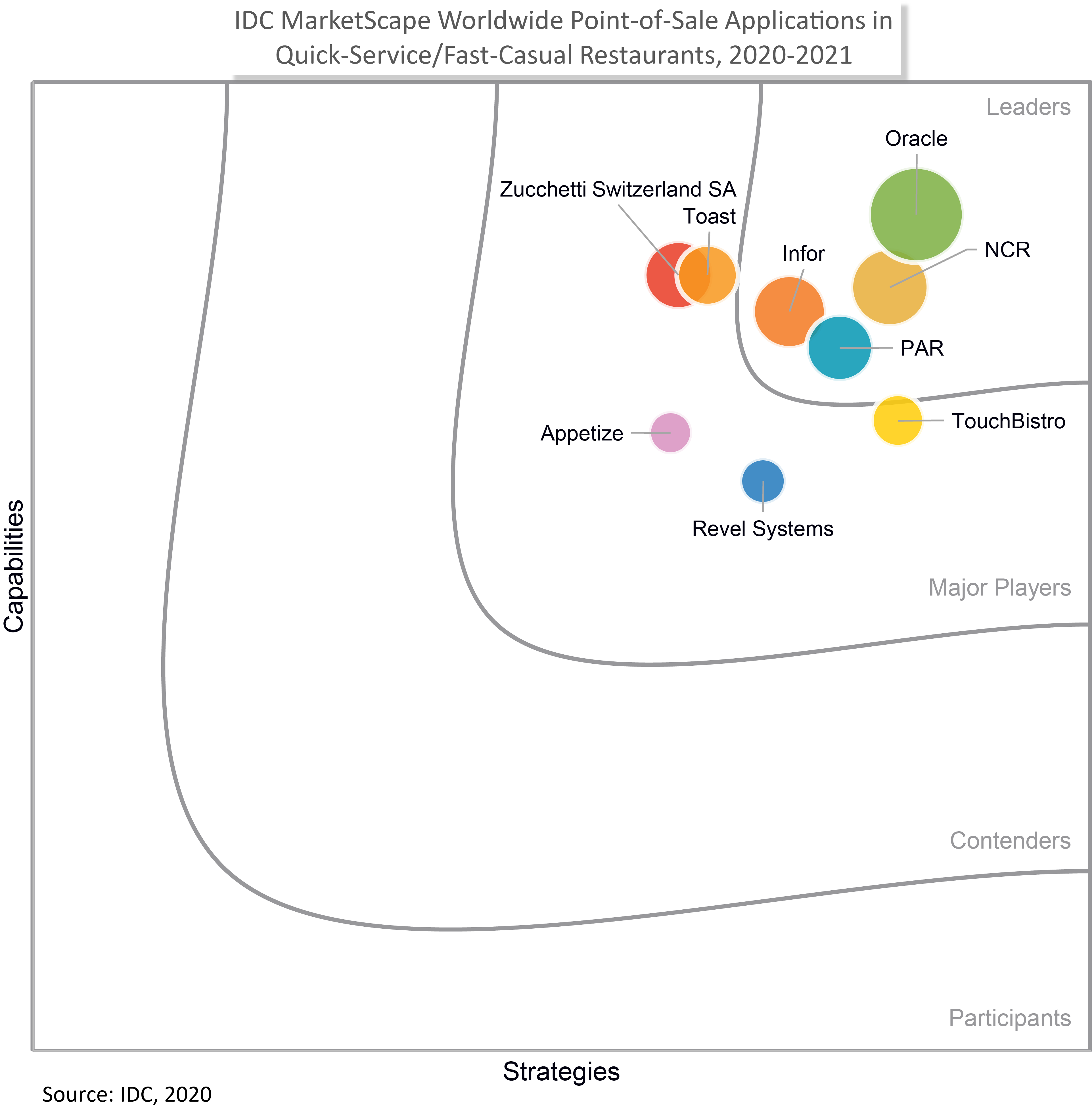 "Restaurant operators are seeking new point-of-sale solutions that can address a wide-range of omnichannel issues that support the specific nuances inherent in restaurant operations. The Infor POS ecosystem meets the needs of QSRs and fast casual restaurants through its comprehensive platform and robust APIs to support other technology that brands may want to experiment with as the restaurant space becomes increasingly competitive," says Dorothy Creamer, senior research analyst, hospitality & travel digital transformation strategies, IDC. "The point-of-sale marketplace is becoming more aggressive as solutions providers build out capabilities to offer robust omnichannel platforms. Infor has strengthened its position in the POS market by combining the ability to customize solutions for clients' unique needs with an expanded solution set to strategically address the demands of microverticals within the restaurant industry."
Infor Hospitality provides a leading software suite of restaurant and food service solutions, fully integrated and delivered in a multi-tenant cloud environment. The quality of a hospitality brand's point-of-sale (POS) system determines how well that brand can adapt to changes in customer behavior or new integration opportunities. With Infor's cloud-based solutions, customers in the quick-service restaurant segment and the hotel, resort, and food services spaces, have a more efficient channel for informing actionable strategy and keeping momentum going around guest experience while creating a competitive advantage.
"This year has forced us to evolve as an industry. Guest expectations are changing, and the hospitality industry needs to change alongside them. This Leader positioning emphasizes the work Infor has done this year to help position our customers as leaders by providing them with tools to establish a platform for success," said Jason Floyd, general manager, Infor Hospitality. "Our organization deeply understands the needs of the hospitality industry and is committed to developing new solutions to help them emerge stronger, more efficient, and even more centered around the new guest experience in the months and years to come."
1 IDC, "MarketScape: Worldwide Point-of-Sale (POS) Applications in Quick Service (QSR)/Fast Casual Restaurants 2020-2021," DOC #US46261220, December 2020.
About IDC MarketScape
IDC MarketScape vendor analysis model is designed to provide an overview of the competitive fitness of ICT (information and communications technology) suppliers in a given market. The research utilizes a rigorous scoring methodology based on both qualitative and quantitative criteria that results in a single graphical illustration of each vendor's position in a given market. IDC MarketScape provides a framework in which the product and service offerings, capabilities and strategies, and current and future market success factors of IT and telecommunications vendors can be meaningfully compared. The framework also provides technology buyers with a 360-degree assessment of the strengths and weaknesses of current and prospective vendors.
About Infor
Infor is a global leader in business cloud software specialized by industry. Providing mission-critical enterprise applications to 67,000 customers in more than 175 countries, Infor software is designed to deliver more value and less risk, with more sustainable operational advantages. We empower our 17,000 employees to leverage their deep industry expertise and use data-driven insights to create, learn and adapt quickly to solve emerging business and industry challenges. Infor is committed to providing our customers with modern tools to transform their business and accelerate their own path to innovation. To learn more, please visit www.infor.com.
# # #
This announcement reflects the direction Infor may take with regard to the specific product(s) described herein, all of which is subject to change by Infor in its sole discretion, with or without notice to you. This announcement is not a commitment to you in any way and you should not rely on this document or any of its content in making any decision. Infor is not committing to develop or deliver any specified enhancement, upgrade, product or functionality, even if such is described in this announcement and even if such description is accompanied by words such as "anticipate," "believe," "expect," "intend," "may," "plan," "project," "predict," "should," "will," and/or similar expressions. Many factors can affect Infor's product development plans and the nature, content and timing of future product releases, all of which remain in the sole discretion of Infor. This announcement, in whole or in part, may not be incorporated into any contractual agreement with Infor or its subsidiaries or affiliates. Infor expressly disclaims any liability with respect to this announcement.
For more information:
Christina Ledger
Infor
312-662-2135
christina.ledger@infor.com