Saudi Arabia-January 19, 2023, 10:00 AM
Leading producer of limestone products digitizes its business to raise efficiency and support industrial and manufacturing growth in Saudi Arabia and beyond
RIYADH, Saudi Arabia – January 19, 2023 – Infor®, the industry cloud company, today announced that Saudi Lime Industries Co. (SLIC), a Saudi Arabia-based producer and supplier of limestone products, has selected Infor CloudSuite Industrial Enterprise powered by Amazon Web Services (AWS), to help simplify and automate its business and processes.
Infor CloudSuite Industrial Enterprise, a powerful, composable, platform-based ERP solution preconfigured for discrete manufacturers, will boost SLIC's ability to optimally meet surging demand for its products from sectors including construction, iron & steel, glass production, mining, and agriculture in the Middle East, Africa, and Asia, and support Saudi Arabia's economic diversification in line with the aims of Saudi Vision 2030.
Demand for limestone is rising rapidly. The global limestone market is expected to reach $86.75 billion in 2026, up from $68.32 billion in 2022, representing a compound annual growth rate (CAGR) of 6.15% during that time, according to The Business Research Co. The figure is likely to be higher in SLIC's key markets, especially Saudi Arabia, where the construction and infrastructure sectors are booming on the back of mega-projects such as the NEOM smart city and developments on the Red Sea Coast.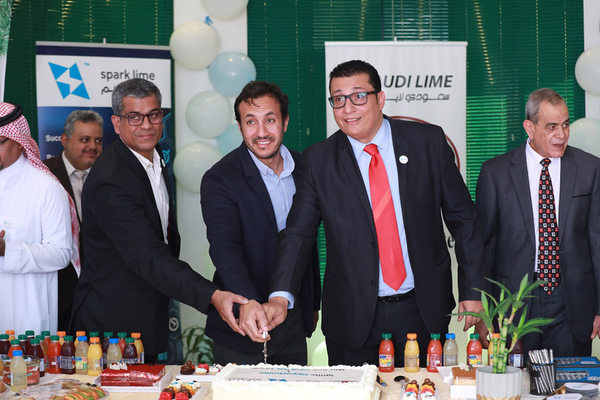 Joining in the cake cutting at the Lime Spark Strategy launch ceremony are, from left, Murthy Meduri, Infor Professional Services principal solution architect; Mostafa Aziz, Infor Professional Services senior project manager; and Ahmed Elawa, Saudi Lime CEO.
SLIC was founded in 1977 and has its main plant and headquarters in Riyadh, in addition to brick production operations in Jeddah. The company produces a full range of lime-based products, including limestone, dolomite, quicklime and hydrated lime, plus blocks and bricks. The production cycle, from mining to processing and distribution, is extremely complex, involving significant manpower, partnerships, and diverse equipment and machinery.
To maintain its lead in the market and continue improving its ability to serve customers, SLIC developed a digital transformation strategy called SPARK, which included a plan to simplify its operations, raise efficiency, and capture and analyze valuable data to gain operational and market insights to further improve performance.
SLIC selected Infor CloudSuite Industrial Enterprise as its ERP solution because it met these needs and more. The solution is preconfigured for SLIC's industry-specific needs and will help it achieve a shorter implementation and therefore faster time to value by gaining visibility of its business and transform the processes required to quickly respond to customer, supplier and regulatory needs — with no software customizations required. It also will allow SLIC to integrate with its suppliers, partners and customers, helping it anticipate issues such as supply chain bottlenecks or upcoming changes in demand. These capabilities made it easy for SLIC to select Infor's ERP solution, which the management team said was a clear choice over the rival solutions they assessed.
"One of the key reasons we selected Infor was the feedback we received from the end users in Saudi Lime as part of a vigorous selection process. Infor was the clear leader among the vendors we trialed," said Eng. Abdullah Faris, SLIC IT consultant. "We were genuinely excited to learn about the capabilities of Infor CloudSuite Industrial Enterprise, which feels as if it has been tailor-made for our company's needs but with all the convenience of buying an off-the-shelf solution. The software does everything we need it to do and more: It is helping us reduce complexity and gain visibility, while increasing our understanding of our business and key markets better, which is a win-win for SLIC and our customers. It also means we'll be better placed to support Saudi Arabia's industrial diversification."
SLIC expects to go live with Infor CloudSuite Industrial Enterprise in May. SLIC is also deploying Infor Global Human Resources (GHR) Employee/Manager Self-Service module, which will streamline HR processes and enable the company's growing workforce — currently about 370 people — to access HR services and information from anywhere at any time on any device.
"By deploying Infor CloudSuite Industrial Enterprise, SLIC is showing how preconfigured, industry-specific ERP can help companies in specialist industries with complex footprints simplify their business, become agile, and turn their data into a catalyst for continual improvement," said Kerry Koutsikos, Infor vice president and GM for Middle East Africa. "We're excited to support SLIC on its ambitious transformation plan."
Learn more about
Infor CloudSuite Industrial Enterprise.
# # #
For more information
Roger Field
Wallis PR
+971 50 273 9936
infor@wallispr.com