Infor VISUAL—bringing order to your orders
Manufacturing ERP software providing production visibility and automation for increased throughput, productivity, and profits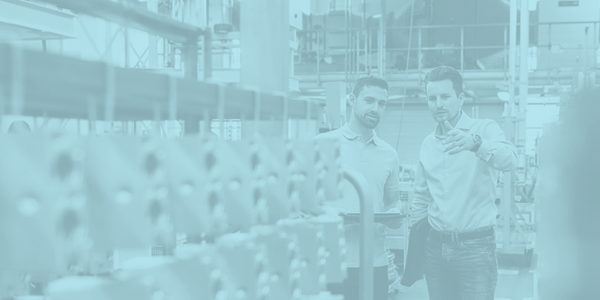 Mastering order-driven manufacturing
Order-driven manufacturing is complex enough and companies don't want to guess every time they quote a price on a job. Manufacturers need to see at a glance the impact of every order, constraint, and bottleneck in the organisation, so that they can manufacture at a level of speed and efficiency that makes the best use of the resources they have. Infor VISUAL® lets manufacturers stop guessing so they can start delivering consistently profitable results. VISUAL delivers a complete, end-to-end, ERP solution that enables order-driven manufacturing companies to maintain a competitive advantage by delivering quality products on time.
Finite or DBR scheduling
Estimate, actual, and projected costs
Quality management
What-if delivery calculation
Throughput performance
Shop-floor automation
The functionality, technology, and services to take you forward
VISUAL delivers the core functionality you need, with critical information delivered directly to point of use. With ongoing development, innovative technologies, and unmatched security and reliability, Visual is ready to grow with you as your business grows and evolves
Our customers make VISUAL the leading manufacturing solution for small enterprises
VISUAL has remained true to its VISUAL Manufacturing roots. We've adopted the features, flexibility, extensibility, and technology that allow our customers to remain leaders within their industries with the solutions and capabilities they request and need.
Shop-floor mobility
API toolkit
WIP management
Quality management
Performance management
Deployment options
Finite scheduling
Drum-Buffer-Rope scheduling
Manufacturing Window™
---
Increase production throughput, margins, and customer satisfaction with VISUAL's patented Engineering Master and Production Scheduler. Secure shop-floor capacity with "what-if" scheduling models and communicate reliable delivery dates to your customers.
---
Gain complete visibility of work schedules within a paperless environment, with real-time reporting of attendance, direct and indirect labor, material transactions, and work-in-process logistics on mobile smart devices.
---
Leverage detailed, actual cost breakdown comparisons with roll up through all levels of production and final cost projection. Immediately identify cost variances to budgets that affect margin or selling price to your customers.
---
Utilise built in, user-definable analytics for a holistic view of your operation with complete drill-down to the lowest level of transactional detail for root-cause analysis.
---
Bring control, consistency, predictability, and audit confidence to your product lifecycle and supply management activities. Deliver products to market faster with superior quality performance.
---
Efficiently manage growth (whether it's organic or through acquisitions) with VISUAL's multi-entity, multisite, and multicurrency functionality, including cross-selling, consolidation, independent planning, and scheduling by site.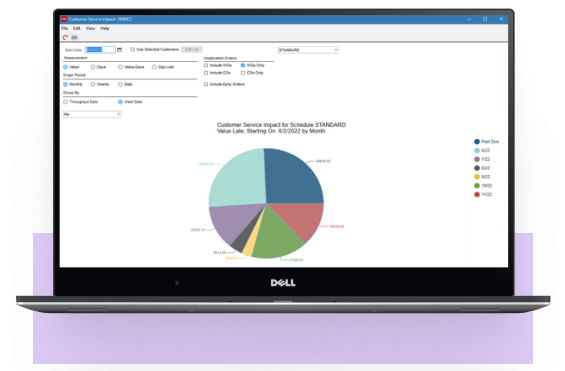 Maximise revenue and increase profit margins
Increase profit margins by eliminating non-value events, improve time to delivery, and maximise throughput, while not jeopardising product quality.
Create throughput data for an unlimited number of schedule simulations
Obtain accurate measurements of absolute profit contribution
Graph throughput inquiries at a daily, weekly, or monthly level
View an audit trail that reliably identifies potential resource and material bottlenecks (both primary and secondary)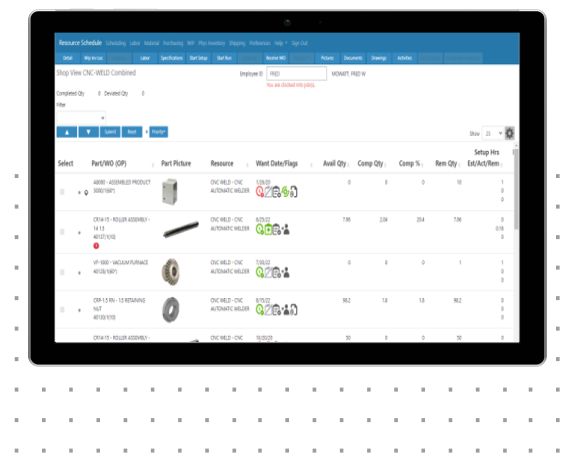 Automate the shop floor
Streamline all aspects of your production operations. Reduce paperwork, suppress foot traffic, improve data inaccuracy, and eliminate data latency by transformation and mobilisation of the shop floor.
Gain a dynamic view of the production schedule by resource, work cell, and department
Access all work-order drawings, build specifications, and related document attachments
Retrieve in-process inspection plans, capture all in-process measurements, and automatically create non-conformance alerts and downstream corrective actions
Capture attendance, labor, and material in real time for instantaneous production schedule update and customer order status
Label material as it's received, picked, and moved in-process for complete automation and visibility of work-in-process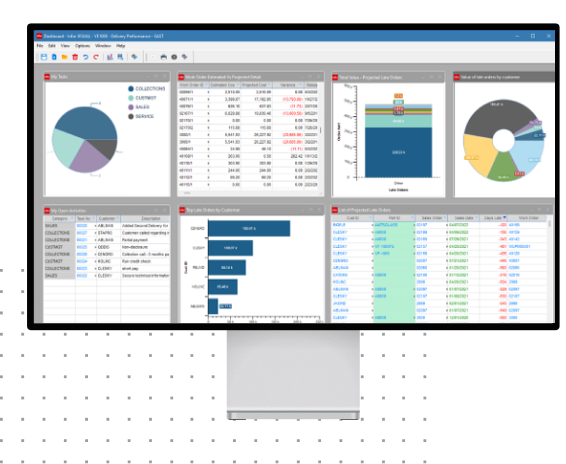 Gauge the pulse of the organisation
See a thumbnail view of business performance via VISUAL's dashboard, with complete drill-down to supporting documents and transactional data for quick analysis and corrective action.
Create multiple dashboards and deploy them to end users based on their role within the organisation
Utilise predefined database analytics and grids or create those specific to your business needs
Highlight discrepancies with complete drill-down to source data for quick analysis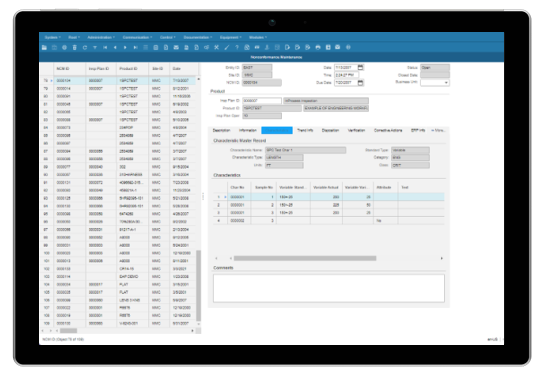 Deliver end-to-end quality management
Establish, track, and manage every engineering activity and supply chain expectation across all aspects of your business, while supporting business growth and profitability goals.
Centralise the location, change history, and document audits for electronic and physical documents
Provide supplier, customer, and employee audit management
Leverage inspection plans, FMEAs, and control plans
Utilise nonconformance and corrective actions
Use preventive maintenance and device calibration processes