Smart analytics: The era of AI-powered BI
White Paper
Smart analytics: The era of AI-powered BI
The business intelligence (BI) and analytics industry has undergone tremendous change over the last 30 years. While every BI vendor claims their product offers significant advantages over the competition, do any of these solutions truly deliver on the promise of improved business performance through the integration and analysis of data made available to a broad end user audience? This paper explores the current business intelligence paradigm and offers suggestions on how, through the harnessing of artificial intelligence (A.I.) technologies, the realization of increased operational performance through the analysis of data may be achieved on a much more significant scale.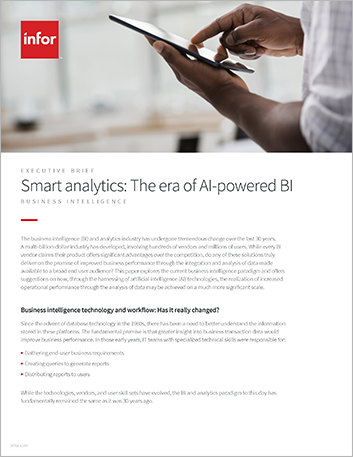 Please complete the form below
Fields with * are required.
Let's Connect
Contact us and we'll have a Business Development Representative contact you within 24 business hours