Infor EzRMS Hotel Revenue Management Solution
Brochure
Infor EzRMS Hotel Revenue Management Solution
A large international hotel company. An independent hotelier. Infor EzRMS provides both with a fully automated, algorithm-driven revenue management solution, enabling hotel groups and smaller businesses to sell the right product to the right customer at the right time for the right price.

Helping your revenue managers and teams create viable and actionable strategies with greater precision and accuracy is at the heart of Infor EzRMS. The core software application automatically calculates demand forecasts for each future use of your hotel rooms, and recommends the appropriate selling strategies such as open/close rates, stay controls, open/close room categories, and overbooking levels. It helps turn volumes of data into clearer paths to success.

Learn how Infor EzRMS can empower hotel RM managers and teams to help hotels stay both competitive and profitable.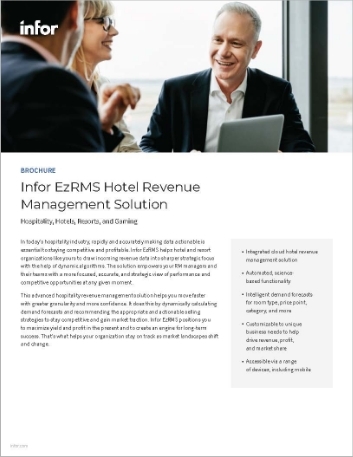 Let's Connect
Contact us and we'll have a Business Development Representative contact you within 24 business hours

By clicking "Submit" you agree that Infor will process your personal data provided in the above form for communicating with you as our potential or actual customer or a client as described in our Privacy Policy.