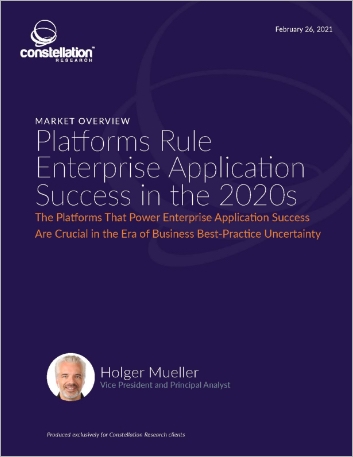 Analyst Report
Constellation Research: Platforms rule enterprise application success in the 2020s
Overview
Enterprise application platforms (EAPs) are defined as systems composed of the software needed to manage, build, operate, integrate, and extend enterprise applications.
Constellation Research's new EAP Market Overview, written by Vice President and Principal Analyst Holger Mueller, describes the capabilities of the leading platforms and maps these against a set of buyer criteria distilled from Constellation's work with buyers in general and in specific enterprise software and software-as-a-service (SaaS) selection scenarios.
Read this report to discover:
A definition of the EAP market
The latest market trends
Typical buyer challenges
A review of nine enterprise SaaS vendors to offer an EAP
Please complete the form below
Fields with * are required.
By clicking "Submit" you agree that Infor will process your personal data provided in the above form for communicating with you as our potential or actual customer or a client as described in our Privacy Policy.