September 25, 2020
September 26 is designated as Human Resource Professional Day—established to recognize the "People People" who are dedicated to creating a workplace that enables their organizations and its employees to reach their full potential.
Today, Infor is taking the opportunity to spotlight the tremendous value our Human Resources colleagues provide to our company. Meet Renu Ganotra, Senior Director HR at Infor, Hyderabad, to get a perspective of the heartbeat of our organization and its passion for our people.
"As an HR professional, I could combine my love for people, technology, and business to meet and exceed expectations. HR partners well with business. We understand the organization's needs as well as the needs of our employees. Building bridges between an organization and its employees is our business, and at Infor, it helps us align our people strategies to achieve Infor's goals." — Renu Ganotra, Senior Director HR, managing India and Sri Lanka, Infor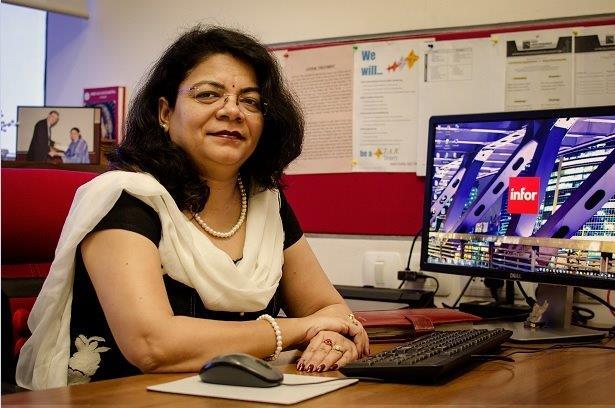 Why did you pursue a career in HR?
HR found me! I joined Infor in 1999 as a commerce and computer science graduate intern in the HR department. My first project was to build a human resources information system. While working with my HR colleagues for the project, I was inspired to build my career in this discipline.
I enrolled for a part-time HR executive course with XLRI Jamshedpur, one of the top management institutes in India, and earned a post-graduate certification in Human Resource Management. During my studies, I realized how unique the HR profession is—providing opportunity to connect with different personalities, understand their capabilities, and work together to achieve the common goals of the organization. It is the only profession which has the ability to influence the future of an organization based on employment decisions, thus making a difference to employees and the workplace.
Infor believed in my potential and offered me the opportunity to lead the HR function in 2007, which was a game changer for me. I am truly an example of how Infor believes in its people and their potential. I have worn many hats on my journey from an intern to Senior Director HR, managing India and Sri Lanka. Infor's diverse culture, strong leadership, and its belief and trust in its people lays the foundation for the success for our employees.
How do you see HR's role supporting Infor's organizational goals?
As HR Business Partners, our mission is two-fold: to understand Infor's goals and develop and execute plans and programs in support of these goals, while positively impacting the lives of our employees. Our main objective is our employees' well-being, ensuring they are well cared for by fostering an inclusive culture, while providing opportunities for them to grow, develop, and achieve their goals.
"We are so lucky to have Renu as a key member of our global HR leadership team. You can see the results in the outstanding engagement scores we see across India. Renu and her team help us understand 'what good looks like' in terms of an active and engaged HR capability." — Pete Sparber, Chief Human Resources Officer, Infor
What has been the most rewarding part of your HR career?
Making a difference excites me. Working with people has always been my passion. Bringing a smile to an employee's face and working toward win-win scenarios are the most rewarding facet of being an HR professional. I am a certified Reiki practitioner level 3 (energy healer) and Heal Your Life® teacher. The principles I believe in and adopt in my life can sometimes guide an employee to make the right decision.
Every day brings unique challenges whereby I learn, explore, and grow. I believe that every problem has a solution and we must focus on these solutions to reap more positive outcomes. An HR role can provide that holistic view to a situation to enable success.
Do you have any advice for people interested in a career in HR?
If you enjoy working with people, have business acumen, want to bring out the best in people, HR is the role for you. Join the brigade! Be the game changer!
Understand your people, be compassionate, humble, and flexible. It's also essential to have an understanding of your organization's vision and align your vision and goals with the organization's goals.
Create your own personal brand and build a strong people network. Stay up to date with current industry trends and equip yourself with latest technologies.
Work with passion and embrace your role.
Thank you Renu, and all HR professionals globally, for your continued dedication.
Happy #HumanResourceProfessionalDay!
In addition, Renu has been recognized by the HR community:
50 Most Influential HR Tech Leaders in 2016
50 Most Innovative HR Technology Leaders in 2017
Women Super Achiever Award in 2017
South India's Most Talented HR Leaders Award in 2017
Telangana's Top HR Leader in 2017