Innovating for the future, together.
Our Strategy
The Infor® Partner Network (IPN) is a global ecosystem of people, services, and systems designed to provide partners with world-class solutions to sell, and the highest quality of training, support and enablement in the industry. Our goal is to organize a skilled team of partners, committed to growing with Infor, expanding their businesses and staying ahead of the market, while providing customers with innovative technology suites that are beautiful, functional, and easy to use.
Partner Portal login
Infor Partner Network Brochure
Learn how the Infor® Partner Network (IPN) uses our global ecosystem of people, systems, and services to ensure that Infor Partners receive the highest quality of training, support, and enablement in the industry.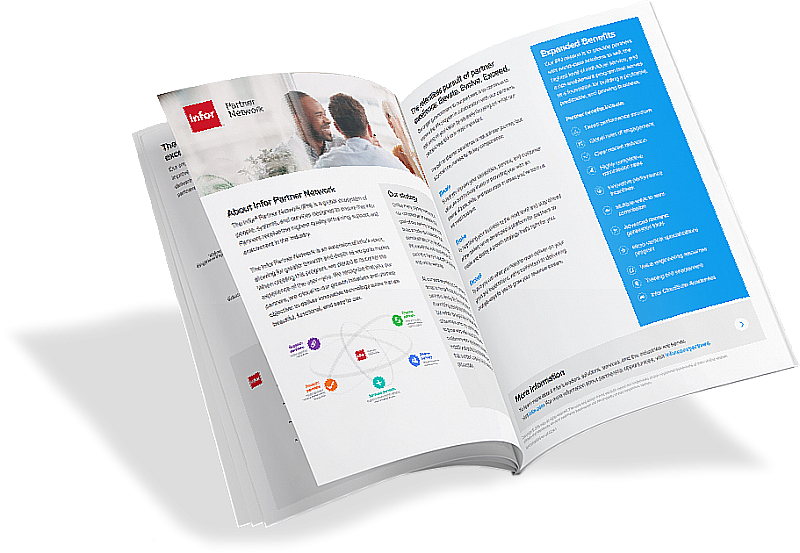 Infor Channel Partners
Sell & Install—Implement, Optimize, and Maintain
Infor partners can help you to better implement, optimize, and maintain your product. See how our featured spotlight partners strengthen Infor's delivery model through specialized industry expertise and deep experience with Infor technology.
Infor Alliance Partners
Alliance Partners—Consult, Advise, and Integrate
Infor Alliance Partners are recognized leaders within the enterprise service and technology market with established business practices and solutions designed to help companies improve their operational efficiency. Infor and its alliance partners share tactical and strategic plans, working together at the planning, design, and operational levels to ensure our products and services leverage each other, delivering the greatest value to our customers. The Infor Alliance Partner organization is aligned with our industry teams to ensure greater synergy with our sales organization and position each alliance partner as a key SME in their respective industry niche.
Amazon Web Services
Infor has partnered with Amazon Web Services® (AWS®), the market leader for cloud-based infrastructure as a service (IaaS) and platform as a service (PaaS) for over 10 years, to deploy Infor CloudSuite ™ solutions in more than 8 AWS regions and 27 availability zones across the globe—and that footprint continues to grow to meet customer requirements. Leveraging Amazon's multi-billion dollar annual R&D investment in technology, building the Infor Cloud on AWS allows Infor to focus on its core mission of building critical capabilities into our applications.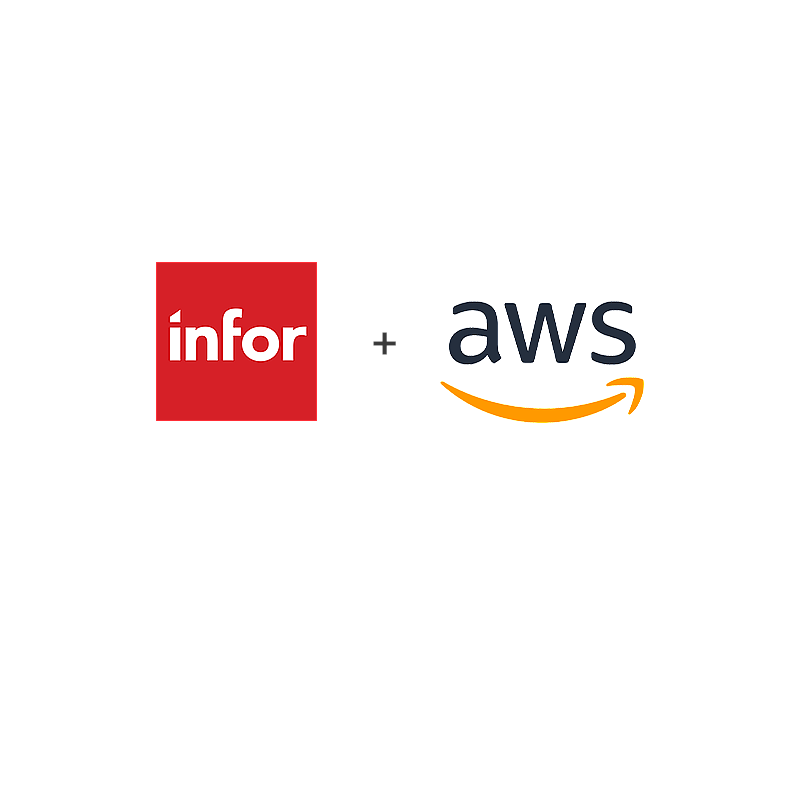 Infor Delivery Partners
Delivery Partners
Integrate and Service Infor Delivery Partners are a select community of strategic partners with distinct qualifications who, in conjunction with Infor Services (IS), provide a complete Infor services delivery model for our customers. Delivery partners work with IS and extend Infor's reach in specific geographies, solution areas, or vertical industries. Delivery partners can also bring packaged solutions and services offerings that complement and integrate with Infor's core solutions to meet the ever-changing needs of our customers.
Infor Product Partners
Providing Specialized Solutions
Infor Product Partners provide fine-tuned compatibility with Infor solutions through application or niche market opportunities in conjunction with a specific Infor product. Within this category we have two individual partner programs:
Solution Partners
Infor Solution Partners develop applications and technologies that integrate with Infor's core solutions. These integrated, best-of-breed, solution partner products are often used in industry-specific, specialized, and/or advanced technology areas and are offered directly by Infor. Working together, we use our combined strengths to create and deliver innovative solutions that Infor and its channel partners sell, service, and support.
Complementary Partners
Infor Complementary Partners comprise a select group of companies that work with Infor to develop complementary offerings for our customers and help to extend and supplement the functionality of Infor's core solutions. As key members of our regional and local teams, complementary partners contribute to a tight knit community that works together to deliver seamless solutions to our mutual customers.
Channel Partners, we've got a blog for you!
This brand-new blog is a place for us to share the content that's important to you.
Addressing five SMB worries over digital technologies
Five common worries that SMBs express and why they don't have to be big to go digital.
Infor Partner Award Winners
Congratulations to our 2020 Partner Award Winners
We recognize these Infor Partners for their commitment to business growth, high levels of service and the unparalleled value they provide in customer success, worldwide. Click on any partner logo below to learn more about the company and their achievements that have earned them an exclusive, Infor Partner Award.
Let's Connect
Contact us and we'll have a Business Development Representative contact you within 24 business hours