Empowering fashion's end-to-end processes from concept to consumer
Fashion
Companies running legacy systems struggle with keeping pace. Focusing on innovation requires an industry-specific enterprise software solution that has the flexibility to expand as your brand grows, with the functional breadth to meet the demands of today's fashion market. Here are some key challenges and goals that Infor helps its customers address every day.
Time to market
Increasing efficiencies in development, flexibility to change, and collaboration to ensure speed
Demand planning
Estimating demand by channel and quickly reacting to changes in the market
Supply visibility
Accurately sensing and reacting to changes in the supply chain
Multi-channel orders
Optimizing your inventory across channels for efficient order fulfillment
Financial control
Integrating financials to get access to real-time analytics
Micro-vertical expertise delivers business value faster

Apparel

Footwear

Accessories

Textiles

Sportswear
Lifestyle

Luxury

Intimates
Solutions for your most critical challenges
Infor CloudSuite™ Fashion is the leading apparel and footwear suite of ERP and related applications—such as business management, design and development, inventory management, omni-channel management, financial management, and production management—integrated and delivered in a multi-tenant cloud.
Taking your collections to market faster
Create sustainable collections more efficiently with better collaboration tools
Proactive milestone-driven process
Efficient creation of new collections
Detailed style, material, and trim specifications
Costing estimations for better margin control
Supplier collaboration and compliance support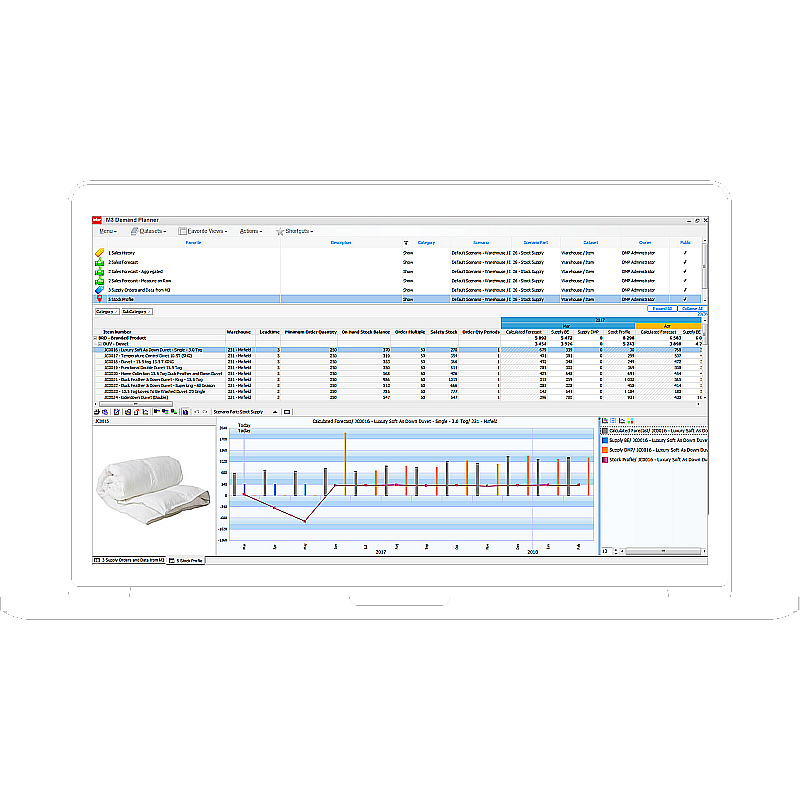 Demand planning for more flexible sourcing
Estimate demand by channel and optimize buy to avoid waste and markdowns
Flexible forecast of demand by hierarchies
Manage manufacturing sites
Outsource production to external suppliers
Detailed landed-cost product calculations
Notifications of demand and supply deviations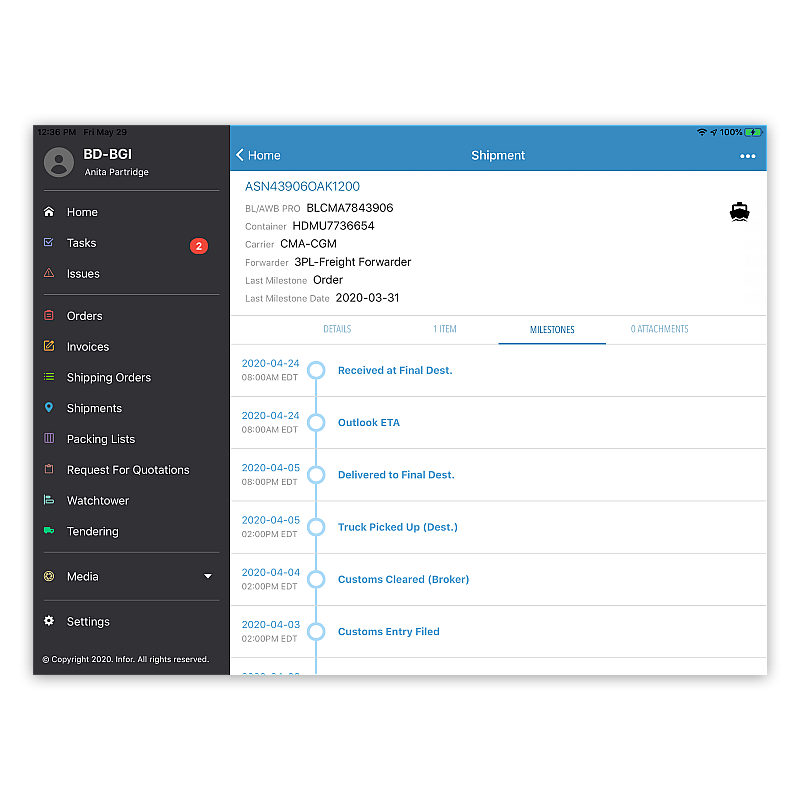 Managing the extended supply chain
Use insight into the extended supply chain and transportation to ensure delivery lead-times are met
Supply chain network order management
Factory quality inspections
Supply chain visibility with RFID tracking
Confirmations to get accurate arrival times
Proactive alerting of supply chain delays
Efficient fulfillment of multi-channel orders
Utilize inventory in a flexible way to meet demand from multiple sales channels
Order management for multiple sales channels
Global inventory visibility across all locations
Accurate order promising
Web order fulfillment, direct to consumer
Product personalization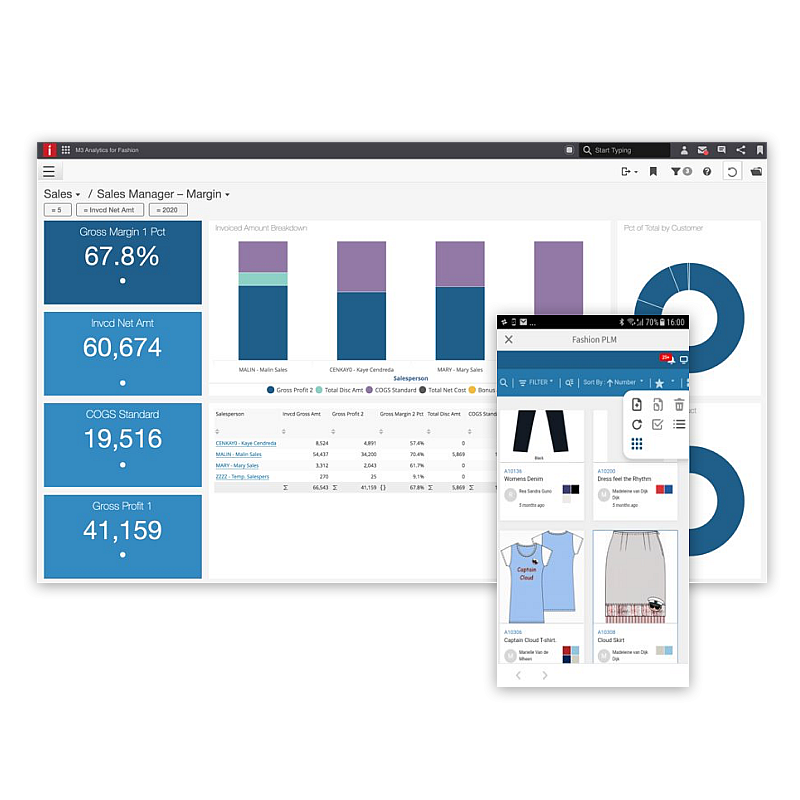 Global financial control and decision making
Measure company performance with real-time access to industry metrics and KPIs
Embedded financial accounting and control
Industry analytics and dashboards—out of the box
Easy access to data for decision-making
Social business collaboration
Multi company support with localizations
Productivity by the numbers
1-2%
reduction in product development costs
85%
reduced sourcing exceptions
8-15%
reduction in total inventory levels
BUILT FOR INDUSTRY
Fashion CloudSuites
Infor CloudSuite™ Fashion
Infor CloudSuite™ Fashion is a suite of software products designed specifically for the ever-changing demands of the fashion industry. This integrated, configurable solution includes everything you need to manage the entire fashion process from concept to consumer.
HIGHLIGHTS
Innovate faster and more efficiently
Source from a sustainable supply chain
Connect to the world's largest cloud-based global commerce platform
Automate forecasting, planning, and assortments
Built on highly flexible, scalable architecture that enables brands to be agile and in-sync with fast-changing customer expectation
PRODUCTS INCLUDED
Learn more
Infor PLM Fashion
Infor PLM for Fashion is a powerful product lifecycle management and collaboration tool. It empowers fashion companies to seamlessly link vital areas of the fashion value chain to their business processes—from line planning, design, and development to supply chain sourcing and in-season consumer-driven design changes.
HIGHLIGHTS
Collaboration 24x7 with your partners
Efficiency easy to learn
Compliance / Sustainability
One source of the truth
Beneficiating of the last mile functions
PRODUCTS INCLUDED
PLM for Fashion is built upon the Infor Operating services framework and has on top of the PLM abilities the following additional processes and components that can support
Infor ION for Process workflow and integration
Infor Document Management for PLM and non PLM documents and images
Infor Ming.le for social collaboration between peers
Infor Data Lake for use in extensive queries and or disclose data to other sources
Infor Federated Services for security and user management
PLM Adobe Illustrator extension for integration of styles, materials, trims and colors
Infor Nexus
Infor Nexus™ is the world's largest and only single-instance, multi-enterprise business network platform that powers many of the world's most complex supply chains to drive efficiency and agility by optimizing the flow of goods, information, and capital from source to delivery and pay. Boost overall supply chain performance by improving on-time delivery and customer service, with increased velocity; all while significantly reducing costs, lead times, freeing up working capital, and improving partner relationships.
HIGHLIGHTS
Single connection with your network of partners
Supplier collaboration
Transportation sourcing and execution
Multi-leg, multi-mode shipment tracking and monitoring
e-invoicing and payables automation
End-to-end supply chain visibility and control
Innovative supply chain finance
Learn more
Rhythm for Commerce
Rhythm® for Commerce provides companies running Infor enterprise resource planning (ERP) products with a fully integrated multi-tenant eCommerce solution, enabling them to sell their complete product assortment in a rich, online shopping experience.
HIGHLIGHTS
Powerful online presence offering a seamless shopping experience
Integrated with Infor ERPs
Cost-effective management in the cloud
Easy for your marketing team to build and maintain
Product Information Management (PIM) included or use your own
Let's Connect
Contact us and we'll have a Business Development Representative contact you within 24 business hours