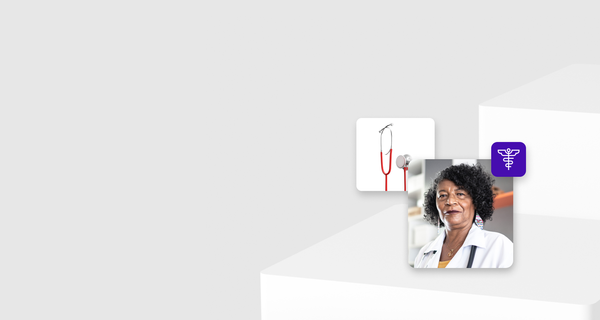 Healthcare-specific ERP for better operations and outcomes
Hospital and healthcare systems need more than the traditional ERP. With a comprehensive healthcare solution, organizations can enable an evidence-based approach by providing access to real-time data across the enterprise.

By connecting the business of healthcare with the mission of healthcare, institutions can enhance the experience for staff to simplify patient interactions, while providing insights and a sense of empowerment and control.
See the new Infor healthcare product enhancements
Infor President & CTO, Soma Somasundaram, shares healthcare product innovations designed to address nurse burnout, including automation and persona-based workspaces, and a new clinical science feature that leverages data to improve nurse-patient assignments.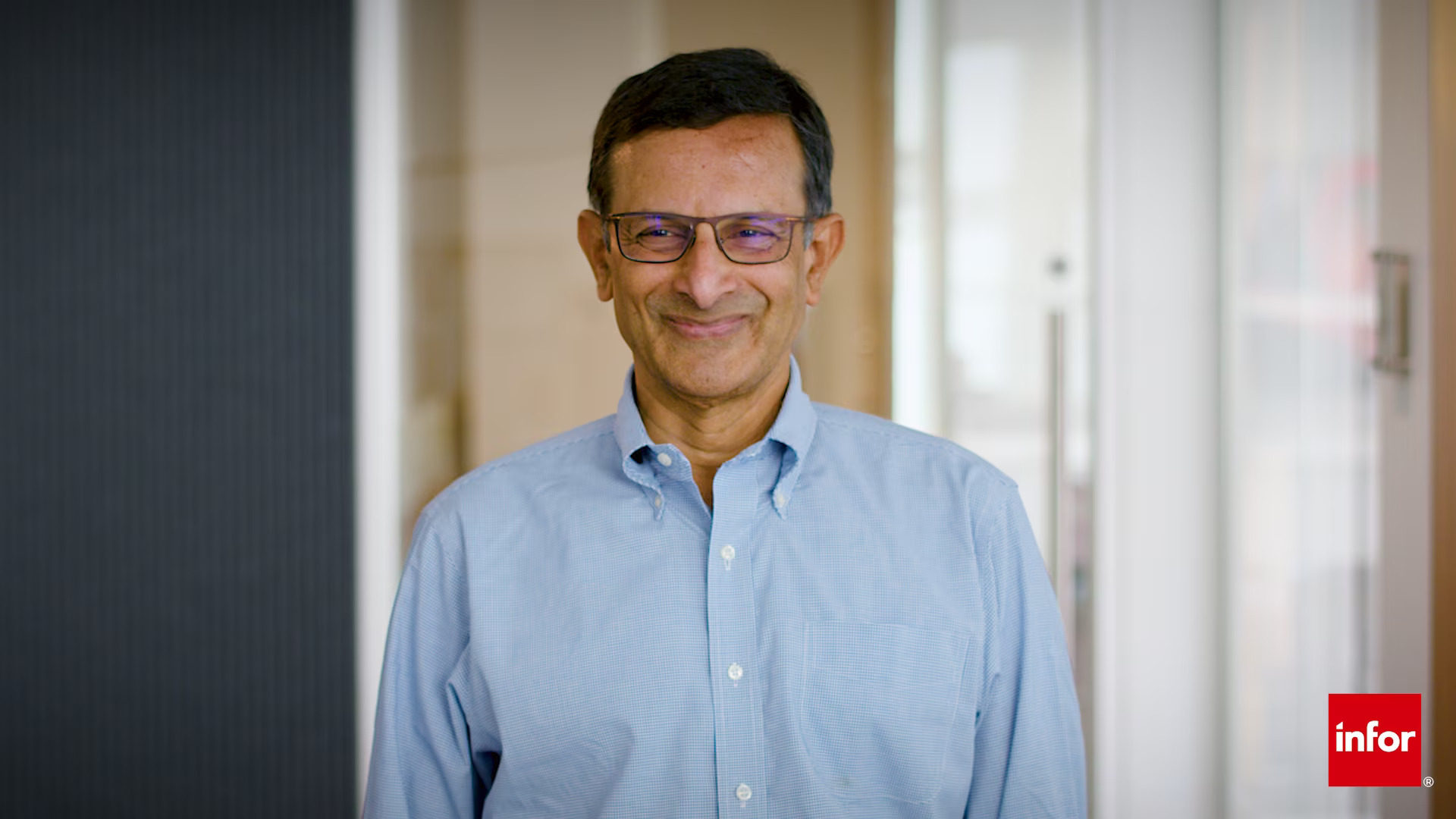 Product Release Highlights
Infor® CloudSuite™ healthcare systems can improve their operational health and population health.
To fulfill their mission, hospitals need to modernize operations and ensure compliance while navigating labor shortages. Infor CloudSuite Healthcare is purpose-built to enable health systems to redesign workflows to be more efficient, resilient, and ensure staff and patient safety, allowing customers to focus on delivering great patient care.
Build resilient operations and supply chains
Redesign work, optimize care delivery
Retain and recruit frontline talent
Overview
Build resilient operations and supply chains
Global supply chain shortages, inefficient operations, and compliance issues continue to disrupt the healthcare space, creating unnecessary risk and impeding timely care delivery. Infor CloudSuite Healthcare improves customers' visibility into financial health, in-stock inventory, staffing and supply chains, allowing customers to respond with agility in ever-changing healthcare environments. Infor CloudSuite Healthcare helps stabilize healthcare systems' operational vital signs to enable agile decision-making. By bringing together end-to-end processes from supply chain, finance, payroll and staffing in one central platform, Infor CloudSuite Healthcare enables precise planning that ultimately reduces unnecessary waste and costs.

In an E.R., supply chain challenges result not only in costly waste, but also in precious minutes spent sifting through closets rather than administering life-saving care. By combining greater financial and supply chain visibility, CloudSuite Healthcare leverages AI so nurses can provide the best care at the right moment with the supplies needed while containing costs. After adopting Infor, healthcare organizations have experienced an 80-90% reduction in time spent locating critical supplies and have saved $1M in freight costs alone.
KEY INDUSTRY ENHANCEMENTS
AI ensures OIG compliance: Ensuring your organization does not do business with bad actors is an ongoing threat and administrative burden for healthcare providers of all sizes. After adopting Infor CloudSuite Healthcare, customers have been able to select safe vendors in under 3 minutes – 90% faster than pre-implementation – allowing for more efficient delivery of compliant, best-in-class care. Using Infor OS and Infor Robotic Process Automation (RPA), Infor CloudSuite now automates the critical steps to validate vendors are not flagged for exclusion by the US. Office of Inspector General (OIG).

Manage capitated pricing programs for surgical implants: Navigate the complexities of value-based care and ensure sustainable margins by creating implant pricing contracts to streamline and process procedural implants via "construct" bundles that flow normally through Finance and Supply Management (FSM) requisitioning and purchase workflows.

Clinical API gateway: Infor can enable modern, real-time responsive clinical workflows with legacy systems building on IFOR, Infor FHIR Server and Infor OS API Gateway. Once legacy clinical data has been converted and stored in modern formats compatible with AI/ML, the Infor OS API Gateway allows data in and out through secure and scalable RESTful APIs. This combined technology allows our customers to build modern real-time workflows to improve patient care without being limited to APIs provided by a particular clinical system vendor.
Overview
Redesign work, optimize care delivery
Amid rising healthcare costs and provider burnout, improving patient outcomes and reducing administrative waste is paramount. Infor CloudSuite Healthcare uncovers opportunities to streamline operations using administrative and clinical data to support care delivery, paving the way for improved patient outcomes. Infor CloudSuite Healthcare allows for oversight into an organization's inventory, labor, financial and clinical data via a single platform, providing data-powered insights to allow clinical staff to prioritize time with patients.

CloudSuite Healthcare's comprehensive capabilities enable organizations to streamline workflows, reduce reporting needs, and simplify day-to-day activities for staff, allowing clinical staff more time and space to spend meaningful time delivering best-in-class care to their patients. After adopting Infor, one healthcare organization streamlined scheduling and time keeping for 30,000 associates organization-wide, all with one solution and access to a single platform, optimizing care delivery with data-driven insights.
KEY INDUSTRY ENHANCEMENTS
AI nurse-patient assignment: Infor ensures continuity of care with automated nurse-patient assignments. Healthcare customers with Clinical Science integrated with their Electronic Health Record (EHR) can use patient care data to automatically balance staff workloads. With Infor Workforce Management (WFM) capabilities, nurse managers can automate patient-to-caregiver assignments based on unique patient workloads, bed proximity, and continuity of care. Now nurse managers and leaders can utilize real-time data to augment their professional clinical judgement to make safe, fair, and equitable patient assignments.

New workspaces for shift-based employees and managers: Both shift-based employees and managers have unique time, attendance, and scheduling needs in addition to standard employment and HR tasks. New standard Workspaces are available in the Portal Workspace catalog that consolidates all employee and manager self-service functions across Human Capital Management (HCM) and Workforce Management (WFM) to manage time clocking, shift schedules, and schedule coverage more simply.

Infor On-Ramp for AWS health lake (IFOR): Leverage your healthcare organization's robust legacy clinical data with the modern capabilities of machine learning and artificial intelligence to advance the mission of healthcare and a more rapid pace. AWS Health Lake is a HIPAA-eligible & HITRUST certified service offering for healthcare and life science organizations offering a chronological view of individual or patient population health data for query and analytics at scale.

Population health management reporting: In 2025, all U.S. Accountable Care Organizations (ACOs) need a solution to report electronic clinical quality metrics (eCQMs) to achieve desired outcomes for patients, payers and the population they serve. Infor's solution will collect data from the different organizations across the ACO, normalize and transform these data, and then analyze it against a knowledge graph and machine-learning AI model to identify gaps in care. Infor will deliver a much-needed solution to enhance quality of life, reduce healthcare costs, foster social and economic development.
Overview
Retain and recruit frontline talent
Post-pandemic, the healthcare world is facing an unprecedented shortage of talent. CloudSuite Healthcare improves the day-to-day realities of existing talent – and recruit new talent -- by automating low-level tasks and freeing clinical staff to spend time caring for patients instead. Infor eases the administrative burden for nurses and managers, allowing them to prioritize employees and patients. With low-level, historically manual tasks completely automated, supervisors can optimize their staff's schedules while actionable insights aid in areas like career planning, onboarding, and staff development.

Employees across the healthcare space are facing extreme levels of burnout, resulting in an industry-wide talent shortage that needs to be addressed. Infor CloudSuite healthcare reduces the administrative burden on clinical staff, reducing burnout and making room for career growth. After adopting Infor, healthcare organizations have reduced administrative complexity in key areas by as much as 90%.
KEY INDUSTRY ENHANCEMENTS
Blockchain career credential verification: Infor Blockchain Career Credential Verification leverages new Human Capital Management (HCM) technology around career credentials and personal information verification by reducing labor costs incurred with traditional (phone/e-mail/fax) verification methods and time to hire and onboard new employees. This solution automates credential and personal information verification, reducing labor costs for phone call verification processes, onboarding time, and time to hire. Candidates control which verifiable credentials they share.

AI employee development recommendations: Leverage machine learning technology to suggest learning opportunities for each employee based on peer activity. This solution guides employees through the process of identifying growth opportunities, helping to increase employee engagement and retention.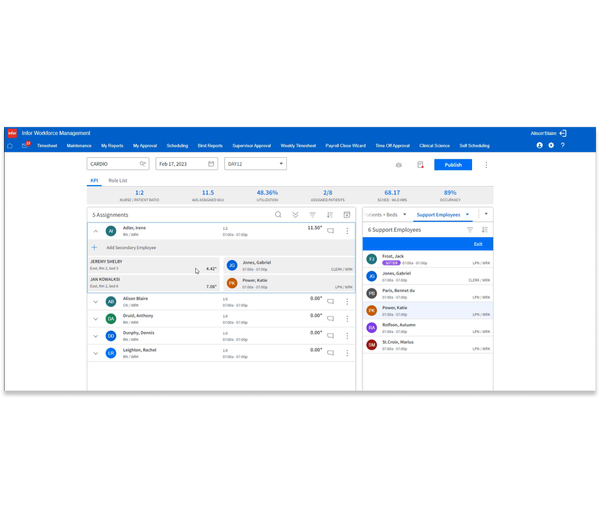 NEW CAPABILITIES FOR HEALTHCARE INDUSTRIES
Clinical Science: Patient Centric Staffing and Assignment
Infor Clinical Science helps hospitals align their staff with patient care requirements to provide high quality, safe patient care.
Balancing costs, demand, and compliance issues.
Determine staffing assignments based on patient workloads leveraging data from your EMR.
Anticipate workforce demands and schedule the right amount of nursing coverage.
Increase employee satisfaction and engagement by empowering employees.
Support smarter staffing decisions by providing decision makers with up-to-date patient information.
Learn more about Infor healthcare solutions
Connect operational, clinical, and staffing data
Healthcare providers and payers can better manage dynamic data across their organizations with our cloud ERP solutions.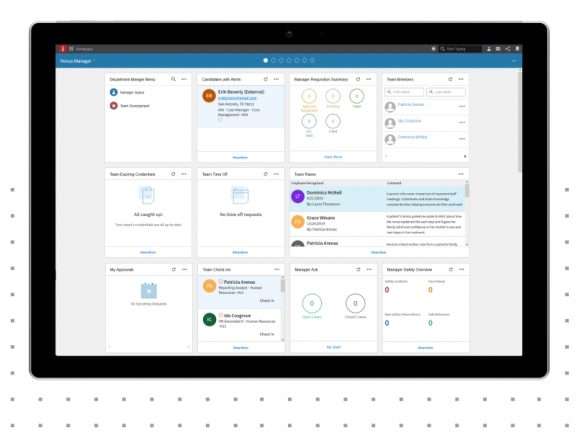 Standardize healthcare data and reporting
Improve quality of patient care via EHR to ERP integrations.
Improve quality of patient care via EHR to ERP integrations
Reduce equipment downtime and protect revenue
Optimize stock on hand while eliminating stockouts
Improve the efficiency of turning rooms
Securely solve complex interoperability challenges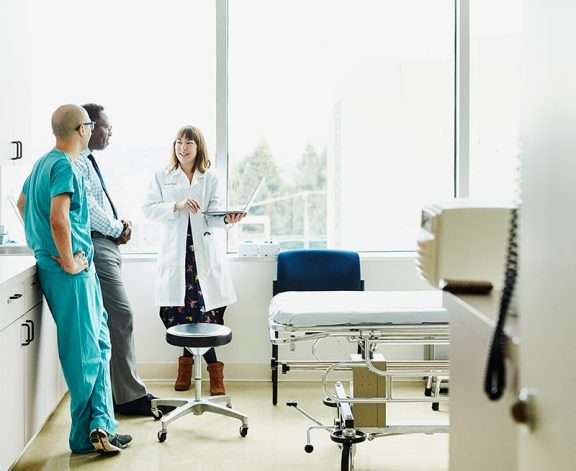 Improve clinician and staff experiences
Provide self-service scheduling and patient assignment tools based on clinical data.
Lower turnover by improving staff engagement
Reduce non-productive administration time
Increase accessibility via mobile tools for employees
Reskill and retrain employees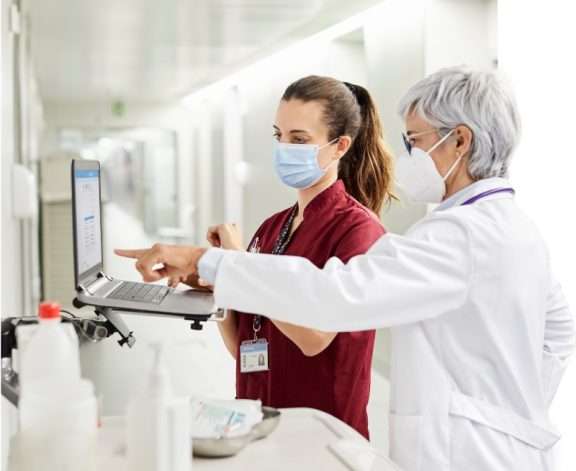 Increase clinical supply chain efficiency
Leverage clinically integrated healthcare supply chain software and embedded costing for greater ROI.
Embed costing and healthcare accounting with capacity modeling
Combine clinical and non-clinical analytics data
Streamline workflows with process automation
Keep communication lines between the supply chain team and the clinical team always open
We partnered with Infor to upgrade processes to the cloud to increase agility, improve the ability to quickly scale. In addition to increase efficiency, provide more tools for employees and providers, and ultimately support our patients better.

Delivering value for customers across industries
Healthcare industry software solutions
Healthcare ERP cloud software
Supply chain and financial management for healthcare
HCM for Healthcare
Healthcare software integration platform
Healthcare workforce management platform
Healthcare ERP cloud software
Infor® Healthcare is a complete ERP software platform in the cloud designed for healthcare. It encompasses a comprehensive suite of business solutions unique to healthcare, including finance, planning, supply chain, human capital, and analytics.
HIGHLIGHTS
Affordability of care with real-time interfaces between modules
Supplier onboarding and invoice KPIs, and reporting and consolidation
Real-time visibility with financials, supply chain and HCM, BI reporting, and embedded analytics
Enhance employee potential with science infused, mobile enabled, HR, payroll, and benefits
Real-time visibility into the movement and management of medical equipment, staff, and patients
PRODUCTS INCLUDED
Infor Financials & Supply Management
Infor HCM
Infor OS
Infor Location Based Intelligence
---
See Infor Healthcare ERP
Supply chain and financial management for healthcare
Infor® Financials & Supply Management is an integrated finance and supply management software in the cloud that couples modern financial functionality with tools to track supplies and streamline order processes.
HIGHLIGHTS
Personalized home pages
Beautiful and intuitive role based user interface
Unlimited financial calendars
Unlimited ledgers and basis reporting
Unlimited dimension strings
Full visibility of indirect spend
Strengthened supplier relationships
Increased policy compliance
Multiple cost savings opportunities
Powered by data-science
Embedded analytics directly in users' work streams
PRODUCTS INCLUDED
Infor Financials & Supply Management
Infor OS
---
See Infor Financials & Supply Management
HCM for Healthcare
Infor® HCM is a leading, end-to-end talent solution that helps healthcare organizations strategically align people initiatives and skill sets to deliver on your mission.
HIGHLIGHTS
Get all the human capital management functionality you need in one complete solution, with the broad capabilities from a single cloud HR vendor
Utilize a consumer-grade, personalized, role-based user interface with prebuilt, interoperable components across your HR organizational structures globally
Use relevant and timely data, based on behavior science and analytics to engage employees and reach their greatest potential
Apply modern HR cloud technology to give you complete employee visibility; optimally hire, develop, and retain the right talent
Boost employee performance, improve workforce effectiveness, and maintain control over your company's talent strategy and HCM technology with a flexible, secure, and cost-effective cloud
infrastructure
PRODUCTS INCLUDED
Infor HCM
Infor Talent Growth
Infor HR Talent
Infor Talent Science®
Infor LMS
Infor HR Service Delivery
---
See Infor HCM
Healthcare software integration platform
Infor Cloverleaf® Integration Suite software streamlines the exchange of clinical data to help improve healthcare outcomes and business operations. The software allows healthcare organizations to efficiently solve complex interoperability challenges securely and at scale, while using the latest standards (including HL7® FHIR®).
HIGHLIGHTS
Easy to use, even in complex integration scenarios
Customer-proven scalability and reliability
Offers a prebuilt FHIR solution
Includes a healthcare API Gateway
Available in the cloud
---
See the Cloverleaf Integration Suite
Healthcare workforce management platform
Optimize every aspect of workforce productivity and address your staffing challenges with Infor® Workforce Management. Maintain optimal patient quality, safety, and financial outcomes to deliver quality care. You get time and attendance, demand-driven scheduling, workforce scheduling, and absence management tools.
HIGHLIGHTS
Enable your people to access workforce data anywhere, anytime
Track employee time and get the right data to payroll every time
Leverage vertically specialized shift- or demand-driven scheduling tools
Take advantage of intuitive software for budgeting, planning, and forecasting staffing demand
---
See Infor Workforce Management