Automotive software solutions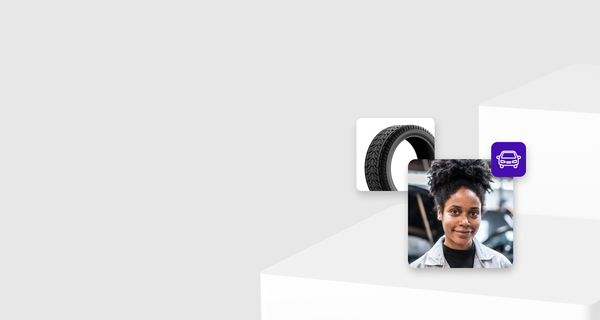 Navigating the automotive industry transformation: Embrace innovation, while streamlining processes and leveraging data insights
Now more than ever, OEMs and suppliers need to adapt to industry changes but do it carefully, using AI-driven insights and strategic analysis of risks and opportunities. Help your organization thrive by using a modern ERP to streamline end-to-end processes—from customer alignment to proactive supply chain management.
Infor product feature release highlights
Infor President & CTO, Soma Somasundaram, describes the latest product updates from Infor and what customers can expect.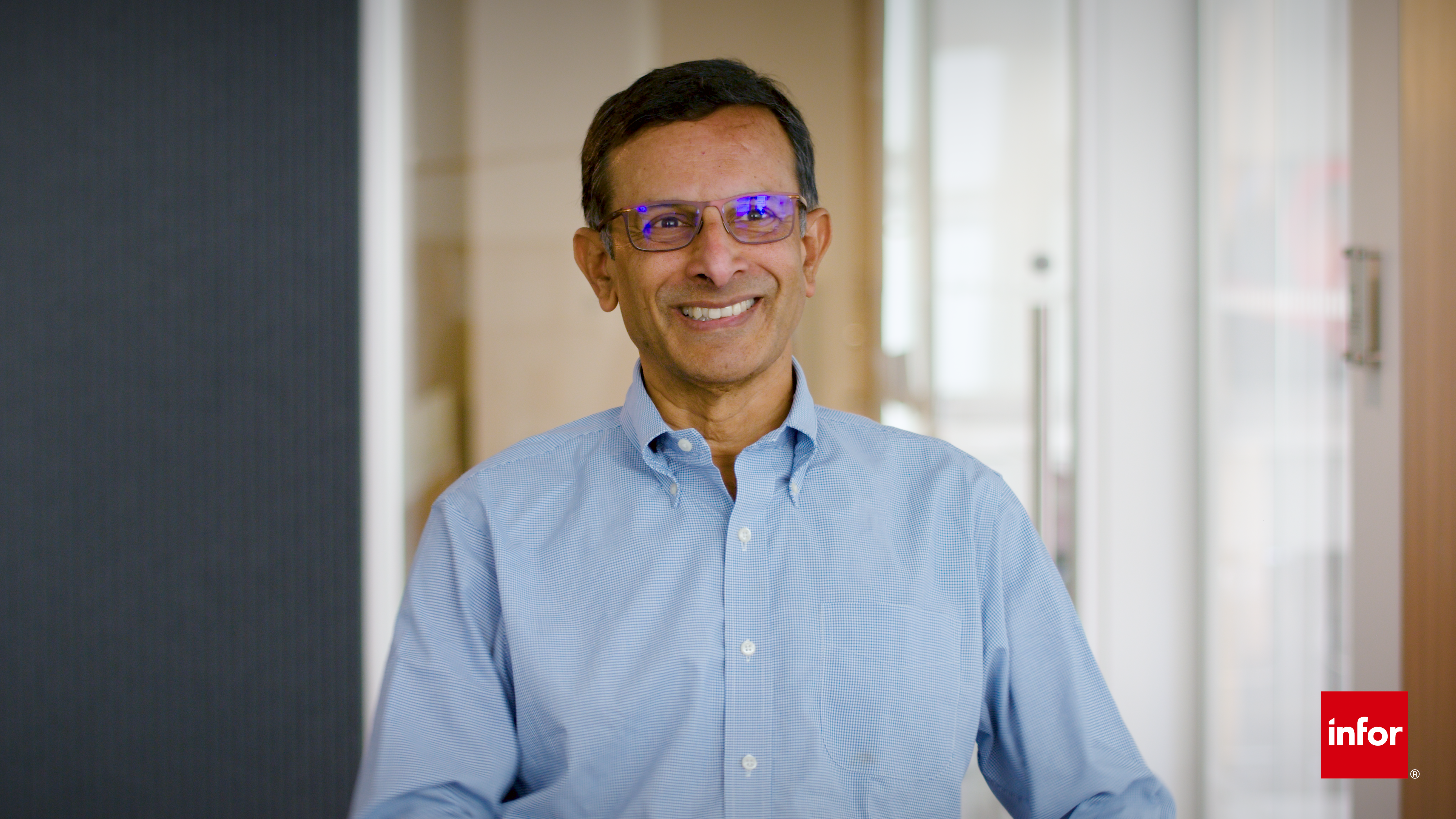 Product Release Highlights
With Infor® CloudSuite™ Automotive, manufacturers can eliminate uncertainty and boost agility across operations, countries, and factories.
From new models with novel technologies to complicated sustainability demands, automotive manufacturers are constantly faced with new challenges. With a newly enhanced toolkit (equipped with more visibility, management assistance, and billing automation), Infor CloudSuite Automotive simplifies these challenges so businesses can stay fast, smart, and competitive.
Control costs and drive profitability
Increase supply chain resilience
Optimize manufacturing productivity
Overview
Control costs and drive profitability
In the automotive industry, profitability depends on precision. And in a market where seemingly unpredictable trends from electric vehicles to international freight costs can have a massive effect on profits, it's important to stay proactive. Infor's updated CloudSuite provides insights and financial visibility to help customers navigate uncertainty and inform decision-making that will maximize margins. The latest update to Infor CloudSuite Automotive provides a library of KPIs specific to auto manufacturers' needs, including real-time insights that can help teams make more profitable decisions, enhance financial visibility, and grow margins based on accurate projections that eliminate traditional uncertainty.

With uncertainty in so many facets of the automotive industry – from changing regional sustainability regulations to supply pricing and availability – it's easy for manufacturers and their margins to fall behind the latest trends. Infor's latest CloudSuite Automotive provides insights and forecasts specific to the automotive industry, helping manufacturers and industry leaders stay in control of their margins and prepared to keep their profits strong.
KEY INDUSTRY ENHANCEMENTS
Self-billing for aftermarket and services business (based on sales orders): As automotive OEMs and suppliers expand their after-market businesses, this new capability helps customers better understand their finances, and simplifies invoicing and payment management for smoother orders.
Overview
Increase supply chain resilience
Supplying vehicles for a global customer base doesn't need to feel as sprawling as it sounds. The latest Infor CloudSuite Automotive updates reduce unnecessary supply chain uncertainty and enhance customer satisfaction by consolidating collaboration with business partners and suppliers, multi-site planning, and billing – all in one platform. Infor CloudSuite Automotive simplifies supply chain management for automotive customers, providing details like part pricing, environmental regulations, and freight costs all in one sleek, easy-to-use interface.

Major automotive manufacturers handle multiple global supply chains and need to ensure timely, accurate deliveries worldwide. With Infor CloudSuite Automotive, manufacturers have the planning power they need to communicate with suppliers in real-time, avoid missteps, and swiftly remedy mistakes when they arise. Infor CloudSuite Automotive has brought increased supply chain visibility to our auto customers through market-to-order systems so automotive OEMs, specialty vehicle manufacturers, and tier suppliers can understand what materials are in their pipelines, where those materials are at any given time, and make firm promises to customers accordingly.
KEY INDUSTRY ENHANCEMENTS
Trading partner compliance: Infor's trading partner compliance tool compiles various supplier details (such as costs, quantities, billing, and related paperwork) into ready-to-send messages, which are then shared via the outbound Electronic Data Interchange (EDI). In addition to organizing this information, the trading partner compliance tool ensures all partners and correspondences are compliant with the latest industry regulations.

Streamlining shipments: In our latest software update, improvements have been made to make shipment processes smoother, more efficient, and more compliant with service-level agreements. Improvements include planning for alternative packaging when needed, and a tool for planning and prioritizing shipments to enable timely deliveries to priority customers.
Overview
Optimize manufacturing productivity
As vehicles grow smarter, the way we build them needs to keep pace. Automotive production powered by out-of-date technology leaves room for unnecessary errors, waste, and margin reduction. Infor's updated CloudSuite Automotive boosts productivity by optimizing and monitoring assembly lines, allowing OEMs and specialty vehicle manufacturers to produce more in less time and meet increasingly complicated customer demands with reduced errors. With its latest update, Infor CloudSuite Automotive sequences assembly lines and supports multi-modal manufacturing, allowing auto suppliers to transform a single production line into a streamlined operation fit to produce the multiple models, trims, and options customers crave while handling potential malfunctions and part changes in mere minutes with data-powered insights.

With a shrinking talent pool, automotive manufacturers face staffing shortages and increasingly complex consumer requests. The updated Infor CloudSuite Automotive uses assembly line sequencing and multi-modal manufacturing to boost productivity and transform production across manufacturing types and business models.
KEY INDUSTRY ENHANCEMENTS
Configurable product workspace: As more automotive customers seek the ability to provide special options for consumers using Infor CPQ, Infor's configurable product workspace provides a new space for customer service representatives to customize products from a single screen. This tool also provides pricing and tracking information for each quote, and links directly to relevant sales orders for consolidated information all in one place.

Material overage management: Material overage management tightly intertwines Infor PLM for Discrete and Infor CloudSuite Automotive systems to help engineers carefully study the impact of part changes on the rest of the automotive manufacturing process. By illustrating and planning for this impact, automotive manufacturers can better control necessary changes and swaps, which cuts down on waste and makes for smoother processes.
Adapt to unparalleled automotive market challenges
Make smart, bold decisions with confidence and fact-based risk analysis. Be strategic, remove roadblocks, set priorities, and cut through complexities.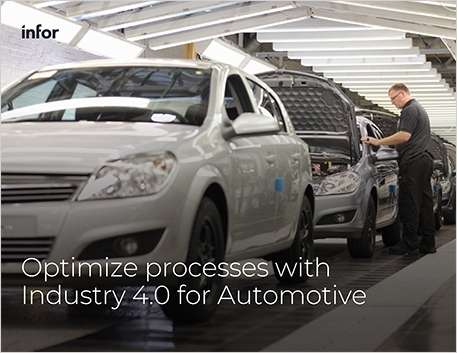 Get the most from Industry 4.0 advances
Automotive cloud ERP is transforming the auto industry, and Industry 4.0 automotive solutions are providing faster results.
Micro-vertical functionality delivers business value faster

AUTOMOTIVE SUPPLIERS

TIRE SUPPLIERS

AUTOMOTIVE OEM

SPECIALTY VEHICLES

AFTERMARKET PARTS & SERVICE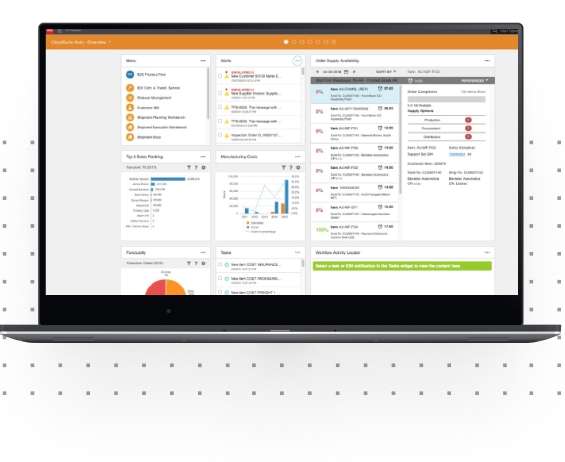 Don't follow the pack. Move to the frontline.
Become a leader in your market. Keep your eyes on the future and your data focused on growth opportunities. With accurate data to back your decisions, you can be confident and creative in your problem-solving.
Trust Infor OS platform with advanced analytics, driven by AI and ML, to provide holistic, accurate insights into your business
Empower business users with role-based dashboards and easily consumable data insights
Take advantage of Infor's platform as a service for greater flexibility
Improve operational efficiencies using sensors, machine-to-machine connectivity, and IoT technologies
New trends require new thinking, new processes, new software
Dramatic changes in vehicle technology, means more complexity on the shop floor. Visibility helps maintain order, priorities and efficiency.
Navigate R&D and product launch processes more efficiently
Track regulatory compliance and quality control
Manage projects and stage-gating for introductions
Offer highly configured products and RFQs
Maintain APQP, MMOG, and revision control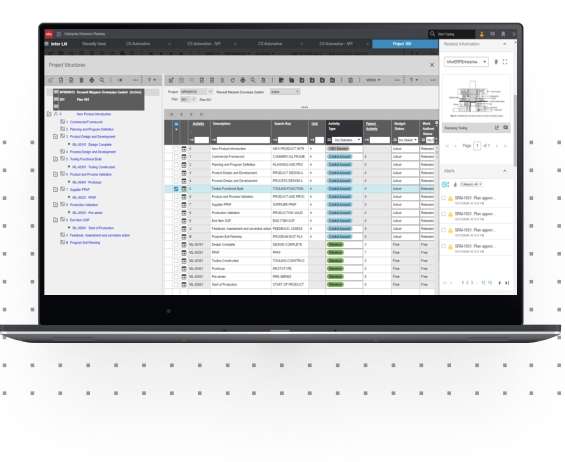 Collaborate on complex project details
Choose and rely on secure platforms that expedite your organization's goals for ever better cars, trucks, engines, and more.
Join forces and share data and design concepts with partners and customers
Use EDIs to safely share information with customers, contractors, and suppliers
Manage a highly secure global commerce network
Maintain visibility upstream and downstream
Securely navigate contracts through Infor Automotive Exchange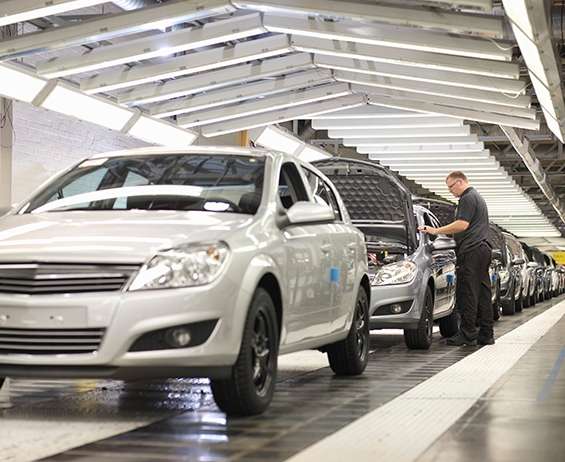 ERP for automotive supply chain management
Optimize complex end-to-end planning , communication, and execution.
Maintain global visibility to anticipate and adjust as needed
Improve S&OP and supply chain planning
Leverage advanced analytics to project outcomes and risks
Manage for multi-site, multi-logistics inventory planning
Control inventory, minimizing investment, reducing costs
Track items by lot and Serial 360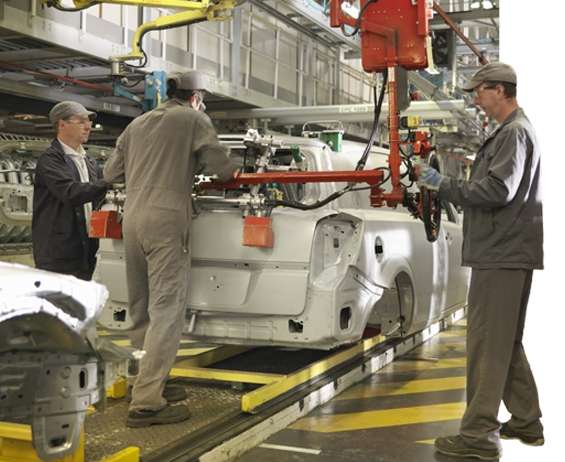 Deploy smart, simplified, preconfigured functionality
Utilize solutions that can help streamline auto or parts manufacturing as well as industry processes.
Take advantage of preconfigured, industry-specific capabilities for ease and speed of deployment
Leverage built-in, proven best practices, forms, and workflows
Manage mixed mode manufacturing, including: project, repetitive, job shop, engineer-to-order, and assemble-on-demand—with one solution
Handle shop floor operations, workforce management, and quality control
Automotive customer successes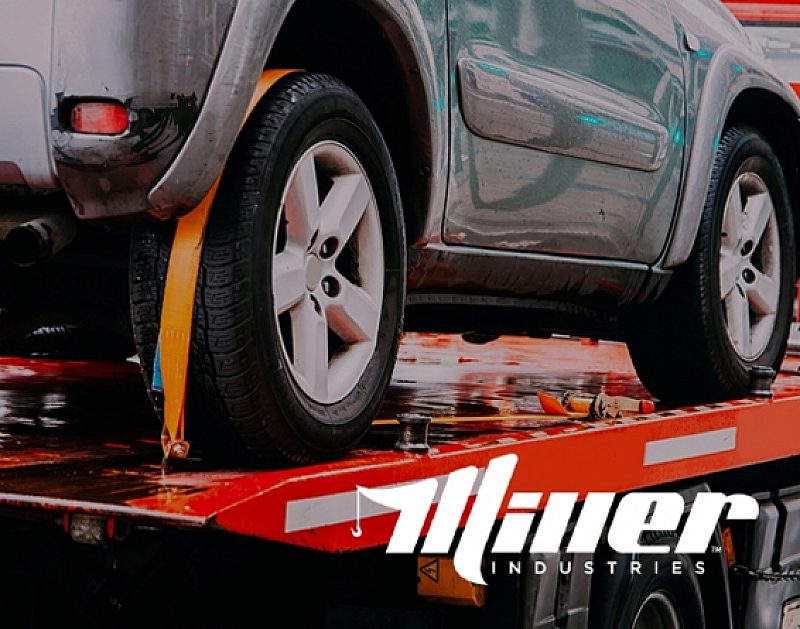 Boost towing and recovery providers' productivity with advanced analytics
Miller Industries, a world leader in towing and recovery equipment, transformed its business with Infor Birst analytics. Thanks to a top-down, CEO-led initiative, all of the executive and management teams now have easy access to a single source of live, accurate information which has improved productivity and changed decision-making within the company.
Learn more
Automotive cloud software
Automotive manufacturing ERP
Manufacturing ERP software for mid- to small-size businesses
Supply Chain Network / Supply Chain Planning / Warehousing
Manufacturing Execution System
Talent Management
Automotive analytics with AI
Configure Price Quote / Field Service