Germany-February 02, 2023, 10:00 AM
Leading supply chain service provider implements Infor WMS
MUNICH – February 2, 2023 – Infor®, the industry cloud company, today announced that HAVI Group has deployed Infor WMS warehouse management system in the cloud. HAVI is a global company that innovates, optimizes and manages the supply chains of leading food service brands.
HAVI plans to implement Infor WMS at more than 50 of its distribution centers across Europe and Japan by the end of 2026. The solution will contribute to continuous improvements in HAVI's service, efficiency and operational resilience from these locations.
Following an extensive year-long search, HAVI selected Infor WMS after recognizing the strengths of its cutting-edge technology architecture. This ensures, at all times, the highest IT security standards, round-the-clock service availability, optimal operational efficiency, and the safety and traceability of food across the supply chain. HAVI also looks forward to leveraging the solution's advanced warehouse operations management and resource planning capabilities, which include 3D visualization and a more data-driven approach to execution.
HAVI found the perfect partner in Infor because the multi-tenant cloud, powered by AWS (Amazon Web Services), provides all updates on a monthly basis, ensuring that Infor WMS is always up to date. The warehouse management solution provides visual monitoring and control of order processes. Resource capacities and shortages can be viewed in real time, enabling resource allocation to be accelerated as needed. In addition, workforce planning and management is integrated with Infor WMS. This allows for more effective and efficient management of service requirements, so the software can be used to holistically manage and account for all distribution center activities.
"Infor WMS offers many features that allow us to respond to our customers' evolving needs, with increased standardization and more advanced planning and execution. We also see opportunities to increase our operational performance by adopting new technologies and automation, as these can contribute to an even safer workplace while elevating the employee experience," says Rafael Gomez, HAVI SVP, supply chain operations and freight management.
"In view of the current economic crisis, the essential importance of supply chains for the global economy is becoming apparent. For this reason, we are pleased to welcome HAVI as our customer," said Wolfgang Kobek, Infor EVP & general manager for international. "We are aware of the trust placed in us — especially with regard to IT security — and are proud to meet the demands of constantly evolving supply chains of today and tomorrow with our software."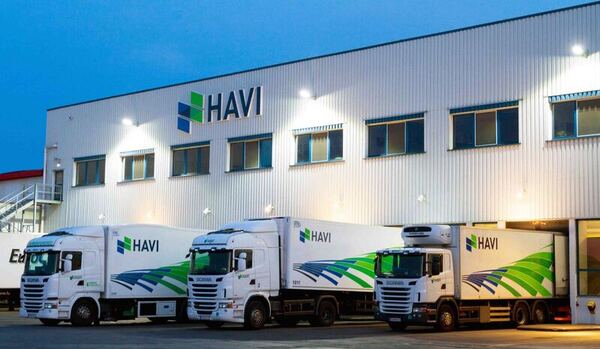 Photo courtesy of HAVI
About HAVI
HAVI is a global, privately-owned company that connects people with ideas, data with insights, supply with demand, restaurants with deliveries, and ultimately, people with the products they love. Whether we are sourcing, storing or delivering products, we bring unmatched category expertise and unrivaled operational excellence, combined with powerful digital analytics and insights. Founded in 1974, HAVI employs more than 10,000 people and serves customers in more than 100 countries. Visit www.havi.com.
# # #
Press contact
LEWIS Communications GmbH
Benjamin Gildein / Lena Seitz / Melanie Diehm
Tel: +49 89 173019 -29 / -33 / -37
infor@teamlewis.com