United States-April 17, 2023, 09:00 AM
Infor listed as Amazon HealthLake Partner, launches new data analytics solution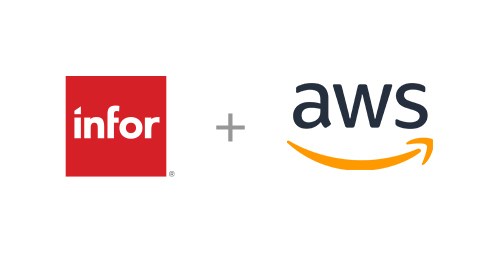 NEW YORK – April 17, 2023 – Infor®, the industry cloud company, today announced that it has been selected by Amazon Web Services (AWS) as an Amazon HealthLake Partner. This underscores Infor's commitment to strengthening its relationship with AWS and its dedication to providing industry-specific solutions powered by high-performing, scalable, and secure cloud services. Infor's cloud technologies, which work seamlessly with the world-class capabilities of AWS, provide healthcare organizations the power, security and responsiveness necessary to analyze health data so that patients feel informed and practitioners can deliver outstanding patient care.

Amazon HealthLake is a HIPAA-eligible service offering healthcare and life sciences companies a chronological view of individual or patient population health data for query and analytics at scale. Amazon HealthLake allows organizations to securely store, transform, query and analyze health data in minutes. By launching Infor FHIR Onramp (IFOR) on AWS, Infor can add value to healthcare messaging digestion and delivery.

Infor's new IFOR solution is designed to aid with ingesting data from legacy systems in various conventional formats (HL7 v2, X12, CDA, or csv database extracts) and converting them in real time or batch mode into FHIR R4, loading it into a customer's instance of Amazon HealthLake, where they will have access to all the features of modern natural language processing (NLP) and artificial intelligence and machine learning (AI/ML). IFOR can also transform the data back into legacy formats, which allows customers to leverage existing infrastructure without changes, and seamlessly onboard to utilize the advanced analytics capabilities AWS offers.

"The face of healthcare is changing because of the amount of data available to us, clinicians, and healthcare professionals. Now we can support clinical research, ambient transcription of care provider and patient interactions by eliminating the administrative burden of notes, and assess clinical quality metrics across a care community, calculating key performance metrics such as HEDIS instantly," said Matt Breslin, Infor executive vice president and general manager. "The issue many organizations are facing right now isn't data collection, it's that most data in existence needs an additional layer of technology to translate it into suitable formats that can be shared and consumed easily. Infor utilizes this experience with IFOR, so customers can quickly leverage the power of AWS for advanced analytics."

Learn more about the Infor / AWS partnership.

# # #

For more information:
Christina Ledger
Infor
312-662-2135
Christina.Ledger@infor.com


This announcement reflects the direction Infor may take with regard to the specific product(s) described herein, all of which is subject to change by Infor in its sole discretion, with or without notice to you. This announcement is not a commitment to you in any way and you should not rely on this document or any of its content in making any decision.  Infor is not committing to develop or deliver any specified enhancement, upgrade, product or functionality, even if such is described in this announcement and even if such description is accompanied by words such as "anticipate," "believe," "expect," "intend," "may," "plan," "project," "predict," "should," "will," and/or similar expressions.  Many factors can affect Infor's product development plans and the nature, content and timing of future product releases, all of which remain in the sole discretion of Infor.  This announcement, in whole or in part, may not be incorporated into any contractual agreement with Infor or its subsidiaries or affiliates.  Infor expressly disclaims any liability with respect to this announcement.