United States-July 06, 2021, 01:00 PM
Outstanding customers achievements to be recognized at Inforum 2021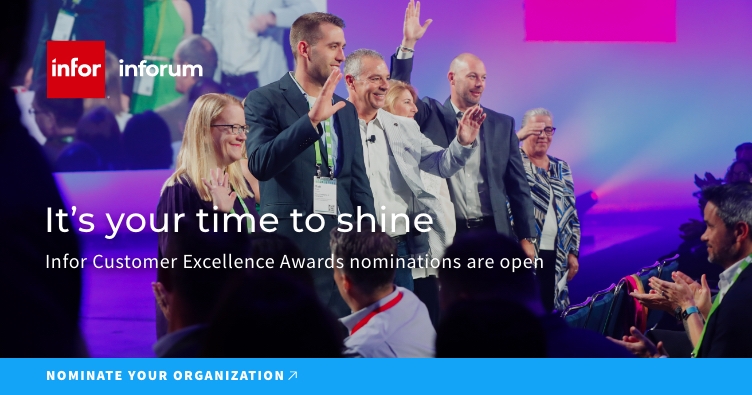 NEW YORK – July 6, 2021 – Infor, the industry cloud company, today announced that the 2021 Infor Customer Excellence Awards are now open for submissions. These awards distinguish customers that drive innovation and showcase exceptional results in business performance after implementing Infor cloud-based applications and services. Winners will be announced this November in Las Vegas at Inforum 2021, Infor's annual user conference.
"This year was one of change – changing needs of employers, employees, governing agencies, consumers, customer behavior, competitor landscapes, supply chains and so on. For many, competitive advantages have shifted as we adapt to new market realities, and we believe organizations that are embracing this change and using technological innovation as a platform to propel their businesses can continue to grow, accelerate and succeed in the market as the pandemic subsides," said Nancy Mattenberger, Infor global chief customer officer. "The Infor Customer Excellence Awards give us a platform to formally recognize all of the innovative work our customers have done this year in the face of a global economic crisis using Infor solutions to push boundaries and achieve excellence within their organizations in unique ways."
The awards identify customers that have displayed excellence in various business operations. Each candidate will be evaluated by a panel of Infor solution and industry experts based on scope and depth of performance improvement, quantifiable business benefits, customer focus and satisfaction, and technology use and innovation. The deadline for customer submissions is July 21. Nominees must be current Infor Cloud customers that have made a significant impact in their organizations by using Infor solutions and are willing to share their stories. Winners will receive special recognition at Inforum—along with a personalized award, brand amplification through media exposure, and more.
Additional resources
# # #

For more information:
Christina Ledger
Infor
Christina.Ledger@infor.com
312-662-2135