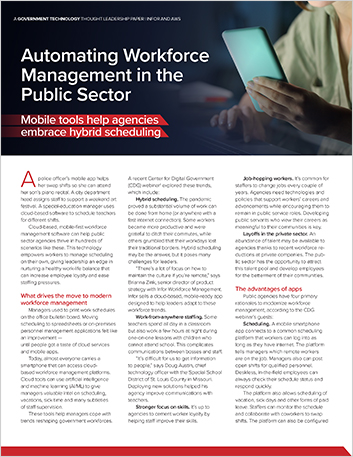 White Paper
Automating Workforce Management in the Public Sector
Overview
As one of the supporting pillars of society, public sector needs secure, reliable and modern systems to rely on. And not for a specific activity or industry, but for a variety of departments (education, finance, law enforcement etc.).
A police officer's mobile app helps her swap shifts so she can attend her son's piano recital. A city department head assigns staff to support a weekend art festival. A special-education manager uses cloud-based software to schedule teachers for different shifts.
A cloud-based, mobile workforce management software is the tool that can help public sector agencies thrive in similar scenarios, everyday, nurtruring a work-life balance that would increase employee satisfaction an loyalty.
Read the whitepaper to learn more.
Please complete the form below
Fields with * are required.
By clicking "Submit" you agree that Infor will process your personal data provided in the above form for communicating with you as our potential or actual customer or a client as described in our Privacy Policy.
This site is protected by reCAPTCHA and the Google Privacy Policy and Terms of Service apply.