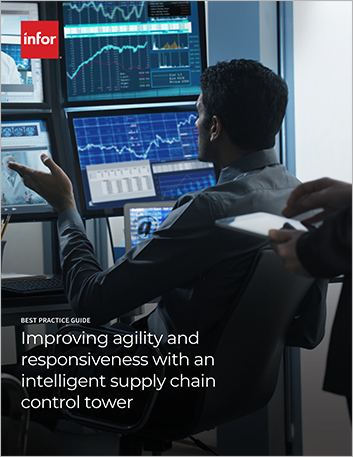 eBook
Improve agility and responsiveness with an intelligent supply chain control tower
Overview
As supply chain professionals face increased pressure, companies are looking to digitally transformation their supply chains using a supply chain control tower. This can help overcome visibility challenges, increase efficiency, and improve responsiveness––yet there are many definitions and limitations associated with various control tower solutions currently available. Read the supply chain best practices guide on achieving visibility and control to learn how to identify the supply chain control tower that best fits the needs of your organization in order to improve agility and responsiveness.

Please complete the form below
Fields with * are required.
By clicking "Submit" you agree that Infor will process your personal data provided in the above form for communicating with you as our potential or actual customer or a client as described in our Privacy Policy.
This site is protected by reCAPTCHA and the Google Privacy Policy and Terms of Service apply.