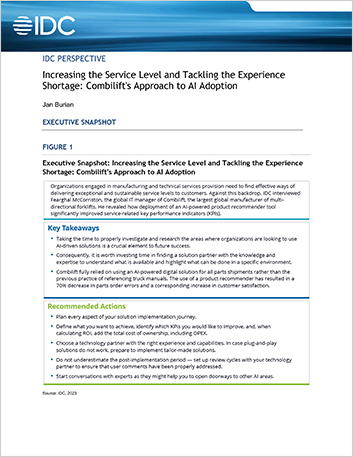 Analyst Report
Increasing the service level and tackling the experience shortage
Overview
Organizations engaged in manufacturing and technical services provision need to find effective ways of delivering exceptional and sustainable service levels to customers.

Against this backdrop, IDC Senior Research Director and leader of Future Operations European Practice Jan Burian interviewed Fearghal McCorriston, the global IT manager of Combilift, the largest global manufacturer of multi-directional forklifts.

McCorriston revealed how deployment of Infor's AI-powered product recommender tool significantly improved service-related key performance indicators (KPIs).

AI-driven digital solutions

Implemented in an effort to increase service levels and customer service, McCorriston explains, "The product recommender displays a list of recommended components to accompany a requested part. It does this by using AI to learn part sales patterns. The use of the product recommender has resulted in a 70% decrease in parts order errors and an increase in customer satisfaction."

IDC's Burian concludes, "… an AI-powered solution, such as a product recommender, could significantly improve customer-facing services involving spare parts while lowering workforce experience requirements."

Download IDC's Perspective to see the key takeaways and recommended actions.
Please complete the form below
Fields with * are required.
By clicking "Submit" you agree that Infor will process your personal data provided in the above form for communicating with you as our potential or actual customer or a client as described in our Privacy Policy.
This site is protected by reCAPTCHA and the Google Privacy Policy and Terms of Service apply.