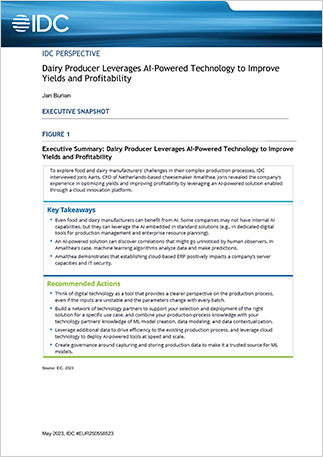 Analyst Report
Discover the value and impact of Infor's AI-powered technology
Overview
To explore food and dairy manufacturer's challenges in their complex production processes, IDC Senior Research Director and leader of Future of Operations European Practice Jan Burian interviewed Joris Aarts, CFO of Netherlands-based cheesemaker Amalthea.
Aarts talked about the company's experience in optimizing yields and improving profitability by leveraging an AI-powered solution enabled through a cloud innovation platform. He revealed how Amalthea can save hundreds of thousands of euros a year by increasing the milk yield by just 1%.
IDC predicts that, by 2026, 75% of large enterprises will rely on AI-infused processes to enhance asset efficiency, streamline supply chains, and improve product quality across diverse and distributed environments.
Download IDC's Perspective to see the key takeaways and recommended actions.
Please complete the form below
Fields with * are required.
By clicking "Submit" you agree that Infor will process your personal data provided in the above form for communicating with you as our potential or actual customer or a client as described in our Privacy Policy.
This site is protected by reCAPTCHA and the Google Privacy Policy and Terms of Service apply.