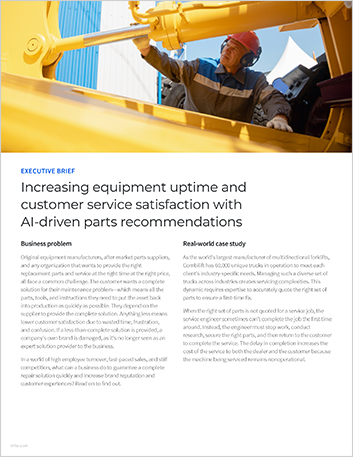 White Paper
Combilift sees a 30% increase in first-time-fix rates and a 30% reduction in time to complete service
Overview
Customers want all the parts, tools, and instructions they need to put their assets back into production as quickly as possible. They depend on their supplier to provide the complete solution. Anything less means lower customer satisfaction due to wasted time, frustration, and confusion. So, suppliers need to guarantee a complete repair solution accurately and quickly. In this executive brief, learn how Combilift leveraged the Infor Coleman® AI platform to improve the accuracy and speed of parts recommendations to increase first-time fix rates and reduce the total time needed to complete service.
Please complete the form below
Fields with * are required.
By clicking "Submit" you agree that Infor will process your personal data provided in the above form for communicating with you as our potential or actual customer or a client as described in our Privacy Policy.
This site is protected by reCAPTCHA and the Google Privacy Policy and Terms of Service apply.