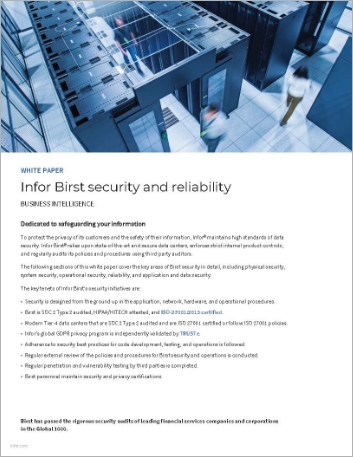 White Paper
Infor Birst security and reliability
Overview
To protect the privacy of its customers and the safety of their information, Infor maintains high standards of data security. Infor Birst relies upon state-of-the-art, secure data centers; enforces strict internal product controls; and regularly audits its policies and procedures using third-party auditors. This white paper covers the key areas of Birst security in detail, including physical security, system security, operational security, reliability, and application and data security.

Please complete the form below
Fields with * are required.
By clicking "Submit" you agree that Infor will process your personal data provided in the above form for communicating with you as our potential or actual customer or a client as described in our Privacy Policy.
This site is protected by reCAPTCHA and the Google Privacy Policy and Terms of Service apply.