Kiviks Musteri puts cloud at the core of digital transformation with Infor
Case Study
Kiviks Musteri puts cloud at the core of digital transformation with Infor
Sweden's first commercial fruit farm, Kiviks Musteri saw its first apple trees planted back in 1888. Now managed by the fourth generation of the Åkesson family, Kiviks' ethos is focused on respecting traditions and authenticity of the past, while embracing modern practices and new opportunities.
Following a significant increase in demand in 2020 as the pandemic took hold, Kiviks reported a record turnover of 74 million euros in its latest figures. This level of expansion has introduced greater complexity, and in 2016, the company underwent a review of its working practices, processes, and IT infrastructure to ensure it was delivering the necessary agility to capitalize on future potential.
Read this case study to learn how Kivik's Musteri journey to the multi-tenant M3 cloud ensures a more efficient, safe, and profitable food chain.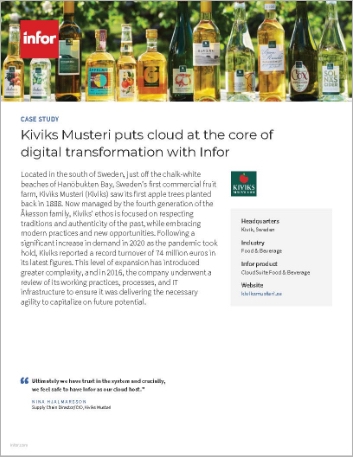 WE SPEAK FOOD & BEVERAGE
Additional food and beverage resources
A modern ERP solution built for food and beverage can improve food safety, minimize waste, and create a more transparent food supply chain. Read these additional resources to learn how simplified food industry software can transform your business.
Let's Connect
Contact us and we'll have a Business Development Representative contact you within 24 business hours
By clicking "Submit" you agree that Infor will process your personal data provided in the above form for communicating with you as our potential or actual customer or a client as described in our Privacy Policy.