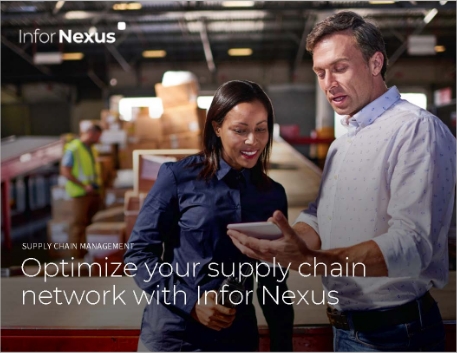 Brochure
Optimize your supply chain network with Infor Nexus
Overview
Organizations managing the world's most complex supply chains know traditional methods are no longer sufficient. To gain a greater visibility of the rapid changes occurring across their network, some of the biggest and most respected companies in the world use Infor Nexus network platform to streamline collaboration, increase efficiency, and maximize profit. Find out how the Infor Nexus supply chain network platform can help your business increase supply chain velocity, agility, and resiliency to drive better business outcomes and increase customer loyalty.

Please complete the form below
Fields with * are required.
By clicking "Submit" you agree that Infor will process your personal data provided in the above form for communicating with you as our potential or actual customer or a client as described in our Privacy Policy.
This site is protected by reCAPTCHA and the Google Privacy Policy and Terms of Service apply.