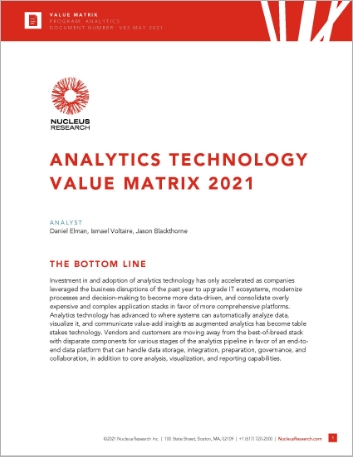 Analyst Report
Birst named a Leader in the Nucleus Research Analytics Technology Value Matrix 2021
Overview
In its 2021 Analytics Value Matrix, Nucleus Research describes how the past year's events have accelerated many organization's plans to become more data-driven, resulting in increased analytics technology investments and a focus on speed of deployment.
Read the report to discover why organizations are moving away from best-of-breed analytics stacks to end-to-end data platforms and why Infor Birst was named a Leader.
Please complete the form below
Fields with * are required.
By clicking "Submit" you agree that Infor will process your personal data provided in the above form for communicating with you as our potential or actual customer or a client as described in our Privacy Policy.
This site is protected by reCAPTCHA and the Google Privacy Policy and Terms of Service apply.