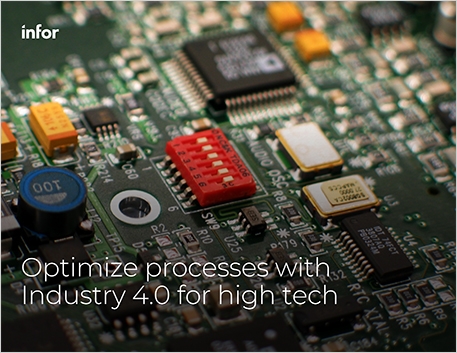 eBook
Optimize processes for Industry 4.0 success in high tech
Overview
Manufacturers in high tech can see today's market demands as challenges––or opportunities. Companies that can step up to the call for innovation have wide open fields of potential customers eager for new products and applications. Those that struggle with outdated legacy solutions risk being left behind, playing catchup, or holding obsolete inventory.

Read this overview to see why from design to delivery, advanced cloud solutions are necessary to streamline processes so manufacturers can respond with agility.

Please complete the form below
Fields with * are required.
By clicking "Submit" you agree that Infor will process your personal data provided in the above form for communicating with you as our potential or actual customer or a client as described in our Privacy Policy.
This site is protected by reCAPTCHA and the Google Privacy Policy and Terms of Service apply.