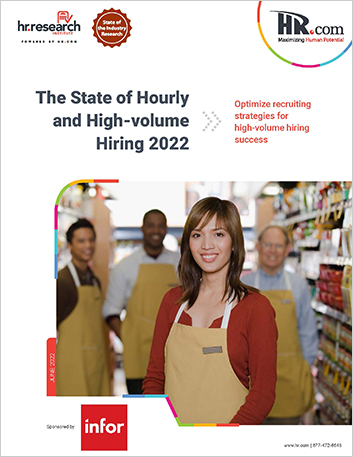 Analyst Report
Optimize recruiting strategies for high-volume hiring success
Overview
High-volume hiring is one of the great HR challenges of 2022, requiring employers to bring on anywhere from a few dozen to tens of thousands of new employees at any one time, often for the same or similar jobs. This report focuses on these dynamic methods of agile recruiting during today's post-pandemic challenges. We invite you to download and read the full report with 10 key takeaways from this annual research to learn how these outcomes and insights may apply to your organization.

Download this report to discover:
Top challenges of high-volume recruiting
The latest high-volume hiring trends
Ways to assess your organization's high-volume hiring strategies
Tools, technologies and metrics organizations use
Please complete the form below
Fields with * are required.
By clicking "Submit" you agree that Infor will process your personal data provided in the above form for communicating with you as our potential or actual customer or a client as described in our Privacy Policy.
This site is protected by reCAPTCHA and the Google Privacy Policy and Terms of Service apply.