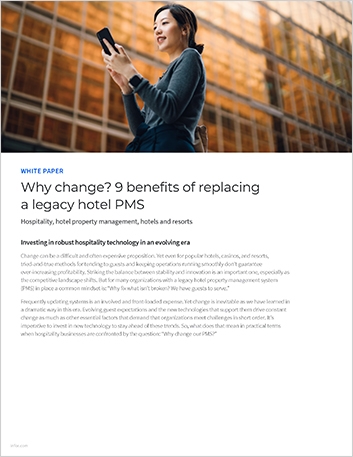 White Paper
Change it up—the nine best reasons to replace a legacy PMS
Overview
Investing in a new PMS solution is a big project, and not without a significant level of expense required right up front. Some hospitality organizations are content to leave their legacy systems in place: "Why fix what isn't broken?" Yet, due to how fast the competitive landscape is changing driven by technology, hotels must consider whether their current systems can support evolving guest expectations in the present and future.

Please complete the form below
Fields with * are required.
By clicking "Submit" you agree that Infor will process your personal data provided in the above form for communicating with you as our potential or actual customer or a client as described in our Privacy Policy.
This site is protected by reCAPTCHA and the Google Privacy Policy and Terms of Service apply.