Human Resources
Empowering people with innovative cloud-based human capital management solutions
Deliver remarkable experiences
Infor® Human Resources is a powerful set of cloud-based human capital management (HCM) software solutions that empower your people to deliver streamlined processes with remarkable experiences. This solution replaces complex processes, workflows, and systems with sophisticated, yet intuitive technology. Give your HR professionals the ability to connect your business and talent objectives to create significant value across your organization.
Featured Human Resources Resources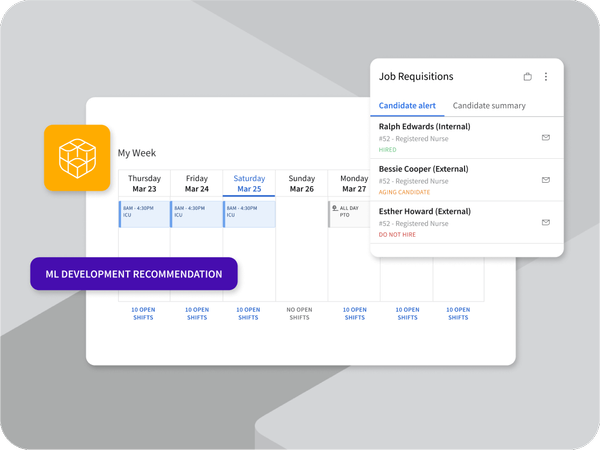 New Features
New product release features
Infor's future-proof solutions are engineered to meet the most flexible, ever-changing demands of human resource management. HR customers are now able to take full advantage of the latest product enhancements.

New workspaces for shift-based employees + managers: New workspaces in the Portal Workspace catalog bring together employee + manager self-service functions across Human Capital Management (HCM) and Workforce Management (WFM). Shift-based employees + managers have unique Time & Attendance and Scheduling needs in addition to standard employment and HR tasks.

Blockchain career credential verification: Reduce the time to hire and the effort and costs that organizations spend with traditional background verification processes by leveraging the blockchain-based Velocity Career Wallet. Leverage new career credential and verification technology to reduce labor costs incurred with traditional (phone/e-mail/fax) verification methods.

Machine learning employee development recommendations: Leverage machine learning technology to provide employees with suggested career development learning activities bases on what peers in the same role have completed. Increase engagement and training compliance by providing employees what activities that are right for them.
Focused industry enhancements
---
Infor CloudSuite Healthcare delivers future-proof solutions so hospitals can deliver optimal care.
Learn more
---
Responsiveness builds resilient communities. Develop agility with Infor CloudSuite Public Sector.
Learn more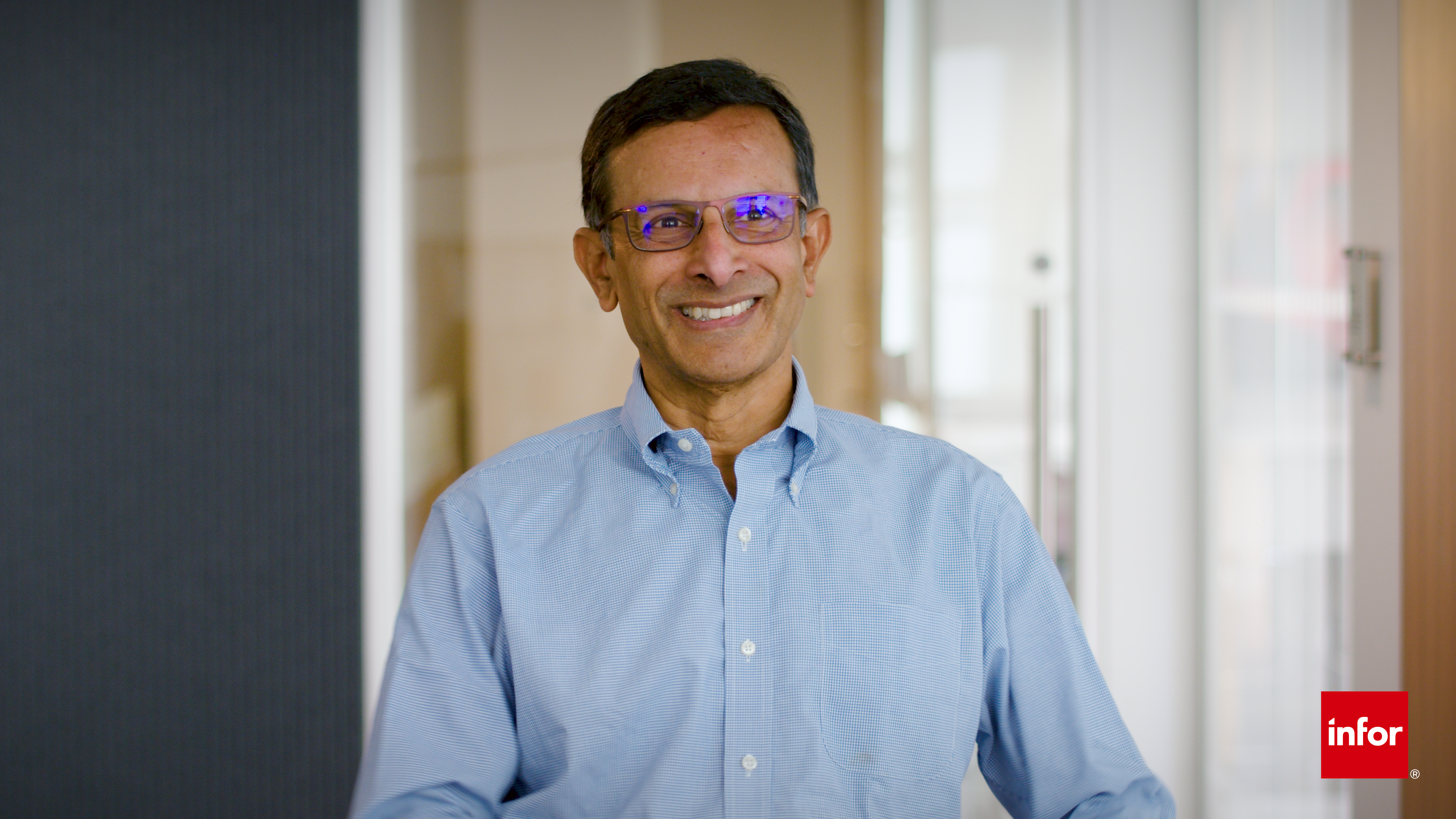 Infor Innovation
The latest in Platform Technology and CloudSuite solutions
Infor President & CTO, Soma Somasundaram, describes the latest in Platform Technology and CloudSuite solutions, enhanced with new automation capabilities and industry-specific insights, to deliver better business outcomes — all within one platform.

The workforce continues to change at a rapid pace, and Koch recognized the need to invest in a modern technology platform that enables business transformation and drives greater value. We prioritized a cloud-based, global platform to transform how we deliver HR across the enterprise and to ultimately enhance the experience for our employees. We are extremely pleased with the implementation of the HR application, which is why we're moving on to the CloudSuite™.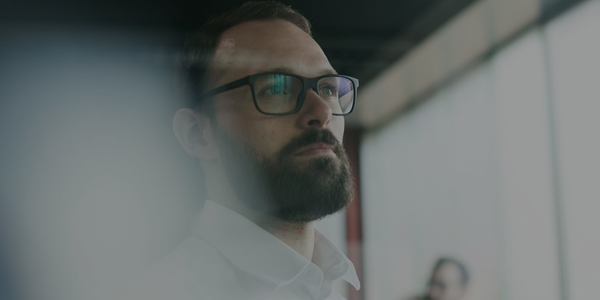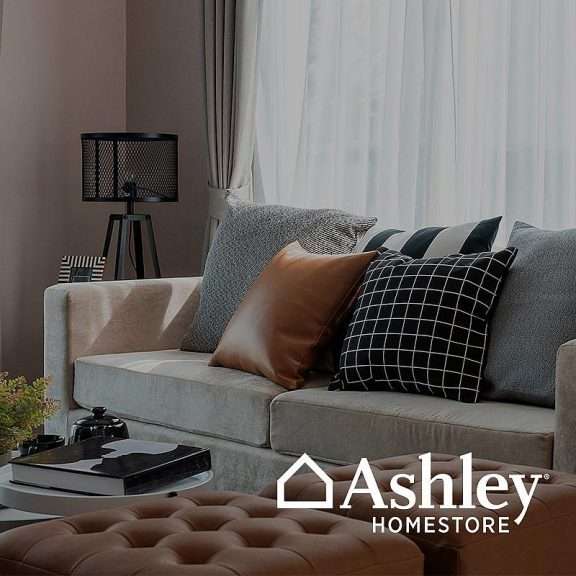 Customer success
Watch this video to hear Danna Szwed, EVC, Chief HR Officer, Ashley Furniture, discuss why the company chose Infor HCM as its solution for now and into the future, and why she says Infor's mobile HCM technology leads the competition when it comes to modern HR.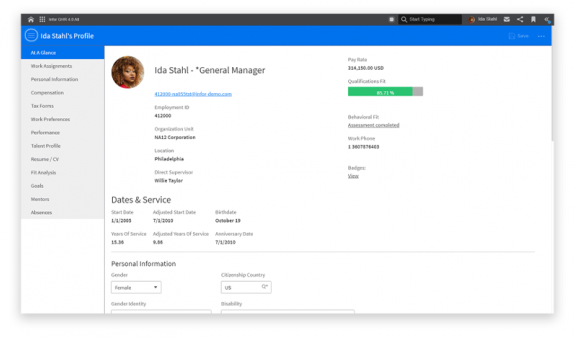 Global HR
Experience cloud-based leading technology
Build a global enterprise foundation
Create a single record for your people
Enable HR application connectivity
Take advantage of Infor Global HR extended solutions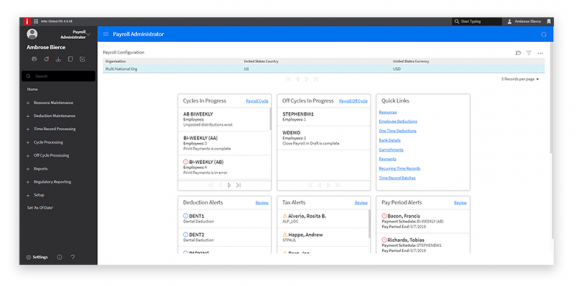 Payroll
Design a simplified pay cycle
Utilize consolidated configuration for pay-cycle processing
Take advantage of a payroll administrator dashboard
Lock time records during pay-cycle processing
Experience cloud financial integration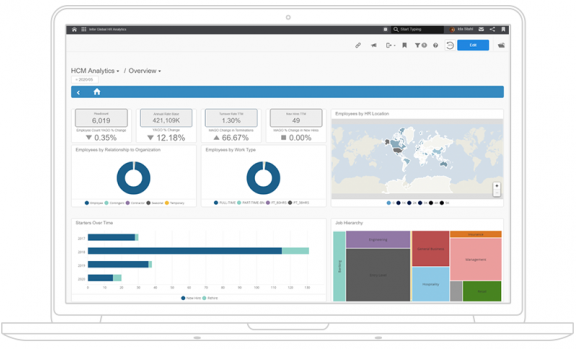 Benefits
Absence Management—Automate time off programs
Benefits Management—Offer health, medical, disability, insurance, and retirement/investment programs to employees, retirees, and special participants
Compensation Management

—

Perform planning and award budgets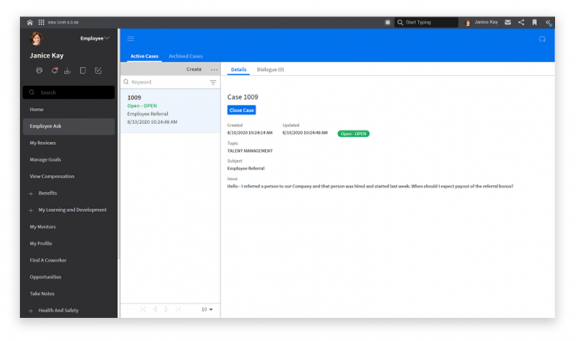 Case management
Deliver automated case routing
Report and analyze all aspects of cases
Create surveys to collect valuable feedback from your people
Track service-level agreements (SLAs)
Support agent and manager queues
Additional resources
Infor OS
A robust cloud operating platform for accelerating innovation throughout the enterprise ecosytem