Workforce Scheduling
Maximize workforce efficiency with a vertically specialized solution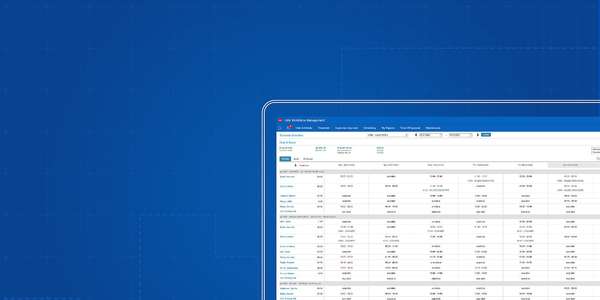 Ensure peak workforce utilization while reducing labor costs
Create shift- or demand-driven schedules, while adhering to complex labor rules and regulations, with Infor® Workforce Scheduling. This employee scheduling software solution is enterprise grade and purpose built with vertically specialized capabilities that are designed to meet specific industries' unique and evolving requirements.
Key capabilities
---
Meet today's complex scheduling needs with a robust industry-specific scheduling tool
---
Manage and streamline day-to-day scheduling operations with cross-team and staff-floating capabilities

---
Take a data-driven, scientifically optimized approach to schedule generation


---
Ensure compliance with fair scheduling laws


---
Empower employees to take ownership of their schedules


---
Manage optimal schedule coverage, while maximizing workforce productivity


"Our team members have one place to go now for all systems and are completely mobile. The fact that most of our implementation is available via mobile—priceless."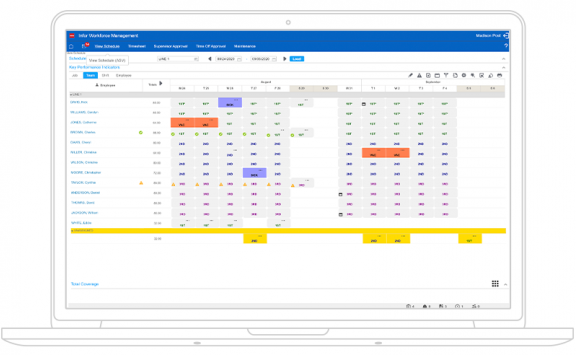 Multi-view scheduler (MVS)
MVS provides tools for describing labor demand, schedule planning, and managing day-to-day schedule changes, including unplanned absences. Employees are empowered to participate in various phases of schedule planning and execution through self-scheduling and time-off management.
Take advantage of rotation schedule planning
Enable on-call shift management
Allow managers to modify schedules or fill unexpected gaps as they happen
Track schedule changes with a comprehensive audit history
Central staffing
Central Staffing provides a high-level view of schedules for multiple teams within an organization. It is designed to help manage immediate schedule needs, such as unexpected absences or increases in labor demands, by identifying coverage fluctuations and reallocating staff accordingly.
Experience a daily tactical operational center
Monitor coverage details and KPI allow for fact-based decision-making
Leverage an efficient workforce redeployment with extensive floating capability
Take advantage of contextual shift transactions for easy schedule management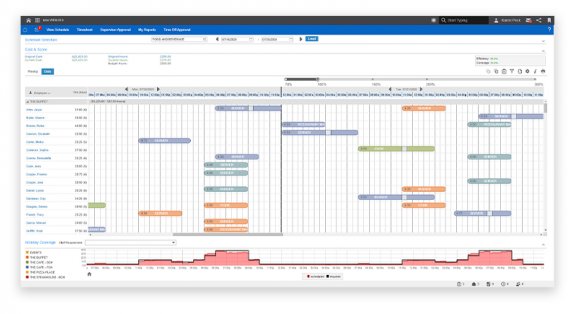 Labor forecast and schedule optimization (LFSO)
Solve your most challenging workforce scheduling challenges using machine-language and mathematical models. The models consider all potential variables that affect your business in real time to consistently create optimized schedules.
Enable employees to indicate availability to ensure optimal work-life balance
Allow managers to modify schedules or fill unexpected gaps as they happen, using email or their mobile device
Create schedules that are fully compliant with union rules, government regulations, and corporate policies
Distribute optimized schedules over the Internet, intranet, employee kiosks, or mobile devices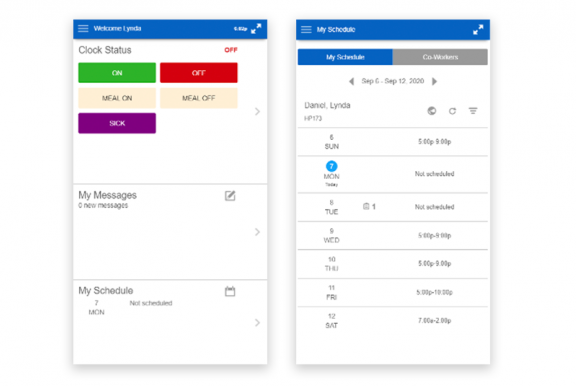 Fair scheduling
The fair scheduling module is designed to help organizations satisfy the legal requirements of fair scheduling (schedule predictability) laws. These laws govern how employees are reimbursed for last-minute schedule changes.
Capture incidents when schedules are modified within a specified time threshold
Indicate why individual changes were made, and when the employee was notified
Pay employees-mandated premiums when required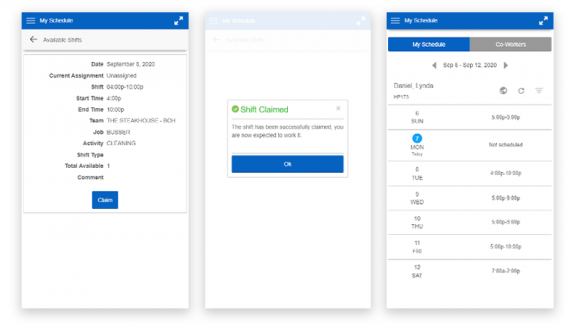 Shift billboard
Shift billboard encourages employee engagement, by allowing them to actively participate in building their own work schedules. Managers can easily reduce understaffing by posting open shifts for employees to claim. Employees can post their own shifts for better control of their work-life balance.
Route schedule compliance violations for approval to provide oversight
Decrease no call/no show incidences
Reduce ah-hoc requests to managers
Increase employee satisfaction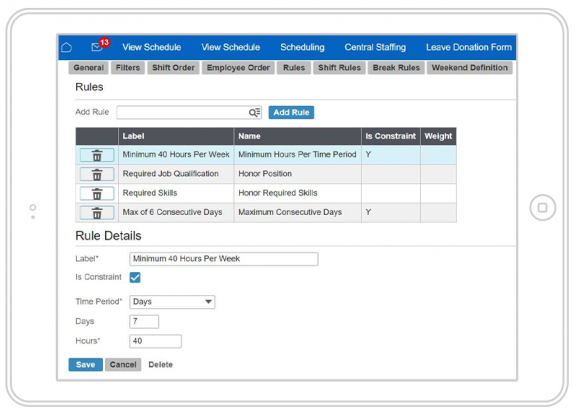 Scheduling auto assignment
Using a mathematical optimization model the auto assignment engine can produce the best possible schedule based on the parameters of a given schedule pr oblem.
Save time and leverage industry flexibility
Compatible with multi-view scheduler (MVS) and labor forecast and schedule optimization (LFSO)
Create optimal scheduler coverage
Reduce staff costs
Infor OS
A robust cloud operating platform for accelerating innovation throughout the enterprise ecosytem