May 3, 2023By Kelly Squizzero, Senior Director of Industry & Solution Strategy for Distribution
Join us at the annual conference for Infor Distribution users set for June 5-8, in Palm Springs, Calif.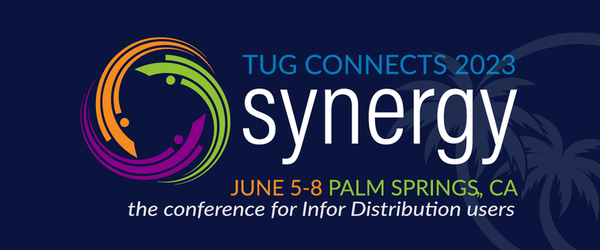 TheUserGroup.org is excited to invite distribution professionals to TUG CONNECTS 2023, a premier in-person conference that brings together hundreds of distribution professionals for a week of interactive networking and education. This year's conference, Synergy, promises to be the most exciting one yet, and it will take place June 5-8 at the JW Marriott Desert Springs Resort & Spa in Palm Springs, Calif.

Robin McGuire, CIO at Reinders, and TUG Board Director at Large, attests to the value of attending TUG CONNECTS 2023: "One of the most valuable aspects of TUG CONNECTS is the chance to connect with peers and build new relationships. Our attendees come from a variety of roles and industries, but they share a common goal – to drive success and innovation in their businesses. The networking opportunities at TUG CONNECTS are unmatched, and I always leave the conference with valuable insights and new connections that help drive success in my own organization."

TUG CONNECTS 2023 boasts an impressive lineup of keynote speakers who will share their expertise on advancements in the industry. Attendees can expect to learn about Infor solutions, including CloudSuite Distribution (SX.e), CloudSuite Distribution Enterprise (M3), WMS warehouse management system, and Rhythm for eCommerce. Further, there will be sessions covering the latest advancements in artificial intelligence, machine learning, and robotic process automation (RPA), technologies important to distributors to improve critical elements of their business such as customer experience, inventory management, and pricing.

The conference is designed to make it easy for attendees to find the sessions, product demos, and people that are most relevant to them. In addition, the expo hall will be organized by neighborhoods, with solutions grouped together by capability, making it easier for attendees to do their research and find solutions tailored to their business needs.

If you're an executive leader, you won't want to miss the Executive Summit at TUG CONNECTS 2023. This two-day event is designed specifically for executive leaders who want to gather in a smaller, more intimate setting to learn about the latest advancements and business achievements in the distribution industry.

The conference also provides an incredible networking opportunity, with hundreds of customers gathering in the same space. Attendees will have the chance to reconnect with old friends and make new ones, as well as access some of the most knowledgeable experts in the industry, including representatives from AWS and Deloitte.

Finally, TUG CONNECTS 2023 has made it easy for attendees to justify their attendance. Check out the helpful guide on its website.
In summary, TUG CONNECTS 2023 is one of the best distribution customer events of the year. Attendees will have the opportunity to network with their peers, learn from the industry's top experts, and discover the latest advancements in technology. Don't miss this incredible opportunity to work smarter and more efficiently. Join us at TUG CONNECTS 2023|Synergy and let's explore the future of distribution together!