October 27, 2021By Khalid Marbou
We are excited to announce Infor OS Data Fabric for the Infor OS platform. Infor OS Data Fabric is a dedicated application experience that marks the next stage in the evolution of Infor's cloud-native data platform solutions.
In 2017, the release of Infor Data Lake marked Infor's product vision and investment into the future of data platforming in the cloud. Today, an ecosystem of more than 30 Infor applications publish to and process data on the Data Lake to drive their enterprise analytics, performance management and budgeting, and AI and Machine Learning use cases.
Infor OS Data Fabric is the next phase of Infor's built-for-the-Cloud products that create data solutions with the Data Lake. With new features on the roadmap, we expect Infor OS Data Fabric to become the center of gravity for your organization to continue scaling.
How does this impact my organization?
The Data Lake user interface currently available within ION Desk is expected to remain available and accessible until April 2022 (Infor OS 2022.04) at which point, access to Data Lake will be managed exclusively through the Data Fabric application. Beginning in November 2021 (Infor OS 2021.11), users accessing the Data Lake user interface within ION Desk will notice a banner encouraging them to begin using the Data Fabric application.
New Security Roles
With the October 2021 (2021.10) release of Infor OS, a new Data Fabric application is available with the correct security role entitlements governed by Infor Federation Services (IFS).
Two new IFS security roles have been added:
DATAFABRIC-SuperAdmin
DATAFABRIC-User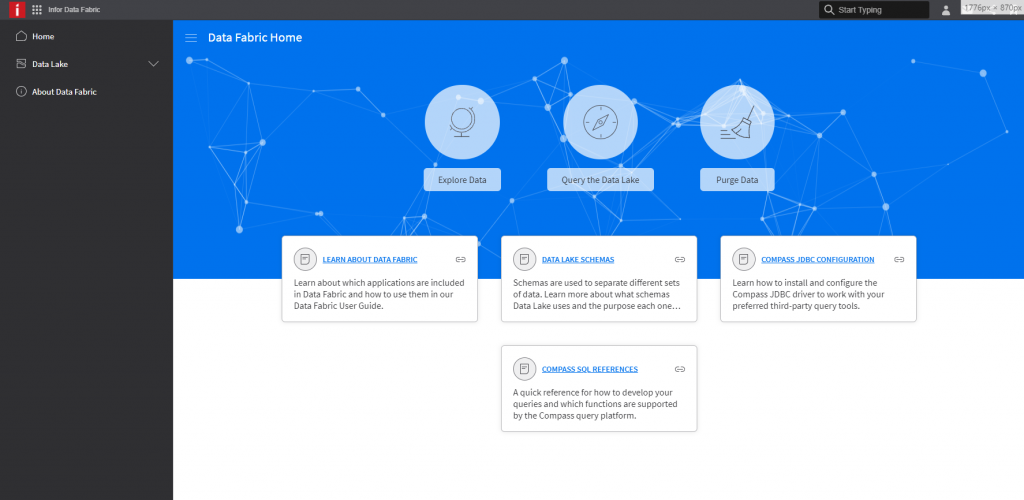 For information regarding access and configuration, Infor recommends visiting the Security section of the Data Fabric User Guide.
New Data Fabric API
The Data Fabric API suite is now available within the Infor OS API Gateway, featuring the latest versions of all data platform APIs and capabilities. Note that all current APIs for Data Lake (/datalakeapi) will remain available and projects and solutions developed using the Compass and storage APIs should continue to work beyond April 2022.
New features and enhancements to APIs, as well as new APIs, are expected to be introduced via the Data Fabric API suite. The datalakeapi API endpoint is scheduled for deprecation and decommissioning in October 2023 (Infor OS 2023.10), so Infor recommends new projects utilize the latest APIs available within the Data Fabric suite.
Infor will continue to provide support notification reminders of the API endpoint decommission date.
Support
For issues regarding product support or enhancement requests for Data Fabric, please use the new 'Infor DataLake/DataFabric (OS)' product reference.
Where can I learn more?
For more information regarding Data Fabric including new features, tutorials, and documentation, see: