July 12, 2023By PAUL BOATMAN PH.D. | SR. DIRECTOR, HEAD OF SCIENCE
Talent assessments have become increasingly popular in the world of work as a tool for identifying and developing individuals' skills and abilities. However, despite their widespread use, there are still many myths and misconceptions surrounding talent assessments that can prevent individuals and organizations from fully realizing their potential.

In this blog series, we will explore and bust some of the most common myths associated with talent assessments. By doing so, we hope to help individuals and organizations gain a better understanding of the true value of talent assessments and how they can be leveraged to maximize human potential.
MYTH #3: Assessments are biased
We recently conducted an analysis involving over 50,000 hires from a few dozen of our client organizations looking at hourly positions to management roles across a variety of industries. Fortunately, our clients provided us with the demographic information from these hires, including people hired in the years before the Talent Science assessment was launched and those hired using Talent Science.
What did the data tell us? Across these different companies and across different types of jobs - the diversity of hires with assessment went up 26% after Talent Science was implemented. If assessments were inherently biased, wouldn't you expect the opposite to happen?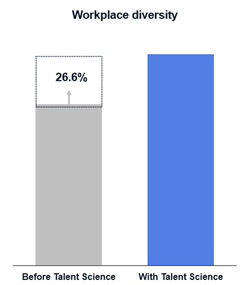 TRUTH: Assessments can be leveraged as a part of DEI strategy
A well-designed assessment can actually reduce the bias of a selection process. It helps keep the focus on things about a job candidate that are related to job success. Using an assessment will not only help promote diversity in hiring but also promote an equitable and inclusive working environment for your current employees. This is because the assessment can also be used to make data-driven promotion decisions and drive team camaraderie and awareness to help align your DE&I Strategy.
So how can you tell if an assessment or assessment vendor is going to put you in a good position to ensure you are treating candidates fairly and promoting DE&I? A good assessment will be accompanied by these things:
• Known reliability of measures
• Assessment validated for your intended use
• Documentation of test fairness
• Well-maintained technical manual
• I/O psychologists on staff


Blog series:
Ready to try it for yourself? Take the free Talent Science Assessment and discover your behavioral DNA