United States-May 13, 2022, 01:00 PM
Infor ION and Infor OS recognized for usability and functionality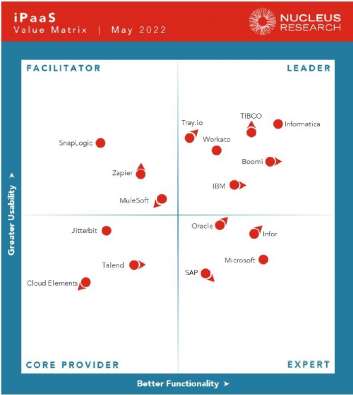 Infor has been named an Expert in the Nucleus Research iPaaS Technology Value Matrix 2022. Infor received this high ranking for its iPaaS solution Infor ION (Intelligent Open Network) consisting of ION Connect, ION Process, and ION API gateway, offered as a part of the Infor OS platform.
Nucleus Research is a global provider of technology research and advisory services. In this report, Nucleus analyst Alexander H. Wurm noted, "The integration platform-as-a-service (iPaaS) market has experienced significant growth and a record number of new users. … Nucleus anticipates increased demand for increased functionality in areas such as artificial intelligence (AI), machine learning, and automation."
For this Value Matrix, Nucleus analysts examined all vendor solutions in the integration platform-as-a-service (iPaaS) technology landscape and ranked them for their usability and functionality. Nucleus positioned vendors based primarily on conversations with their end users and the most recently released capabilities/features and areas of vendor investment. Other factors are ease-of-use, speed of deployment/mass adoption, and vendor alignment with key analytics market trends and customer needs.
The report notes that "with ION, Infor's Intelligent Open Network, customers can integrate both Infor and non-Infor systems to support complex environments, including hybrid, edge, and multi-cloud approaches. The Infor OS Platform also facilities third-party integrations, 'Big Data' management, data transformation across all popular data formats, and supports synchronous and asynchronous integration patterns. Additionally, Infor OS works out of the box with Infor Coleman AI to automate the training, retraining, and live evaluation of machine learning models. Infor Coleman AI also offers intuitive tools for intelligent automation, natural language processing, and machine learning to best equip users of all technical skillsets."
The analysts also note Infor's recent release of "various updates and extended features to enhance value across the Infor OS platform, including: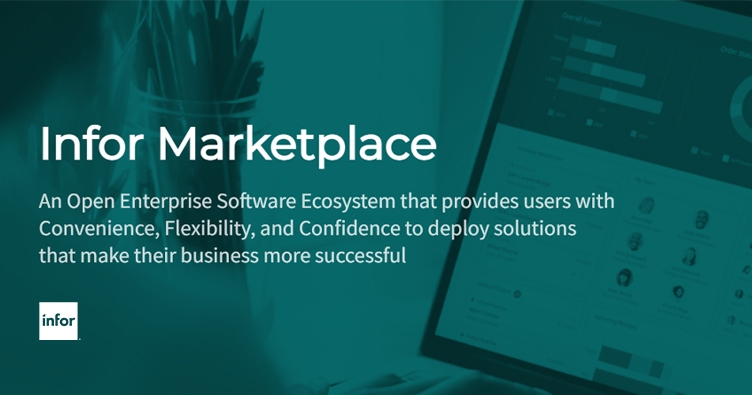 ▪ Infor launched a new Infor Marketplace with associated iPaaS content to provide customers with a wide range of preconfigured content from partner-developed apps to free visualizations, extensions, and reusable widgets.
▪ Infor extended its vendor-agnostic initiatives by launching its iPaaS in the Microsoft Azure cloud. Now customers can easily manage and integrate applications across Infor, AWS, and Azure cloud environments."
"We are incredibly proud to see our technology capabilities continue to grow and be recognized as expert," says Rick Rider, Infor VP of product development. "What's even better is how we combine these powerful capabilities into a larger cloud platform offering that provides unique value to our customers. Our iPaaS capabilities, while being recognized as expert, are a significant part of our foundation along with artificial intelligence, extensibility, data fabric, analytics, and more to form the entire Infor technology platform."