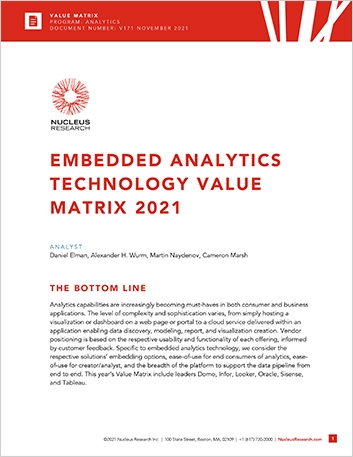 Analyst Report
Nucleus Research: Embedded Analytics Value Matrix
Overview
Analytics capabilities are increasingly must-haves in consumer and business applications, with varying levels of complexity and sophistication. The Embedded Analytics Technology Value Matrix 2021 is a Nucleus Research analyst report assessing vendors on functionality, embedding options, ease-of-use for end consumers of analytics as well as analysts and creators, and the breadth of the platform to support the data pipeline from end to end.

Please complete the form below
Fields with * are required.
By clicking "Submit" you agree that Infor will process your personal data provided in the above form for communicating with you as our potential or actual customer or a client as described in our Privacy Policy.
This site is protected by reCAPTCHA and the Google Privacy Policy and Terms of Service apply.