Infor Workforce Management (WFM)
Optimize labor productivity and compliance
Built for the digital workforce
Optimize every aspect of labor management and productivity with Infor® Workforce Management. Strategically enhance workforce planning, execution, and analysis with an engaging, industry-specific, enterprise workforce management software solution built on a proven technology platform that delivers time and attendance, demand-driven scheduling, workforce scheduling, and absence management tools.
Automate even the most complex pay and scheduling rules and ensure your employees are paid fairly, accurately, and on time. Decrease the time leaders spend building schedules and editing employee's time, ensuring compliance and more meaningful work across your organization.
Featured Infor WFM Resources
Unlock opportunities for today's enterprise
---
Support multifaceted integration and data exchanges with Infor WFM's technology and architecture
---
Ensure legislative compliance for international, federal, state, and local labor laws
---
Address industry-specific requirements with vertically specialized modules
---
Enable your people to access and act on workforce data anywhere, anytime
---
Promote the aggregation of more and better data with broader labor models, deeper flexibility with forecasting algorithms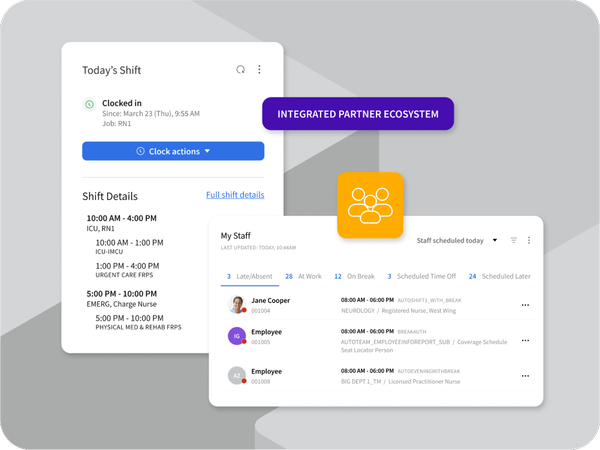 New Features
New product release features
Infor future-proof solutions are engineered to meet the most flexible, ever-changing demands of workforce management. Customers are now able to take full advantage of the latest WFM product enhancements.
Automated nurse-patient assignment: Ensure continuity of care and reduce time spent on manual patient assignments through automated nurse-patient assignments. Healthcare customers with Clinical Science integrated with their Electronic Health Record (EHR), can use patient care data to automatically balance staff workloads.
New workspaces for shift-based employees + managers: New workspaces in the Portal Workspace catalog bring together employee + manager self-service functions across Human Capital Management (HCM) and Workforce Management (WFM). Shift-based employees + managers have unique Time & Attendance and Scheduling needs in addition to standard employment and HR tasks.
Integrated partner ecoSystem: Leverage enterprise composability with standard third-party ADP integration, Compliance Services, and iCIMS ATS.
Focused industry enhancements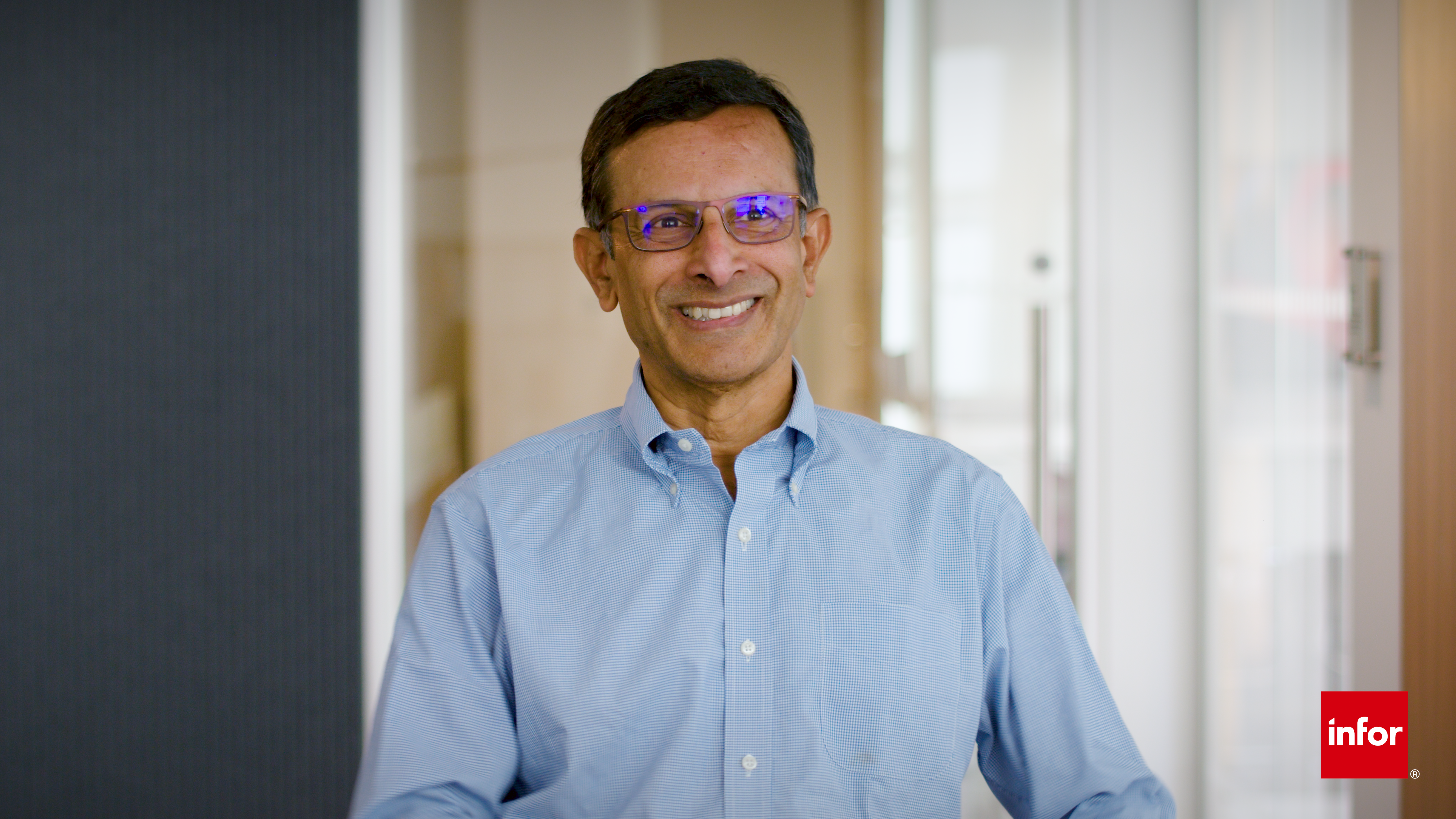 Infor Innovation
The latest in Platform Technology and CloudSuite solutions
Infor President & CTO, Soma Somasundaram, describes the latest in Platform Technology and CloudSuite solutions, enhanced with new automation capabilities and industry-specific insights, to deliver better business outcomes — all within one platform.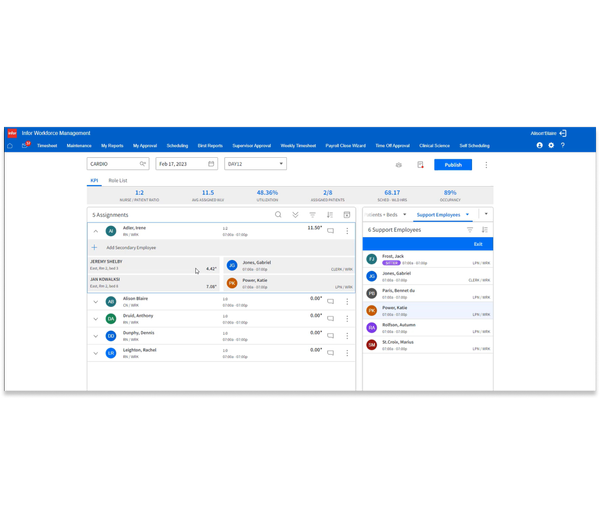 NEW CAPABILITIES FOR HEALTHCARE INDUSTRIES
Clinical Science: Patient Centric Staffing and Assignment
Infor Clinical Science helps hospitals align their staff with patient care requirements to provide high quality, safe patient care.
Balancing costs, demand, and compliance issues.
Determine staffing assignments based on patient workloads leveraging data from your EMR.
Anticipate workforce demands and schedule the right amount of nursing coverage.
Increase employee satisfaction and engagement by empowering employees.
Support smarter staffing decisions by providing decision makers with up-to-date patient information.
Learn more about our healthcare-specific solutions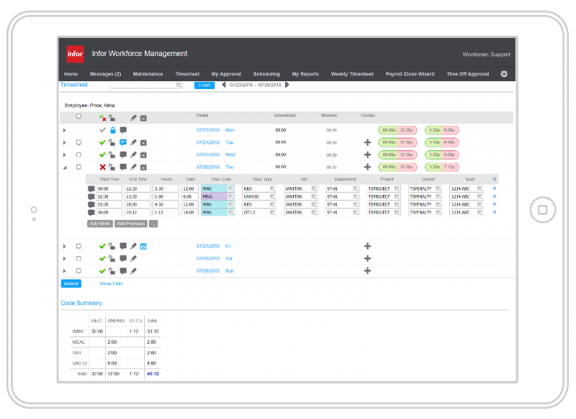 Time and attendance
Track employee time and get the right data to payroll—every time.
Attendance management—Automatically track attendance policy compliance
Real-time pay categorization—Use employee time collection data to determine what time code, pay code, and pay rules apply
Balances and accruals—Automate employee balance accruals and time-off requests
Leave management—Easily manage employee time-off types and track sick balances
Employee contact tracing—Configure detailed filters to track your people's time and shift location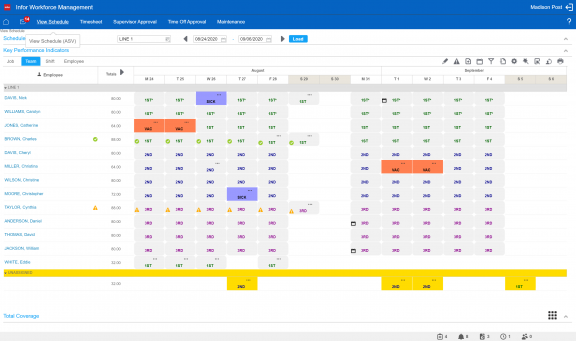 Workforce scheduling
Leverage vertically specialized shift- or demand-driven scheduling tools.
Multi-view scheduler (MVS)—Utilize a robust industry-specific scheduling tool to meet today's complex scheduling needs. Quickly and easily perform actions to meet coverage requirements that are and monitor key performance indicators in real time
Central staffing—Manage and streamline day to day scheduling operations with cross-team and staff-floating capabilities by making changes in one place that will be adjusted in all relevant areas of the system
Labor forecast and schedule optimization (LFSO)—Leverage data driven, scientifically optimized schedule generation
Fair scheduling—Ensure compliance with fair scheduling laws
Shift billboard—Empower your people to take ownership of their schedule and promote a culture of teamwork and collaboration
Schedule auto-assignment—Optimize schedule coverage, while maximizing workforce productivity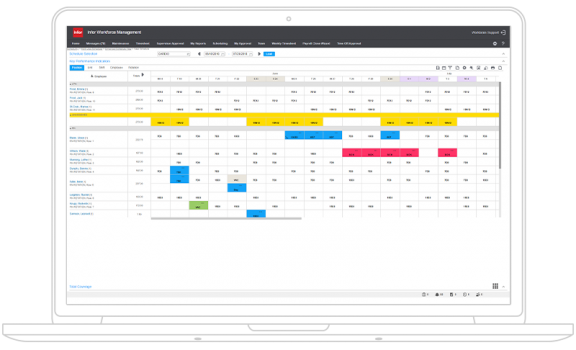 Labor planning and forecasting
Take advantage of intuitive, industry specialized software for budgeting, planning, and forecasting labor demand.
Labor demand planning—Automate the creation of long-term budgets and forecasts
Budget solicitation—Leverage insights and recommendations from key stakeholders in the process
Modeling—Allow for the creation of what-if scenarios
Workload—Identify and calculate required labor hours to meet critical business objectives ensuring fair assignments across employees and appropriate workloads based on skill set and experience levels
Machine learning—Utilize a self-learning algorithm to analyze historical data, previous period actuals, weather, and promotional data
Labor forecast—Create a hyper-accurate workload forecast with real-time trending
Additional resources
Infor OS
A robust cloud operating platform for accelerating innovation throughout the enterprise ecosytem