June 5, 2023
In the post-pandemic business landscape, predicting customer demand has become a significant challenge. Oliver Packaging & Equipment, a leading manufacturer of premium food equipment and meal packaging systems, faced this issue head-on. By leveraging AI-driven insights and forecasting, Oliver Packaging not only improved operational efficiency but also ensured that their customers' needs were met accurately and efficiently.
Key Business Results:
$1.3 million in variance identified in just 2 months
30X faster anomaly detection for optimized inventory
90% workload reduction in identifying anomalies
55% increase in on-time deliveries
15-point increase in Net Promoter Score (NPS)
15-point increase in employee engagement
See how AI helped Oliver Packaging optimize inventory 30 times faster and identify $1.3 million in variance in just two months.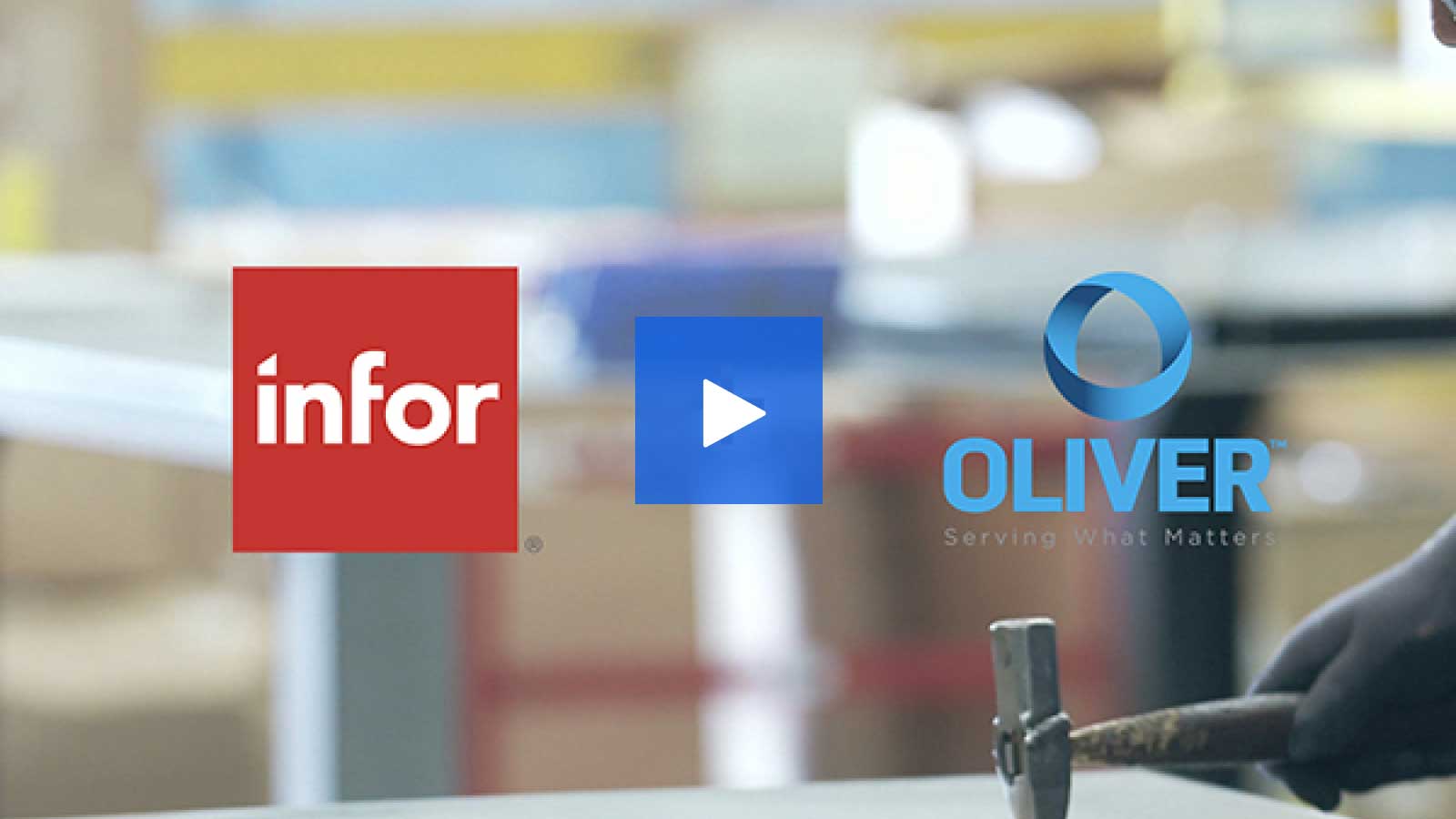 Meeting demand and improving margins
As the President of Oliver Packaging, Mitch Summerfield experienced firsthand the surge in demand for their products during the COVID-19 crisis. Simultaneously, they faced the complexity of supply chain disruptions. However, the implementation of Infor Coleman AI provided them with a data-driven approach to better trend and forecast demand.
With a keen focus on key performance indicators (KPIs), Oliver Packaging witnessed significant margin improvements by accurately projecting the products they needed. This enabled them to optimize inventory, minimize wastage, and ensure a smooth supply chain.
Identifying customer order anomalies
Sarah Patrick, a Sales Analyst at Oliver Packaging, plays a vital role in maintaining customer satisfaction by analyzing customer order anomalies. These anomalies often arise when a customer makes changes to their requirements without explicitly communicating them. For example, a school might switch from a 4-ounce juice cup to a 6-ounce cup without notifying Oliver Packaging about the change across their district. However, the power of Infor Coleman AI's machine learning capabilities come to the rescue. It can identify these types of customer order anomalies, allowing Sarah and her team to provide the exact products their customers desire, preventing costly inventory gaps or overstocking. This precision not only saves the company hundreds of thousands of dollars but also ensures customers receive the right products at the right time.
Forecasting for optimal customer experience
In addition to order anomaly detection, Oliver Packaging utilizes Infor Coleman AI for accurate forecasting of customer revenue and market trends. By leveraging machine learning algorithms, the company gains valuable insights into future demand, seasonal patterns, and market dynamics. The visualizations and projections provided by Coleman AI on the Birst display empower the team to take proactive actions to keep customers satisfied, optimize inventory levels, and improve overall company performance. This data-driven approach allows Oliver Packaging to make informed decisions and create strategic plans with ease.
Empowering employees and making a difference
The implementation of Infor CloudSuite Industrial, coupled with Coleman AI, has revolutionized Oliver Packaging's operations, resulting in increased employee and customer satisfaction. By streamlining processes and automating time-consuming tasks, Coleman AI freed up Sarah Patrick's time by approximately 90%. This gave her the opportunity to engage in more strategic planning activities and support her team effectively.
Moreover, the use of AI-driven forecasting allowed Oliver Packaging to ensure that senior meal programs and school programs for children across the U.S. received the necessary nutrition without disruption during the pandemic.
Oliver Packaging's success story highlights the transformative power of AI through a customer experience lens. By embracing Infor Coleman AI, the company not only overcame supply chain challenges during the pandemic but also achieved remarkable improvements in operational efficiency and customer satisfaction.
As businesses continue to navigate uncertain times, Oliver Packaging sets an inspiring example of how AI can revolutionize customer-centric manufacturing operations and drive success.