June 29, 2022
The last two years of the restaurants industry and in food services have taught us valuable lessons about unified strategy, and in coming together as a whole organization when the landscape suddenly shifts. One of the ongoing challenges throughout has been in gathering pertinent insights from large volumes of data, molding them into proposed strategy, and then turning that strategy into action.
This isn't a new thing, of course. But the importance of centralized business intelligence and best practices across a whole organization has proven to be vital in a whole new way. What must that look like in this new era of the restaurants industry as we go forward? What is the role of emerging restaurant solutions in support of this? Let's look at some of the broad strokes.
Listening to the story your data is telling you
In a time when agility is needed more than ever as the status quo shifts in the industry, centralized operations and strategy are essential. Incoming data by way of point of sale is vital means by which leaders can make informed and timely decisions around things like:
Bestselling items
Successful specials
Daypart-related sales volumes
Popular combos
Unpopular items
These elements help to tell an important story. The actions informed by that story will be the most effective means to serve objectives and goals for growth.
To do this across the board, industry leaders are relying on cloud technology to bind all locations and concepts together in a single environment. From there, they have a higher vantage point on what is actually happening in the business, location-wide. Cloud-based restaurant operations unified in that single environment and technology platform reflect the needs of the times in a way that siloed and disconnected operations do not. In this, centralized analysis delivers the clarity needed to stay competitive and profitable in a timely way with a more precise lens.
Investing in the winners
One of the biggest pieces to centralized ops is menu management, which is the cornerstone on which restaurant and food services offerings are best built. The points about centralization and single data and operational environments are pertinent here. But in addition to inclusivity across every location and concept, the expression of that operational unity is about gaining valuable insights on more granular levels, and even SKU levels, aggregated centrally and above location in the cloud.
Intelligence like this across locations and concepts helps to provide an outline as to how to adjust menus to optimize returns. It means eliminating those elements that contribute the least, so that your organization can invest in what really works – not only in what's popular, but what provides the most margin applicable to all locations, also factoring in the more region-specific items. Managing menus above store in this way helps to provide a path for all locations to follow, and with greater turnaround times than is possible with on-prem operations.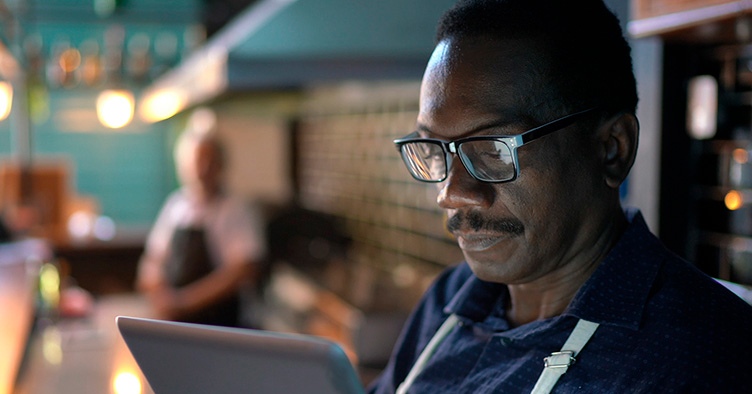 Creating and re-creating the best possible offering
Optimizing an offering is an ongoing journey. The data from all locations helps to provide the path that defines that journey. But once the analysis aspects are in place, and decision-makers know what the winning factors are, implementing changes to reflect that analysis is the next essential aspect of more precise, unified restaurant strategy.
This means that things like price changes, daypart adjustments, new promotions, new combos, and other menu-specific factors applicable to a range of locations must be in effect at the same time. Technology like restaurant point of sale, menu display applications, and others play an integral role in presenting new menu information to guests and to employees at locations. In this way, the technology does the heavy lifting, while the people at the end of the process in all locations can concentrate on the experience.
How restaurant technology should support the industry in a new era
The emphasis on unity and centralization is an essential factor to success here. With the changing industry landscape on several fronts, there are certainly other areas of which leaders are aware and on which they are taking action to prepare for what the near future of the industry will likely be.
For more information about how Infor works with businesses in the industry and the technology that is involved, check out our restaurants and food services industry page – right here.