Infor Omni-Channel Campaign Management
Create customer journeys that deliver measurable marketing uplift
Building a unified campaign strategy for all your customers
Campaign Management serves as an integrated database marketing solution for planning, executing, and monitoring permission-based multi-channel marketing campaigns across multiple touch points. Nurture your customer base and build loyalty with an easy-to-use, comprehensive, and scalable solution that allows you to connect with your customers - with real-time results.
Featured Omni-Channel Campaign Management Resources
Discover more about Infor Omni-Channel Campaign Management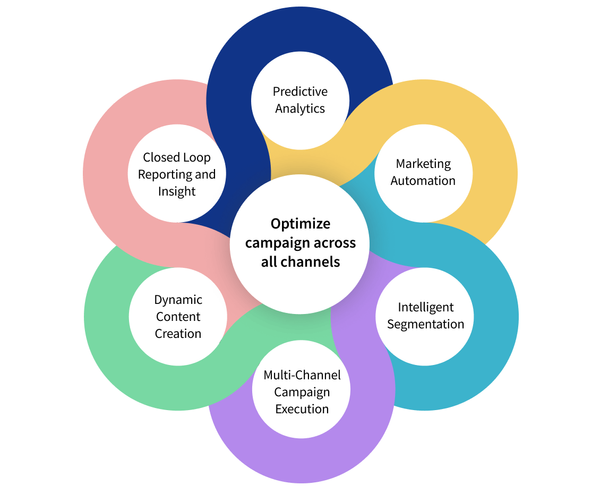 Build long-term, profitable relationships with your customers
The Infor campaign management solution delivers enterprise-wide marketing capability in a way that meets your companies' requirements be it SaaS, on premises or as a hybrid. Whichever option you chose the solution offers the same functionality: visual customer journey builder, graphical advanced segmentation, email creation and scalable execution, real time campaign optimization and reporting with built in analytics.
Predictive Analytics
Marketing Automation
Intelligent Segmentation
Multi-Channel Campaign Execution
Dynamic Content Creation
Closed Loop Reporting and Insight
Use intelligent segmentation and profiling to create engaging marketing programs that connect with your customers across all channels
---
With a simple to use, drag and drop, journey builder, create customer experiences that are relevant and engage each customer as they interact with your company
---
The intelligent segmentation provides in-depth insight to identify consumer needs so you can present the right offer and optimize content through advanced techniques
---
Create a consistent rule management across all channels to honor real time permission-based marketing and reduce marketing fatigue
---
Customer information from internal and external sources are all consolidated in a single data platform for a global view to facilitate better decisions
---
Modern UI facilitating coordination across channels and teams within one screen workflow
---
Monitor and track your marketing campaigns in real-time to adjust and create better campaign based on performance data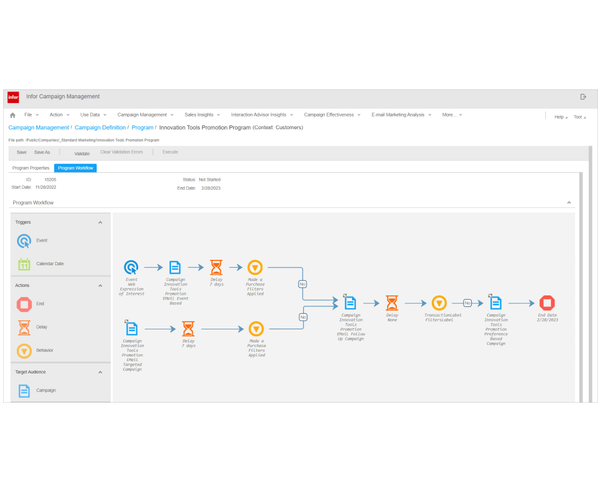 Visual Customer Journey Management
Map your customer journey with the right marketing content delivered at the right time. Automate your marketing process with scheduled campaigns as well as campaigns triggered by events from any touchpoint.
Improve your overall Marketing strategy and track marketing generated revenue
Easy to use, drag & drop workflow management tool enabling marketers to visually create personalized, multi-wave, and multi-channel journeys
Boost your marketing team's productivity with automated workflows that track customers' behavior, determine the best next communication, and send it automatically
Optimize marketing opportunities by prioritizing target audiences based on the interactions and their engagement with the previous campaigns
Scale and maintain more relevant interactions with messages adapted to customer behavior and needs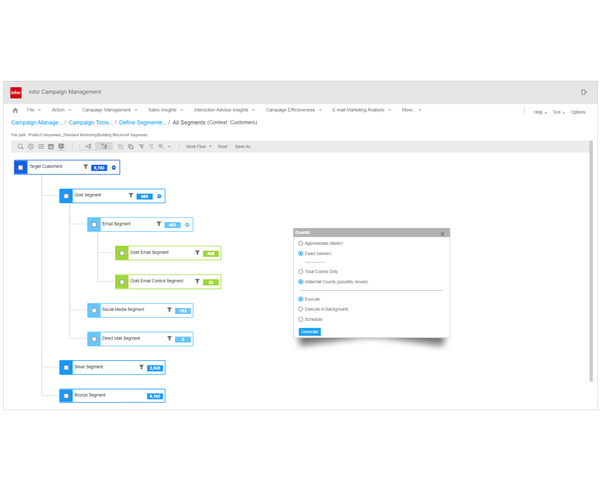 Intelligent Customer Segmentation
Target customers more precisely by creating segmentation schemes that apply demographic and transactional data, campaign history, model scores, and other filters to present the best offers.
Drive new sales, repeat business and customer retention with powerful intelligent segmentation that targets exactly the rite customers
A segmentation tool built for Marketers with an easy-to-use visual interface to help you create relevant segmentation strategies
Finley target you customer base with unlimited segments and sub-segments delivering targeting that delivers on your marketing objectives
Efficiently measure campaign effectiveness with A/B/C testing and campaign and global control groups
Optimize your campaign creation with reusable segmentation templates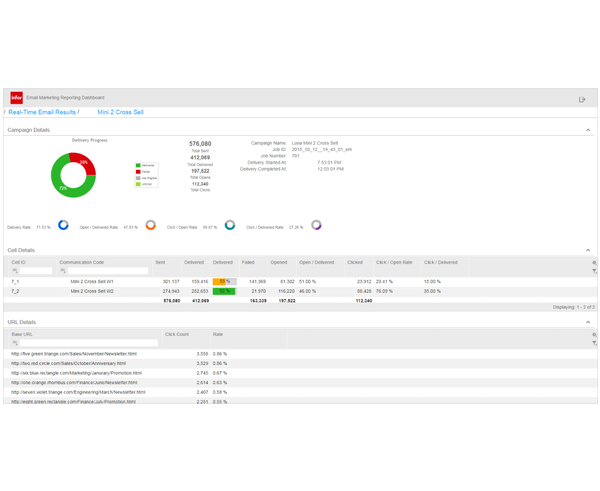 Scalable Realtime Email Marketing
Use real time events and scheduled campaigns to deliver context sensitive email content. Easily create email content and delivering scalable email programs with real time response reporting in a single solution.
Use real time event triggers to optimize email marketing based on customer behavior to drive engagement and diminish marketing fatigue
A single solution for all your email marketing needs delivering operational marketing effectiveness, scalability and accountability
Get control of your email content and templates with intuitive and easy to use content creation
Track multilevel email responses from opens to clicks on dedicated dashboards with real time statistics proving marketing effectiveness
Empower marketers by automating real time, highly targeted and coordinated email marketing programs
Create a more personalized journey for customer engagement
Overcome the omnichannel marketing challenge by mapping relevant customer journeys, segmenting customers effectively and optimizing campaigns across all channels
38%
higher products sales