Charles Tribbett: leading adoption of Decision-Making Framework (DMF)
The Decision-Making Framework (DMF), a component of Koch Industries' Market-Based Management (MBM) business philosophy, is proving to be particularly useful to Infor teams as a foundation to make sound business decisions (big and small) that deliver value to our customers and are aligned with our company vision. Charles Tribbett, Director, Business Operations Finance and Administration, one of the early enthusiasts for the program, has been tapped to help others in the organization understand and adopt the process. He's a natural fit for the role.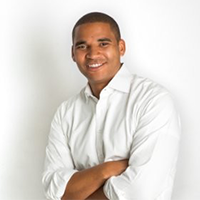 Charles is a still somewhat of a new-comer to Infor, joining the team only 18 months ago. Before Infor, he put in a short stint at Morgan Stanley in Investment Banking, then launched his own venture, a digital lending platform to help small businesses find available funding. KeyBank eventually bought the start-up, hiring Charles to help on-board the solution. The banking group went on to successfully administer over $8 Billion in PPP (Payment Protection Program) small business loans using the technology as part of the government's response to COVID-19.
Now, as part of the Operations team, Charles focuses on mergers and acquisitions as well as helping to roll out the DMF framework. He thinks his background as an entrepreneur gave him some helpful insights into the power of sound business decision-making.
"The experience allowed me to appreciate how critical a thoughtful and objective decision-making process is to business success. I learned very quickly that bad decisions mean huge losses of time and value. That's what is so great about the DMF. It provides a set of proven tools and built-in guardrails that keep teams on track to reaching profitable decisions and from avoiding wasteful uses of time," says Charles.
Jumping in with both feet
Shortly after Koch took over ownership of Infor, the executive team had a large strategic question to address—one that provided a good test model for the DMF process. The question: Should we enter into a partnership with Accenture, a global system integrator (GSI), to provide missing functionality from our Enterprise Asset Management (EAM) solution? Accenture had the capability to fill a product gap, but was turning to a GSI the right investment, and the best way to fulfill the market need?
The DMF provides best practices for evaluating the economic impact, the incremental value, potential risks, and the overall strategic analysis of the possible decision. Stakeholders are invited to voice opinions and pose challenges, pushing the decision-making team to consider the downstream impact as well as any alternative solutions while ensuring the approach is in line with our corporate vision. In this first use of the DMF, the team opted to move forward with a partnership with Accenture.
That test case created confidence in the process—and the desire to widen the adoption. Charles is using the DMF in his M&A capacity as he analyzes opportunities for Infor in partnership with Koch Equity Development. He's also helping other teams apply the framework for their business units.
"The beauty of the DMF is that it empowers everyone at Infor to think and operate as an entrepreneur with true ownership and stewardship for the business and our customers. It's an inclusive process that inherently allows you to filter through possible distractions and focus on the opportunities that will bring the most value," says Charles.
Lessons learned
Charles says that after working through a few use-cases he has learned some practical lessons. For example, the executive team doesn't need to be involved in every DMF. Discussing "decision rights" and defining who has decision-making authority is an important element of the DMF. Choosing the right stakeholders to participate in the process is also an important element, Charles says. Stakeholders bring insights, and they often have a vested interest in the outcome, making them highly motivated to "get it right" and ensure every risk factor is addressed. On the other hand, too many people providing input can slow down the process without adding value.
As teams go through more DMFs, the process will no longer be a "process", but part of the fabric of how we collaborate and address all questions in our daily roles, big or small, Charles explains. To learn more about the DMF and MBM, visit the resource center.
Let's Connect
Contact us and we'll have a Business Development Representative contact you within 24 business hours
By clicking "Submit" you agree that Infor will process your personal data provided in the above form for communicating with you as our potential or actual customer or a client as described in our Privacy Policy.