September 9, 2022
Employee recognition program honors 45 top individual and team achievements at grand office ceremony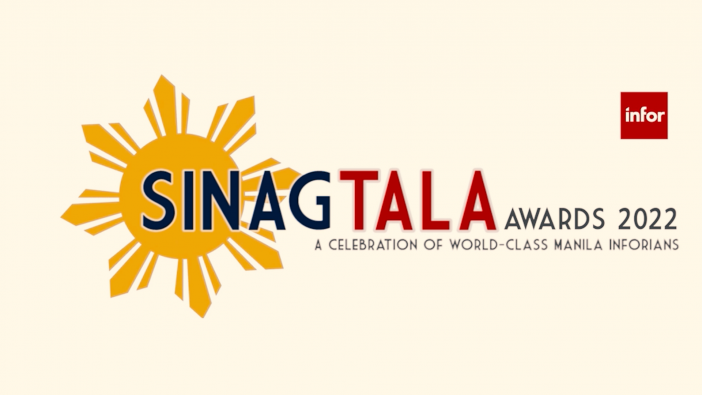 Our Manila team celebrated its best and brightest talent recently with the 5th-annual presentation of its Sinagtala Awards. More than 200 employees attended a splendid evening of entertainment, refreshments, and commemoration of achievements at the Infor office.
CEO Kevin Samuelson attended virtually to congratulate the nominees and guests. "Work requires focus, effort, and dedication, and we greatly value the contributions made by our people in Manila," Kevin said.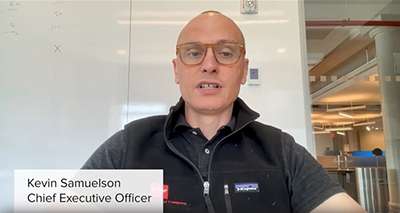 What are the Sinagtala Awards?
The Sinagtala Awards is an employee recognition program of Infor Manila, and has been a platform for celebrating top talents for the past five years.
Sinagtala is the Filipino term for "starlight," which symbolically serves as navigation to guide people toward their desired destination. Stars are also metaphors for aspirations, inspirations, imagination, dreams, and pursuits. This aligns with our Infor self-actualization journeys.
"Nominating someone in Sinagtala proves that their contribution is well recognized. I nominated a colleague, Renv Magbintang, who is seen as a role model in our group," said Shannen Valerie Tan, a senior software engineer. "He's the type of person who all cloud engineers should be like: consistent, outstanding commitment and exudes professionalism. The Sinagtala Awards is also a way to motivate nominees to continue to push themselves and to inspire the people around them."
There were four award categories with 231 nominees from across the business units. 45 winners were chosen and announced at the event.
The Haribon Individual Contributor Award is likened to the Philippine eagle and is presented to individuals with sharp eyes who spot opportunities and are on the hunt to bring great value to the organization and our customers while creating virtuous cycles of mutual benefit. In addition, these individuals are recognized as consistent and have remarkable performance that has contributed to the success of their team, projects, and customers' business.
The Layag Customer Experience Award references the traditional Philippine sailboats, which symbolize individuals who can confidently sail across harsh waters and help us to be recognized as a customer-centric organization that succeeds only when our customers succeed. These are individual contributors or people managers who consistently show commitment to customer-centricity and showcasing customer references.
One winner, John Dinno Camaclang, a principal technical support analyst, said, "I feel proud to be awarded and at the same time humbled. I work with different teams and departments across the organization globally, so I know that this greatly affects my reputation as a role model for everyone."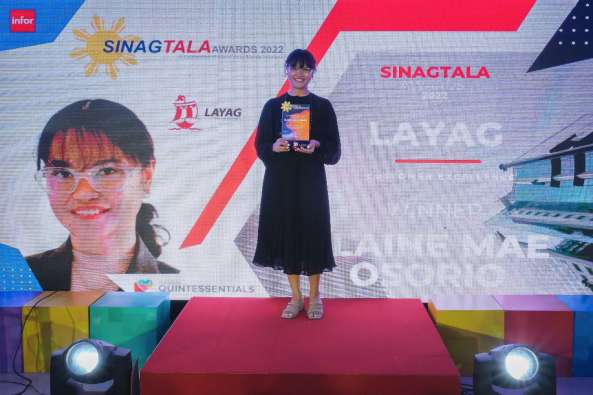 Another winner, Elaine Mae Osorio, a senior financial analyst who was proud to represent the ICS FP&A team, said, "This recognition serves as my inspiration to continue to add value to everything I do. I'm thankful for Infor and its exceptional culture for allowing its people to shine and grow."
The Tanglaw Leader of the Year Award is influenced by torches that signify the ignition of a fire that serves as a guiding light by creating the right environment to build a high-performing team while allowing others to also shine as individuals. This is awarded to people managers who have helped others journey through self-actualization and achieve transformative business results.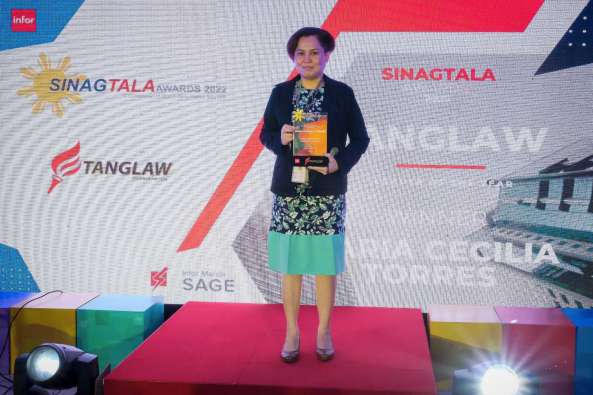 One winner, Maria Cecilia Torres, a team lead with Managed Services, said her award would not have been possible without the mentorship of her managers, who served as her motivators and believed in her capabilities.
The Habi Team of the Year Award is likened to an intricately-woven Abaca fabric, which represents strong individuality but grows collectively stronger when ties are formed. The nominees in this category not only symbolize teamwork and camaraderie but have also produced great results that brought value to our customers and the organization. This year, there were two subgroups in this category. First, a project team comprised of members from different teams within a business unit, and second, a project team comprised of members from different business units. Nominated project teams strategically executed a local or global joint project resulting in Infor's sustained business performance.
One winner, Jan Ivan Roxas, a development business analyst and the project lead for an internal carpool application, said winning was just the cherry on top. "The application's purpose was to really help Manila Inforians, and eventually share this on a global level. But this is just the first step, and we will use this as a springboard to achieve milestones individually and as a team."
Closing remarks
The evening included food, gift bags and entertainment, including an original song composed by Ruel Bayono, principal system administrator.
Closing remarks came from PJ Reyes, vice president for software development: "Infor Manila has grown to almost 3,000 employees in the past decade and a half, and has witnessed external changes from administrations, natural calamities, and even a pandemic. But what makes Infor Manila truly unique and what keeps the business going are its talented people."
See more images from the Infor Manila Photo Club.