October 10, 2020
National Coming Out Day—Oct 11—is a time to recognize those who have the courage to come out and those who stand as allies. We're resharing these inspiring stories—written for Pride Month in June—of Infor employees who have the courage to be their authentic selves in every aspect of life.
A beautiful family, beautiful diversity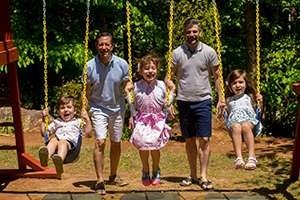 By David Pezzino, VP of Sales, Co-chair of Out at Infor

As I kissed the sweet soft foreheads of each of my children as they slept (Grace – 6, Jonathan & Julia – 4 1/2), I could not help but tear up from my feelings of love and the truly deep appreciation of being a dad. I have a family with three beautiful children and a wonderful partner, Robert. For this, I am eternally grateful, and for this, I celebrate Pride.

I celebrate all those who paved the way to show others that being gay is not sin, is not wrong, is not a mental illness. I celebrate all those who lived their life openly which empowered me to have the courage to do the same. I honor those who have been beaten, ridiculed, or treated poorly with silence and glares and hold them in my heart. I celebrate the wins, the small successes, the joy that fills the hearts of those in the LGBTQIA+ community when they know that they are heard and valued. This is love and this is Pride.
My responsibility is to do my part to make a difference by moving forward in action, freely, openly, and without hesitation. This is us. This is our family with two dads and an open door. I hope that anyone in the LGBTQIA+ community reading this message has the courage to do the same. I ask that those outside this community in which this message resonates to become an active or informed ally to openly support the LGBTQIA+ community. Get to know those in this community. Ask them how their partner or spouse is doing. Be vulnerable enough to share your inexperience with this community with an open heart.
I am one of the co-chairs of the Out at Infor (OAI) employee network. I agreed to take this leadership role to help create a place of Pride at Infor. To hold, encourage, mentor individuals to live their best life, to help them have the courage to contribute to Infor without hesitation or caution. We all will learn, and Infor will be better for it.
Raising the flag for respect and rights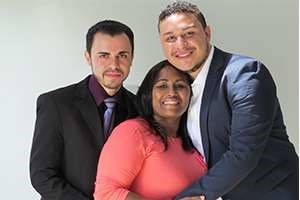 By Jefferson Rodrigues, Finance & Credit Specialist, LATAM, Co-chair of Out at Infor
Pride Month marks an important breakthrough for the LGBTQIA+ history in terms of acting collectively to raise awareness about several social implications. In 1969, a riot at Stonewall Inn in New York City took place to challenge and put an end to constant abuse experienced by LGBTQIA+ frequenters. This episode was the spark that geared up the movement toward fighting all sorts of discrimination and raised the pride flag to claim for civil rights, respect, and most importantly, to be able to let our true selves shine.

As a natural course of that wave, companies started to move things around to build an atmosphere that could reflect the society. Infor is playing an important role in terms of fostering an inclusive environment for everyone by establishing employee engagement as one of our core tenets and promoting inclusion and diversity (I&D) initiatives that made possible the creation of Out at Infor, of which I am honored to be a co-chair. Pride Month is a recognition of the trajectory of the LGBTQIA+ community over the years. It also serves as a reminder of how important it is to stay united and revise our biases regularly in order to welcome people from all sorts of walks.
I am very fond of a meaningful Zulu greeting "Sawabona," which can be translated to "we see you." They use it in a plural form to represent that we are never alone, and it also serves to acknowledge the existence of others. This carries a great message because we can only know, build up empathy, and raise awareness towards someone once we genuinely see them for who they are. We LGBTQIA+ people are your work colleagues, or maybe even your friends. We have parents and some of us are parents, ourselves. Some of us walk through the crowd without being noticed and some of us take all the attention. We're there, we're here and I would like to finish with a reflection: Are we truly seeing everyone around us?
Openness impacts quality of workday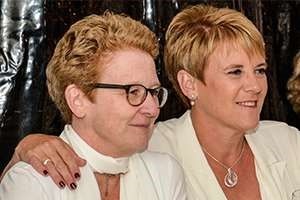 By Christine McDade, VP of Sales FP&A, Out at Infor member
Here's something my spouse just told me: When her dad worked for the Defense Intelligence Agency in D.C. during the '60s, '70s, and '80s, he had to report to the government any "gay" family members. Why? Because if the information got into the wrong hands, he could be blackmailed and forced to give up state secrets. I'm letting that sink in and realizing how far the workplace has changed when it comes to LGBTQIA+ employees.

When I started my career, about 25(ish) years ago, being "out" at work meant exclusively that you were too sick to come in, away on vacation, or maybe down the street grabbing a sandwich. It was too risky to come out because of a vast array of prejudices.
Clearly, hiding that fundamental part of one's self has serious consequences. Closeting means squelching key stuff that makes a person successful and happy at work. Imagine spending a lot of useful energy on self-protection and self-editing. Spending that much time on self does not make for a good team member.
In today's world, being out at work benefits more than just the LGBTQIA+ community as it strives to recognize and celebrate all our differences. It's a natural dynamic that frees us to be ourselves and to share stories about our lives. This openness has a huge impact on the quality of our workday and on our work itself, which, of course, benefits the whole organization. Even something seemingly insignificant, like telling my colleagues about a funny thing that my wife did, has a powerful impact on our sense of value and ability to navigate stress at work.
Let's not just celebrate how far the LGBTQIA+ community has come. Let's observe the differences in the workplace that have shifted, while still not ideal, for the betterment of all of us.