May 11, 2022
I appreciate Nurses Week as a reminder to reflect on why I chose to be a nurse. I chose nursing as a profession right out of high school, I knew it was what I wanted to do. I knew I wanted to help people, which many of my fellow nurses can relate to. I was lucky to have great mentors, some nurses and some not, that helped me grow into the nurse that I am today. They helped me follow my personal path and gave me guidance along the way. I've worked in multiple hospital systems on the eastern side of the United States, and one thing that was very relevant was, no matter what hospital I was in, the passion me and my colleagues had in helping people. When I say colleagues, I mean all my hospital colleagues, as no matter what role you have in the hospital, you are helping people: directly or indirectly.
My path led me to be a senior nurse executive.
I was proud to continue being a nurse and have even more of an impact on patient care with contribution to optimizing processes that affected patient outcomes and experiences, and to work on mentoring my colleagues and novice nurses by sharing what I learned and proudly watching them grow. I worked with many of the technicians on my team who became Registered Nurses. The celebrations, the tears, and the triumphs, no matter what their background was, they conquered nursing school and their NCLEX. Many of those were the most memorable parts of my career.
Fast forward to 2020, when hospital system operations were faced with a pandemic. Trying to determine what our strategy would be, how to maintain patient safety, keep our staff engaged, and trying to keep our lives balanced between work and home, was very difficult. Many hours of sleep were lost trying to figure out what was the best direction to go forward. I am grateful that I was part of a large organization and our physicians were top notch. Our nurses were ready to stand up and fight. Being a nurse leader in a pandemic was very difficult. Trying to ensure the right measures were in place to keep nurses healthy, helping them balance the pull of wanting to help people (both peers and patients) and not running short.
Changing policies and procedures based on best practice, educating both patients and families, trying to determine how we would have patients visit their loved ones all weighed heavily. I learned so many things throughout the pandemic, but the one that sticks out to me the most is resilience. Nurses are so resilient. Nurses not only took care of patients, but they also took care of their families. They were a little bit of everything. They wore so many hats and had so many responsibilities. They were there when no one else could be. Nurses were chaplains, care providers, families, and so much more.
When I chose to leave the hospital setting a little over a year ago, I did it because I wanted to help people in a way that was beyond the bedside and work to help my fellow nurses be able to have the time to do the things that they want to do: connect with their patients, connect with each other, and most of all, remove the barriers that take us away from these things, which is why many of us chose this profession.
I recently attended the AONL Conference in San Antonio and Erik Martin, AONL President, asked us to take a moment of silence. I encourage you to do the same thing right now: take a moment to remember those moments that we lost, those we lost and then reflect on how we can reclaim those moments so we can refuel the passion for our profession and continue to grow.
I sincerely hope that you can take a moment to remember your why during Nurses Week.
I wish all my nursing colleagues a Happy Nurses Week and a Happy Hospital Week too.
Written by: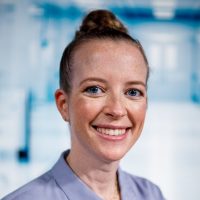 Joanna White, Solutions Consultant; Senior Nurse Executive, Infor