Infor Sales & Event Management software
Cloud-based sales, catering and event management software that automates the entire lifecycle of an event, enabling the creation of memorable experiences efficiently and profitably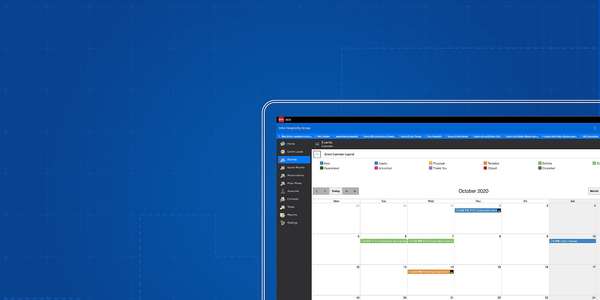 Infor Sales & Event Management software brings control to the stages of an event to automate booking, catering, and event execution from inquiry to invoice
A total event management platform, Infor SCS is an essential component for your hotel, restaurant, resort, arena, stadium, theatre, university, conference, or convention center. Precision is key to creating the seamless and frictionless experiences that guests and attendees expect, whether it's a large-scale conference or smaller-scale, single-evening event. Sales and Event Management software should empower your teams to do their best work, connect to other essential systems, and allow you to track each event with optimum visibility from end-to-end to help you ensure the best possible experience every time.

Infor SCS is a fully integrated, event-management software solution in the cloud bringing your event teams together. Streamlining booking, operations, catering, finance, and services, the entire event is in your control, from initial inquiry to final invoice, with customizations to support each stage in the lifecycle of an event. Infor Sales and Event management software can help you transform and grow the group sales and event management side of your business.
Infor Sales & Event Management software resources
White Papers
Request a demo
---
Grow your hospitality business with a stable and secure, AWS®-based architecture
---
Be ready to serve a range of event types, from industry conventions to birthdays

---
Leverage intuitive, end-to-end, task and timeline management


---
Utilize relationship-enhancing communication options and easy tracking


---
Use straightforward processes and displays for managing associated costs


---
Drive strategy with detailed performance analysis and financial reporting


We needed an enterprise sales and catering system so we could efficiently manage all of our hotels, share leads, and generate comprehensive report data. Infor Sales & Catering has exceeded our expectations. We have also enjoyed working with their team. Their attention to detail and follow-up is exceptional.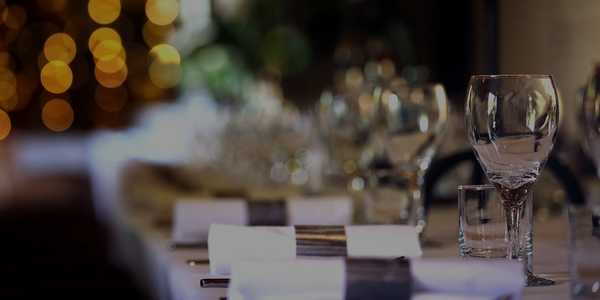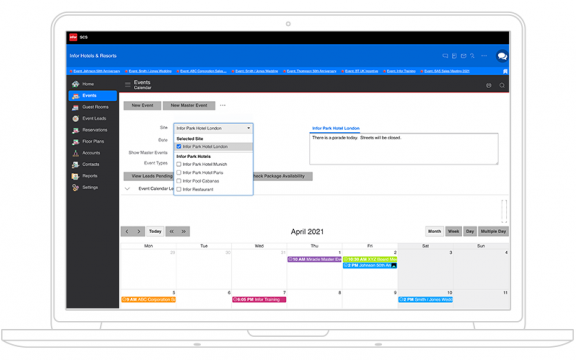 Cloud-enabled, event management software for flexibility and security
Invest in greater stability, security, and scalability to increase competitive momentum and ensure resilience
Utilize multi-tenant cloud architecture to unify all locations
Leverage built-in capacity for expansion as the business grows
Deploy software updates across all properties simultaneously
Depend on guaranteed security via industry leader and partner, Amazon Web Services® (AWS)
Rely on high availability to create optimal service continuity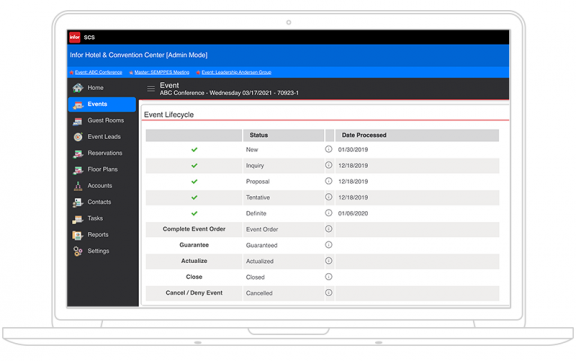 Booking and billing for complete event management
Gain greater clarity and control, from booking to billing, in all kinds of spaces
Manage events from industry conventions to single-night family gatherings with flexible capabilities
Leverage full-spectrum events management by stage, from inquiry to execution to final invoice
Get teams up to speed quickly with an intuitive user experience
Utilize step-by-step action prompts based on customizable processes
Avoid missed steps with automated tasks and reminders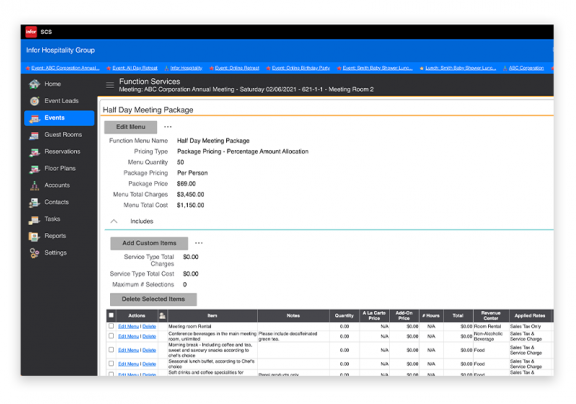 Comprehensive pricing and resource controls
Get a clearer view of associated event costs to match each event with the resources needed to ensure success
Use guest room control functionality to manage group room blocks associated with an event
Rely on accurate and detailed food and beverage menu costing
Adjust associated costs and resource allocation when needed via easy event change auditing
Leverage in-depth financial reporting to measure performance and profitability
Utilize data-driven revenue forecasting to inform cost strategies on comparable events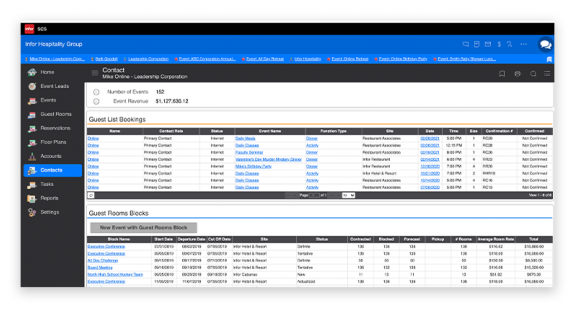 Robust customer relationship management
Create better communications to enhance customer lifetime value
Leverage complete customer histories (past events, preferences, requirements, etc.)
Easily create documents and custom correspondence
Utilize centralized and exhaustive communication records to better manage event details
Track membership information and renewals
Gain increased visibility into ideal customer profiles to inform sales and marketing strategies
Additional resources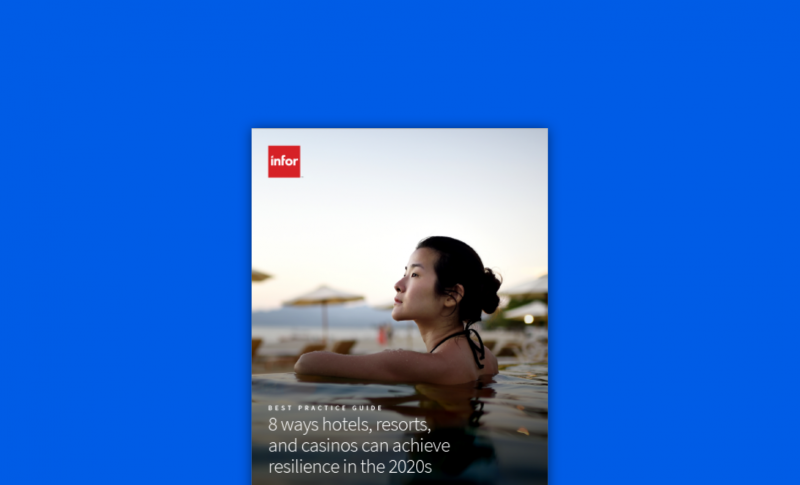 Best practice guide
8 ways hotels, resorts, and casinos can achieve resilience in the 2020s
Learn more
A robust cloud operating platform for accelerating innovation throughout the enterprise ecosystem