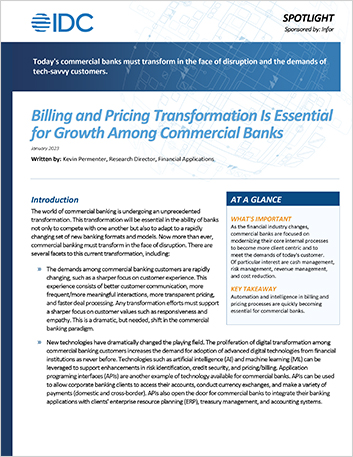 Analyst Report
An integrated enterprise pricing and billing application with proven account analysis is the new norm
Overview
As the financial industry changes, commercial banks are focused on modernizing their core internal processes to become more client-centric and to meet the demands of today's customers. Of particular interest are cash management, risk management, revenue management, and cost reduction. In the latest IDC latest Spotlight report for commercial banks, you'll learn how they must transform in the face of disruption and about the demands of tech-savvy customers, and why billing and pricing are essential. Complete the form to get your free copy today.
Please complete the form below
Fields with * are required.
By clicking "Submit" you agree that Infor will process your personal data provided in the above form for communicating with you as our potential or actual customer or a client as described in our Privacy Policy.
This site is protected by reCAPTCHA and the Google Privacy Policy and Terms of Service apply.