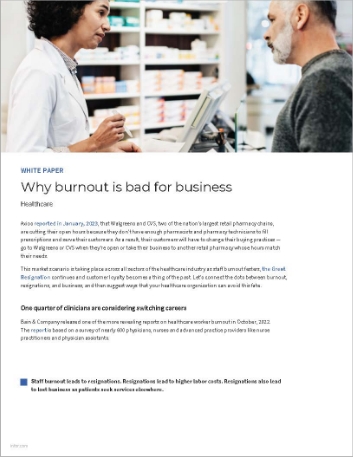 White Paper
How to stop the domino effect that leads to resignations, higher labor costs, and loss of patients
Overview
According to recent reports, one quarter of clinicians are considering switching careers and this scenario is taking place across all sectors of the healthcare industry as staff burnout continues and customer loyalty becomes a thing of the past. In this whitepaper, Marcus Mossberger, Future of Work Strategist at Infor, connects the dots between burnout, resignations and business, and then suggest ways for your healthcare organization can avoid this fate.
Please complete the form below
Fields with * are required.
By clicking "Submit" you agree that Infor will process your personal data provided in the above form for communicating with you as our potential or actual customer or a client as described in our Privacy Policy.
This site is protected by reCAPTCHA and the Google Privacy Policy and Terms of Service apply.