July 21, 2020
Many organizations are still reluctant about moving business applications to the cloud—even though managing on-premises IT infrastructure can seriously compromise an organization when things don't go to plan. Recent events have demonstrated that agility and resilience are vital to operational success.
Over the last seven weeks, we have published a series of blog posts that investigated six business-damaging scenarios that can impact organizations that continue to run on-premises software and hosted a webinar, now available on-demand.
During the webinar, we heard some valuable insights from Infor customer Teknor Apex who are currently moving their ERP to the cloud. Chris Albernaz, Vice President of Information Technology, described how three of the six scenarios were core reasons behind the decision.
The first reason Chris described maps directly to scenario six, expanding IT costs. Teknor Apex wanted to stop what felt like a perpetual upgrade cycle. With a multinational operation, the IT team found themselves continuously gearing up for a new implementation, running the project, and then providing post-implementation support. This workload meant that the IT team was more reactive than they wanted to be and had challenges meeting new business requirements.
The second aspect was the risk, as described in scenario four, legacy bottlenecks. Chris feels that, with most of the ERP innovation going into cloud solutions, on-premises ERP was no longer the place to be. Teknor Apex wanted to be in control of when and how quickly they migrate to the cloud. As Chris succinctly put it, "we wanted to be in the driver's seat because you cannot turn on ERP overnight."
Thirdly, and closely related to the above, modernization of their infrastructure was an important driver. They see greater flexibility and agility in the cloud, particularly when it comes to connecting to other systems.
Other factors that influenced the decision to move to the cloud included the need to drive customizations out of their system, the peace of mind that comes with security infrastructure backed by Infor and AWS and the need to 'future-proof' the organization through the adoption of innovative technologies like machine learning, projects that would be both difficult and costly in an on-premises environment. These map to scenarios five and four respectively.
If you want to acquaint yourself with the six scenarios discussed in the webinar, you can read more in the blogs that have been published over the last few weeks:
During the webinar, we polled the audience to understand which of these six scenarios was most important to their organization. As you can see from the chart below, all of them are relevant, but legacy bottlenecks stood out as by far the most significant focus area.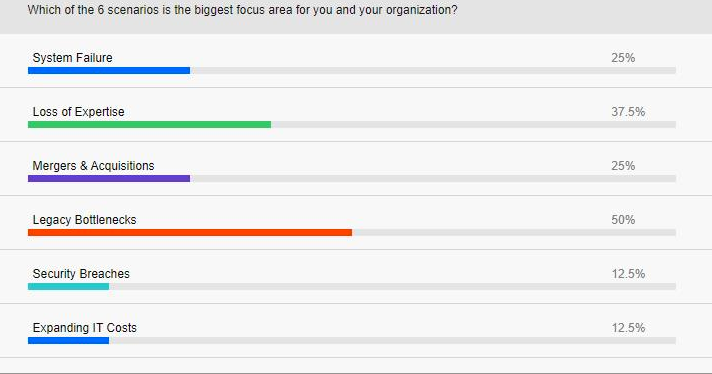 To learn more about how to break legacy bottlenecks and hear Teknor Apex's story in full, watch the on-demand webinar today.