September 30, 2020By Healthcare Guest Blog with Ernst & Young, LLP
For health care companies, using the right technology leads to better care and business decisions. But what needs to happen to put the right technology in place? We explored this topic in the recent Infor Virtual Health Care Summit, noting key elements needed for a successful digital transformation. Among them:
Instilling the mindset. Purpose and defined outcomes must be aligned, with buy-in at all levels. Making those at middle and lower levels the customers of the transformation can secure maximum engagement. In addition, the enterprise and its vendors – the management consultants and software vendors – should be in sync and always have the organization's "why" at the forefront when it comes to the interventions needed along the way. Vendors should be brought together as early as possible; the closer we work together, the more innovative and agile we can be.
Adopting a broader ecosystem strategy. This is a need we see across health care: that technology companies, consulting firms and other adjacent industries such as retail be brought together in a shared-accountability model with shared interests to produce a shared value for the client. It helps companies visualize the entire landscape, understand the "why" and know the value each player brings.
Executing on critical success factors. This involves defining the relationship between the desired business and clinical outcomes, understanding what organizational mindset and behaviors prevent those outcomes, and applying technology to enable and sustain needed changes. Data drives better outcomes and provides insights on how patients want to be served. And innovation peaks when the healthcare enterprise and vendors work together from a data standpoint.
Looking ahead, lessons from COVID-19 can help companies adapt their business model. Before the pandemic, 1 in 20 patients age 55 and over with household income under $100,000 had used telehealth options. That figure has since surged to 1 in 4.1 We've witnessed how the clinical side has worked with the supply side during the pandemic and how the health care workforce handled incoming demand. Look for more modeling and closer interaction among stakeholders to help determine appropriate operations and quality outcomes; this level of collaboration presents a significant opportunity for health care delivery services as they progress on their transformation journeys.
1 EY-Parthenon survey: "COVID-19: What patients are saying and how providers should respond," August 10, 2020
Aloha McBride, Principal, Global Health Sector Leader, Ernst & Young, LLP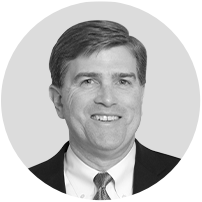 Jim Welch, Health Science & Wellness Leader, Americas Central Region, Ernst & Young, LLP

Watch the video roundtable discussion featuring EY's Aloha McBride and Jim Welch with Matt Wilson, Senior Vice President, Infor Healthcare.
The views reflected in this article are those of the authors and do not necessarily reflect the views of Ernst & Young LLP or other members of the global EY organization