April 19, 2022
Our recent era represents a paradigm shift to the way restaurants and food services concepts do business. It has caused industry leaders to consider the fundamentals of their restaurant technology as far as how it serves the transformed landscape. But it's important to note that many of the trends and movements that we see in the industry today had been emerging for many years before our new decade and this new world of serving guests in a disruptive period began.
As usual, restaurant mobile ordering functionality has played an important role in all of this. But the biggest driver has been the cumulative effect of how technology shapes perceptions, habits, and expectations of today's consumers. The bottom line to all of that is just this: consumers want and expect a greater sense of independence, control and immediacy when interacting with restaurant and food services offerings.
Food delivery via mobile, and kiosk ordering – the stats
For a long time, and in part thanks to generational shifts that focus on millennials and in anticipation of Gen Z, UI-driven processes as offered by mobile technology and kiosk options enabled by restaurant POS is often the primary means whereby to engage the modern guest. This isn't really news by now, with the trend lines sloping upward in this direction for some time. But to illustrate the point as to where consumer preferences and habits intersect with technology trends, here are some salient statistics to consider:
This trend is not at its end. Recent shifts in demographics and global events that have disrupted the status quo are significant. But it's clear that preference, habit, and expectations have driven these trends, and have created the kind of momentum to which restaurant and food services organizations must respond.
Ordering options at the guests' fingertips
There has been an explosion of mobile technology development, and the comfort levels that most consumers feel when it comes to online processes and interfaces like kiosks has spiked. This only stands to reason, given how common these factors are in so many other areas of people's lives, with visibility and control always available at one's fingertips. All these factors play into why guest control is such an important concept to grasp and to support. Doing so translates into some important benefits for guests that includes:
Easy access to menus – either by kiosk UI, third-party app, or tableside/website QR code
Intuitive workflows within these interfaces to customize orders without necessary interaction with staff
Confidence in the accuracy of orders, with visibility over wait times, and notices via display or SMS that it's time for pickup
With these benefits in place, that sense of control becomes second nature. Also, it creates a certain level of consistency and dependability no matter where the guest is – online or dining-in. Either way, they have the control they're looking for to engage with an offering in a way that is most preferable to them.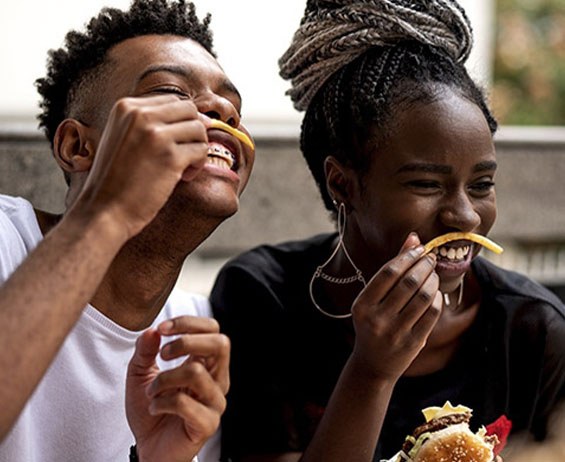 How do restaurants and managed food services continue to adapt?
Once again, this is not just a technology shift. It's a cultural one. The payoffs for consumers around food ordering are the same as in so many other areas of their lives – convenience, immediacy, and control over how they get what they want. Understanding this vital dynamic is the keystone on which technology roadmaps are built to help ensure resilience. The technology is only in place to support all that.
This means that restaurant POS and other technology serves best when it is a part of a wholistic ecosystem, rather than just isolated solutions with end-of-life dates that are disconnected from a greater platform. Technology must scale, and it has to do so in an above-store capacity, to continue to serve consumer and guest needs in all locations now, and to serve them later as new integrations become necessary to deliver the best possible experience every time.
The keys to continuing resilience
The restaurants and food services industry has proven itself to be resilient during a period that certainly has tested the limits of a range of organizations. That journey continues as emerging trends of all kinds continues to shape the landscape.
It also requires sturdy and long-term partnerships with the right technology providers and experts who understand the industry.
Learn more about how Infor approaches industry-specific technology and partnerships on our restaurants and food services industry page – right here.