Delivering agile and scalable life cycle management capabilities on a secure, cloud-based platform
Defense
Infor provides enterprise software—including maintenance management, personnel management, talent management, and supply chain software—to address the multiple priorities in today's contested environment. Here are a few of the challenges we help our customers confront:
Achieve financial auditability and compliance
Segregation of duties, transaction monitoring, and controlling access to sensitive data are a consistent concern.
Accelerate delivery of AI-enabled capabilities
Fragmented technology and minimal automation limits ability to curate trusted data and operationalize AI for competitive advantage.
Rebuild military readiness
Aging platforms, deferred maintenance, and poor global synchronization of assets, material, and data lead to lower operational availability of critical assets.
Integrate legacy logistics systems
Siloed, outdated technology is costly to maintain, presents security concerns, reduces data visibility, and limits business agility.
Cultivate talent for a ready digital workforce
Outdated recruitment, retention, and succession strategies impede warfighter development.
Solutions for your most critical challenges
Infor delivers a leading suite of infrastructure, platform and application cloud services tailored to meet the needs of the U.S. Department of Defense.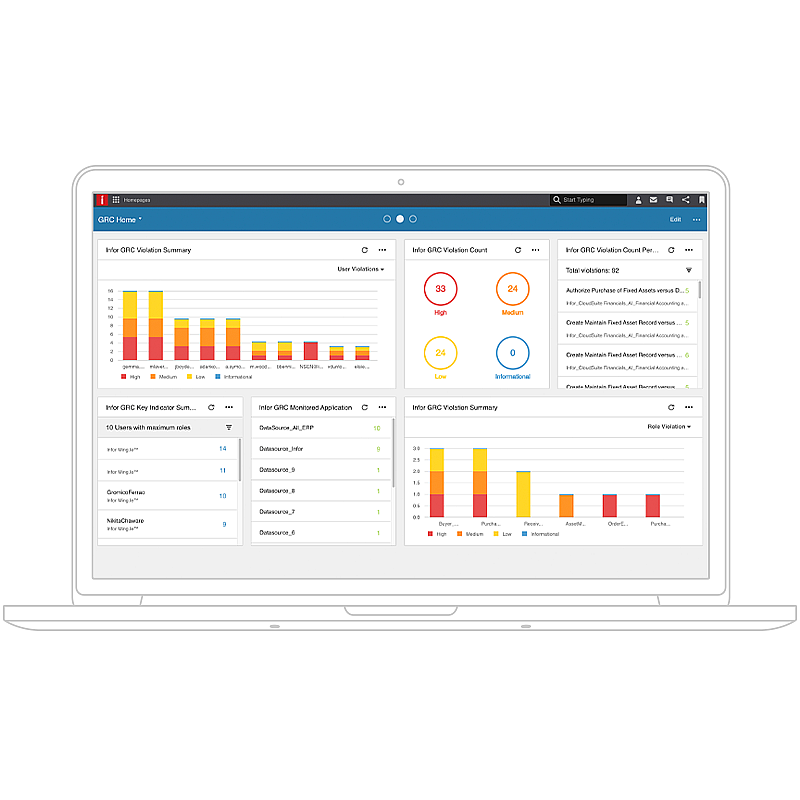 Achieve financial auditability and compliance
Automated risk and compliance solutions enforce policies and controls
Compliance automation that mitigates the risk of manual processes, human errors, and decentralized operations
Continuously monitor for segregation of duties (SOD) violations and dynamically identify suspicious behaviors
Solution agnostic: monitor all your financial, procurement, and ERP systems from one centralized hub
Automate policy documentation and controls implementation for self-attestation and third-party audit
All-in-one interface with graphical rule-building, exception reporting, and KPIs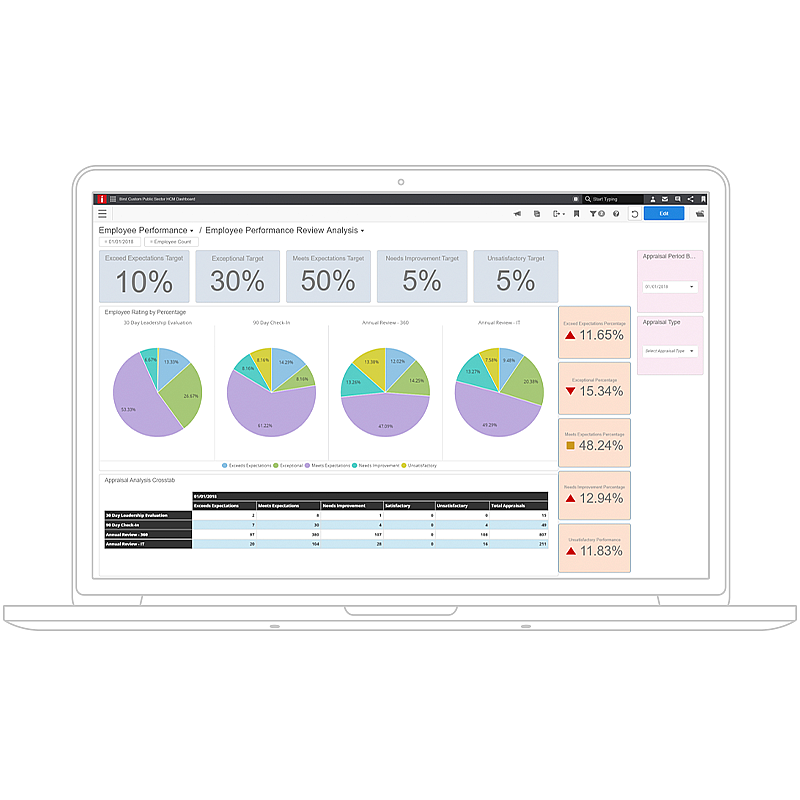 Accelerate delivery of AI-enabled capabilities
Operationalize trusted data and artificial Intelligence to augment the warfighter
Enable predictive logistics with self-tuning algorithms to forecast demand and reduce supply chain variance
Achieve target levels of availability using predictive maintenance models and sensor data
Increase productivity by automating repetitive tasks with process automation
Equip "citizen data scientists" with linked, trusted data and managed machine learning tools
Extend AI to the edge with IoT sensors and mobile solutions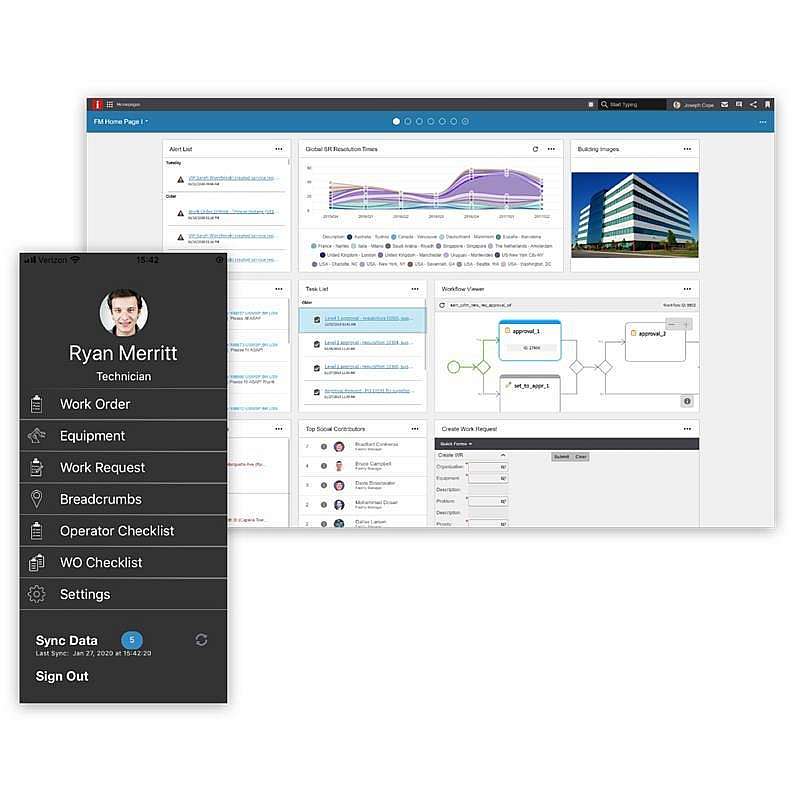 Rebuild military readiness
Deploy end-to-end strategic planning and analytics to support new operational concepts
Streamline maintenance planning, execution and supply chain support for critical fleet assets, equipment and installations in connected and disconnected environments
Achieve targeted levels of availability by deploying CBM+ and RBM methods for maintenance
Establish authoritative data and metrics for sustainment effectiveness and efficiency by leveraging analytics, IoT, AI, ML, and other modern technologies
Prioritize asset and capital investments for funding recapitalization, sustainment, and modernization projects
Designed to support enterprise asset management policy based on ISO 55000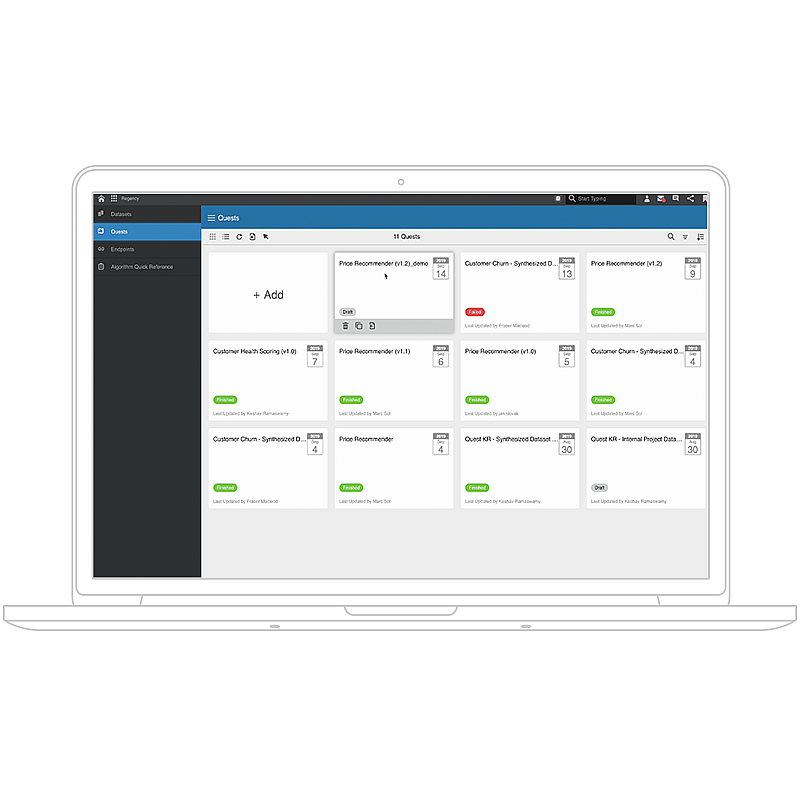 Integrate legacy logistics systems
An integrated data environment powers digital transformation
Host applications, data, systems, and services in a secure cloud
Extend existing technology and legacy applications with edge capabilities using data lake, APIs and low code/no code development capabilities
Scalable integration platform-as-a-service and embedded process automation streamline end-to-end business processes
Modernize the user interface and enhance security by consolidating applications and services into configurable enterprise portals
Increase productivity with contextual AI-powered experiences that raise tasks, alerts & notifications from all source systems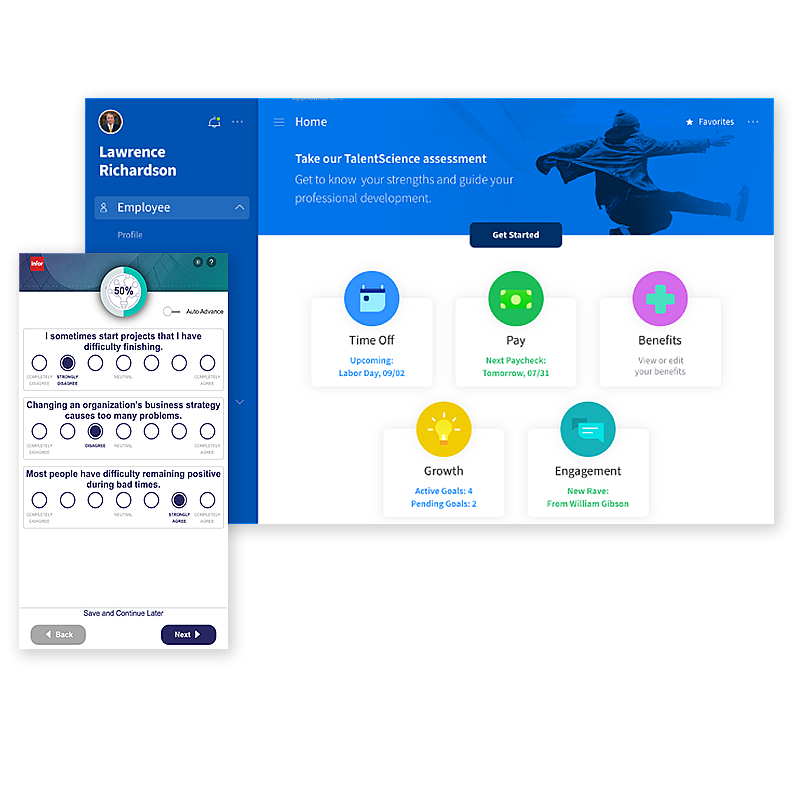 Cultivate talent for a ready digital workforce
Apply data science to unlock warfighter potential
Fill critical capability gaps with targeted recruitment, career development, and succession planning
Leverage patented behavioral science to identify future leaders and optimize team dynamics
Provide digitally focused education, training, and professional development
Increase awareness of career benefits and incentives that support warfighters and their families
Effectively manage initiatives such as diversity and inclusion and use of hiring flexibilities

Productivity by the numbers
27%
decrease in employee turnover
30%
reduction in MRO inventory holding costs
30%
reduction in mission asset downtime
BUILT FOR INDUSTRY
Defense solutions
Infor LN
Discrete manufacturers around the world use Infor LN™, both on-premises and in the cloud, to gain the visibility they need to quickly respond to customer, supplier, and regulatory needs—no software customizations required.
HIGHLIGHTS
Identify data trends and develop actionable insights
Optimize supply chains end-to-end—from planning and procurement to orchestration and fulfillment
Add fields, tables, and new business logic to screens and reports without customizing source code
Manage quote, design, source, produce, deliver, and aftermarket service
Increase efficiency, eliminate waste, and simplify reporting with automated monitoring, alerts, and dashboards
PRODUCTS INCLUDED
Infor LN
Infor OS
Infor Birst
Implementation Accelerator
Learn more
Infor SyteLine
Industrial manufacturers around the world use Infor SyteLine on-premises and in the cloud to simplify and automate their complex manufacturing processes. Offering a range of capabilities from advanced planning and material management to financials, SyteLine delivers everything manufacturers need in a standard package.
HIGHLIGHTS
Innovate faster and more efficiently
Manage production planning and scheduling
Coordinate aftermarket service and maintenance
Optimize production scheduling
Improve product quality
Built on highly flexible, scalable architecture that enables manufacturers to be agile and in-sync with fast-changing customer expectations
PRODUCTS INCLUDED
Infor SyteLine
Infor OS
Infor Birst
Implementation Accelerator
Learn more
Infor SCM
Infor® Supply Chain Management solutions deliver intelligent, real-time supply chain orchestration by digitalizing end-to-end supply chain processes, allowing companies to gain real time visibility that empowers data-driven decisions and optimal delivery to customers on time.
HIGHLIGHTS
Maximize the reliability and performance of assets
Predict equipment failure and carry out preventative maintenance
Comply with strict legal and environmental regulations
Streamline purchasing and procurement
Track labor costs and reduce downtime
PRODUCTS AVAILABLE
Infor Nexus
Infor Supplier Exchange
Infor Supply Chain Planning
Infor WMS
Learn more
Infor EAM
With Infor EAM, a comprehensive asset management solution built on more than 30 years of experience, you get asset management, materials management, and procurement tools to help you solve your critical asset performance challenges. Advanced analysis tools will help you take the data you already have and turn it into quality equipment decisions. This modern, configurable EAM solution gives you the flexibility to integrate data with your other enterprise applications, so you get a single view of your company on any device. With Infor EAM, you'll be able to optimize all your asset management processes, facilitate root cause failure analysis, leverage enhanced visualization capabilities, and turn asset management into a competitive advantage.
HIGHLIGHTS
Maximize the reliability and performance of assets
Predict equipment failure and carry out preventative maintenance
Comply with strict legal and environmental regulations
Streamline purchasing and procurement
Track labor costs and reduce downtime
Infor Workforce Management
Optimize every aspect of labor management and productivity with Infor® Workforce Management. Strategically enhance workforce planning, execution, and analysis with an engaging, industry-specific, enterprise workforce management software solution built on a proven technology platform that delivers time and attendance, demand-driven scheduling, workforce scheduling, and absence management tools.
HIGHLIGHTS
Enable your people to access workforce data anywhere, anytime
Track employee time and get the right data to payroll—every time
Leverage vertically specialized shift- or demand-driven scheduling tools
Take advantage of intuitive, industry specialized software for budgeting, planning, and forecasting labor demand
Learn more
Infor CPQ
Infor CPQ helps sales teams, partners, and distributors sell complex products more quickly with a rules-driven platform designed for visual quoting and dynamic pricing, to instantly produce a configuration-specific list price, dealer cost, and quoted selling price. Orders are automatically passed to your business system via enterprise integration.
HIGHLIGHTS
Sell complex products faster with quick and accurate quotes on-demand
Accelerate product innovation
Optimize your supply chain to improve demand planning and purchasing
Bring your products to life with a visual selection and configuration experience
Complete visibility into real-time data
Learn more
Infor PLM Discrete
Infor® PLM Discrete is a comprehensive product lifecycle management (PLM) solution for high tech and electronics, automotive component, industrial manufacturing, and aerospace and defense manufacturers that seamlessly integrates with ERP and CAD systems.
HIGHLIGHTS
PLM management for MTO, CTO, ATO, and project-based businesses
Out-of-the-box interoperability with ERP, CAD, and manufacturing systems
Real-time reporting and analysis capabilities
Automated workflows
Role-driven retrieval and information reuse
Learn more
Let's Connect
Contact us and we'll have a Business Development Representative contact you within 24 business hours