March 23, 2021By Matt Bragstad
The past year has placed a larger than usual spotlight on hospitals and health systems that have caused many of these organizations to examine the big picture of how they operate more closely. For example, they have been evaluating whether their structure and culture are sustainable, and have spent time reviewing the roles and responsibilities of their people. At the same time, concerns about everyone's safety and wellbeing have driven even more transformation.
Culture that meets organizational and patient goals
Organizational culture can be difficult to pinpoint, but generally, the overriding attitudes, values, and behaviors of the people who work in hospitals and health systems form the basis of it. Culture also has an impact on financial viability, because if the people working within your system underperform and make errors, then patients and your organization will be negatively affected. Culture can further be evaluated by motivation, communication, and teamwork.
In the early days of the pandemic, setting up people to work remotely took top billing for many organizations, and right alongside it the need to ensure they had the proper tools and training to potentially embrace a new way of working—and in some cases a new role. Managers as well faced challenges regarding supervising remote workers and maintaining a sense of teamwork.
All of these changes created an urgent need to reevaluate the culture of hospitals and health systems. Here are some quick ways to assess organizational culture.
Reskill and retrain existing team members by offering additional training through a mobile workforce app to extend learning platforms and formats.
Lead the leaders by providing a mobile platform to measure and report defined deliverables with team members, and for informal and frequent check-ins.
Ask for and deliver frequent feedback to recognize great work, and survey individuals and teams for feedback.
· Staff according to patients needs to make sure the right number of people are caring for patients based on acuity to help ensure equitable work assignments.
Build resilient hospital and health system teams
Healthcare organizations quickly discovered an additional challenge in making, sure enough, people were placed into the most urgently needed positions. In some cases, that meant figuring out how to offer additional training to build new skills.
A few ways to boost resiliency include:
Infuse conventional hiring approaches with science that combines person-to-job fit evaluations with person-to-person behavioral analytics that optimize team performance.
Use data for added flexibility by creating an analytics platform for revenue cycle, ERP, and clinical system information. For example, HR data from surveys, as well as clinical information, can aid in reviewing and analyzing the effectiveness of who is working within health systems.
Lead with the gig economy when new critical competencies emerge. Many organizations feel that gig workers are the best way to immediately add critical competencies.
The road to wellness and safety
The importance of the health and safety of the people working within healthcare is best summed up by Dr. Tedros Adhanom Ghebreyesus, WHO Director-General: "The COVID-19 pandemic has reminded all of us of the vital role health workers play to relieve suffering and save lives. No country, hospital or clinic can keep its patients safe unless it keeps its health workers safe."
To reinforce the safety and wellness of everyone within your organization, consider the following:
Trace movements of people and equipment with real-time location services.
Maintain occupational health and safety records by tracking records of people who have and haven't been vaccinated, as all as those who have declined the vaccine.
A McKinsey study shows that people who feel their organization responded well to the pandemic are four times more likely to be engaged and six times more likely to report a positive state of well-being.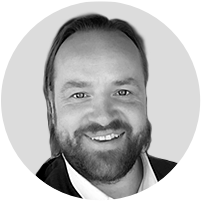 Matt Bragstad, Vice President, Infor People Vision & Strategy