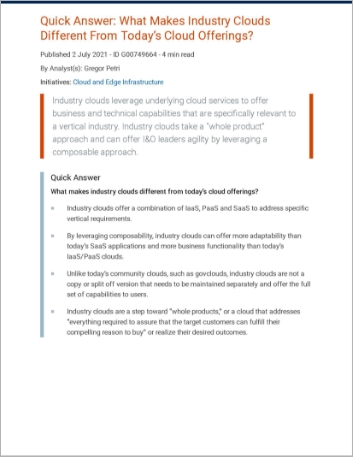 Analyst Report
Quick Answer: What Makes Industry Clouds Different From Today's Cloud Offerings? Read the Gartner® report to find out
Overview
Recent Gartner research identifies that industry clouds increasingly take a whole-product and composable approach to vertical solutions. These create flexibility and offer agility for infrastructure and operations (I&O) leaders across manufacturing, consumer, energy, healthcare and other industries when it comes to adopting and delivering cloud services.
Please complete the form below
Fields with * are required.
By clicking "Submit" you agree that Infor will process your personal data provided in the above form for communicating with you as our potential or actual customer or a client as described in our Privacy Policy.
This site is protected by reCAPTCHA and the Google Privacy Policy and Terms of Service apply.